Cherry season will be here soon enough, but if you have a jar of Dark Morello Cherries hanging out in your cabinet and want to put them to good use, here's a basic cherry pie filling and topping.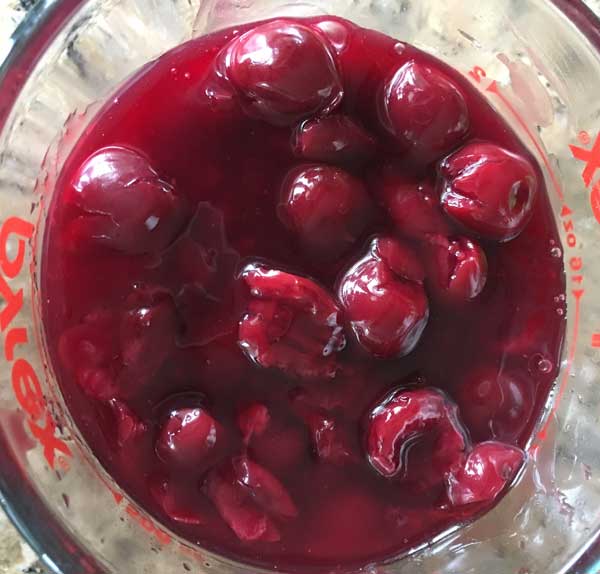 You can use this for many things including a free-form cherry tart, which is what I made yesterday. They're not exactly gorgeous, but free form tarts are tasty, don't require a pie dish, and go well with vanilla ice cream. I've included the tart recipe in the notes.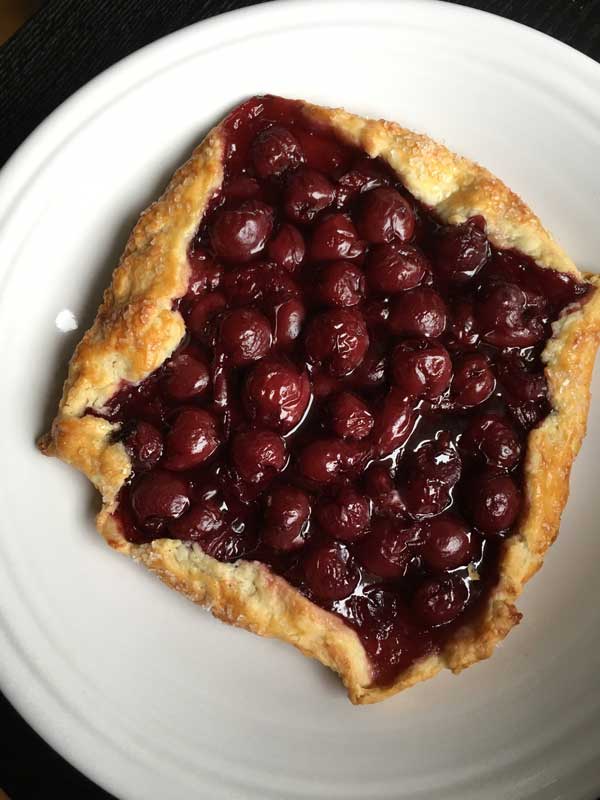 Dark Morello Cherries in Pie
If you'd rather make a pie than a tart, you can make a cherry crumb pie using one crust or make a double crust with a lattice like the one in the picture. Be sure to use a relatively shallow pie pan, since this recipe yields a pretty small amount of filling. The pie in the photo below was made with a shallow 9 inch metal pie tin.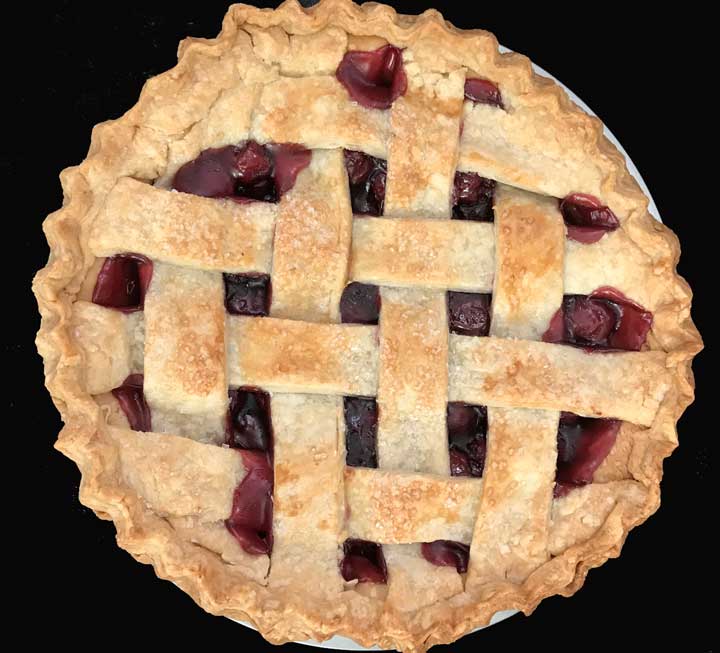 Where are Morello Cherries?
I have not seen the Morello cherries at Aldi, Trader Joe's or Lidl lately, so I will probably start substituting the ones I have seen which are Marco Polo pitted sour cherries that come in the 24 oz jar. Those should work just fine, and will update when I do a test. Hopefully the Morellos will come back. Update 12/22 -- Aldi has them again!
Recipe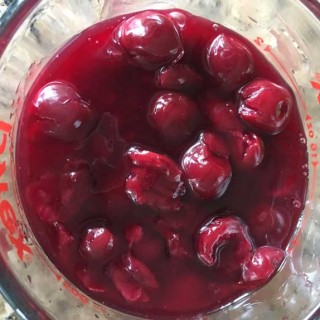 Dark Morello Cherries Pie Filling
Morello Cherry Pie Filling or Topping
Ingredients 
1

jar

Dark Morello Cherries (24 oz)

⅓

cup

granulated sugar

(65-70 grams)

2

tablespoons

cornstarch

Pinch

of salt

¼

teaspoon

almond extract

1

teaspoon

of lemon juice (I've been using much more lately)

I use up to a tablespoon sometimes

1

teaspoon

of butter

optional
Tart Crust:
1 ¼

cups

5.8 oz pastry or all-purpose flour

2

teaspoons

granulated sugar

½

teaspoon

salt

8

tablespoons

very cold unsalted butter

4-6

tablespoons

of ice cold water or more as needed

1

egg mixed with about a tablespoon of water or milk
Instructions 
Drain the cherries, separating the juice and the cherries. You should have 2 cups of cherries and well over a cup of juice. Measure out exactly ¾ cup liquid (that's all you'll need).

In a large saucepan (2-3 quarts), combine the sugar, cornstarch and salt. Add the ¾ cup of cherry juice and stir until smooth. Place saucepan over medium heat and whisk or just stir until mixture boils, thickens and becomes translucent.

Remove from the heat and stir in the drained 2 cups of cherries, almond extract, lemon juice and the butter (if using). Chill until ready to use.

For sauce, you can leave out the butter, but if you are using the filling in cherry tarts or pies, the butter gives the filling a little more body.
Free Form Cherry Tart (Two Small or One Large)
In a mixing bowl , mix together flour, sugar, and salt.

Cut the butter into bits or grate it with a cheese grater and scatter it over the flour.

With a pastry cutter or your fingers, mix until coarse.

Add cold water a few tablespoons at a time and stir, pushing all dough toward the center, with a heavy duty scraper until dough holds together.

Press into two tight balls (or one large one if making one large crostata), wrap in plastic and chill for at least half an hour or until ready to use.

To make a small to medium size tart, set one section of dough on a floured surface. Let it sit at room temperature just until it is soft enough to roll.

Roll into an 8 inch square and transfer to a parchment lined rimmed baking pan. Spread a thin layer of egg wash over the circle. Spoon about 1 cup of the cherry mixture in the center of the circle, leaving about a 2 inch border. Bring borders of circle up and over the edge of the perimeter of the cherries so that the crust covers just part of the cherries and pinch the edges. It will look like a square, but the edges will probably come apart a little during baking.

Brush crust with more egg wash and sprinkle with sugar if desired. Bake at 425 degrees F for about 20 minutes or until golden brown. Let cool for 30 minutes to an hour before serving.
Notes
This recipe yields enough to make 2 small tarts or one fairly large. The small tarts serve 2-3 (or 4 if you accompany with ice cream) and the large tart should be double. Here's a tip from Karen, who made the recipe and left a comment: Roll out both dough circles before you fill them. That way you can divide the cherries evenly.