I love baking from scratch, but over the years I've noticed that when you put both baked goods and creamy desserts in front of a large group, the creamy desserts disappear first.  Not that this is a universal occurrence, and it may just be the people I associate with, but that's been my experience and it's motivated me to try more homey, layered desserts.  Thus, I introduce you to Butterscotch Delight.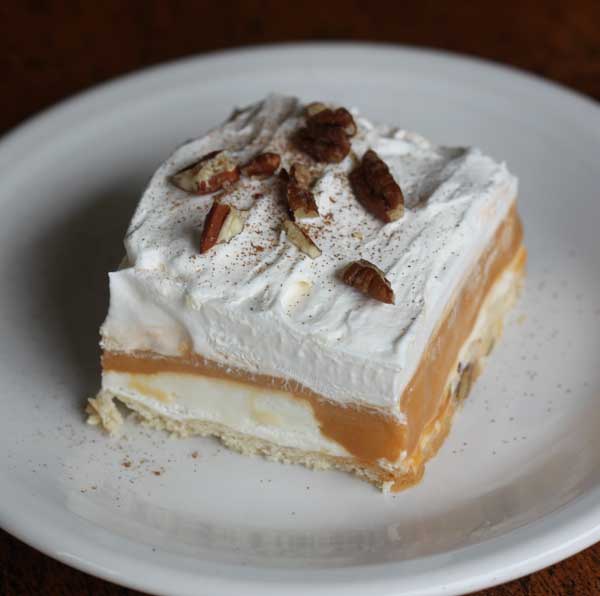 Butterscotch Delight
Okay, actually you've probably been "introduced" to it already as it's not exactly new, but everyone has their own version.It's comfort food at its finest and probably came from a whipped topping or pudding ad, but this is my version, which combines scratch baking (the crust) with the convenience of pudding mix.  Butterscotch Delight is similar to the layered pistachio version, but this one is butterscotch flavored and feeds a larger group.  The cinnamon is the crowning touch. It sounds goofy to say that, but when I serve this people always comment on that little bit of cinnamon.  So while it's not exactly fancy, I hope you make a batch for yourself or your family this week. If you are cooking for 1 to 4, this recipe is easy to halve.  Just use an 8 inch square dish.
Recipe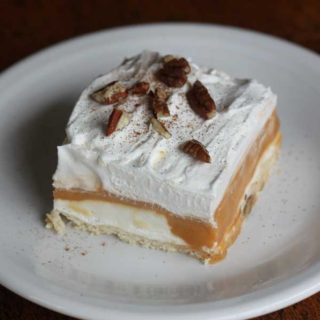 Layered Butterscotch Delight
Layered Butterscotch Delight is a layered instant pudding dessert with a pecan shortbread crust.
Ingredients 
8

tablespoons

unsalted or regular butter

softened

⅜

teaspoon

salt only if using unsalted butter

2

tablespoons

granulated sugar

1

cup

all-purpose flour

¾

cup

chopped toasted pecans

divided use

8

ounces

cream cheese

softened

1

cup

powdered sugar

2

8 oz containers whipped topping

2

3.4 oz boxes instant tbutterscotch pudding mix

3 ½

cups

cold milk

¼

teaspoon

cinnamon or however much you like
Instructions 
Preheat oven to 350 degrees F. Grease a 9x13 inch baking dish.

Beat together butter, salt and sugar. Add flour and stir until almost blended, then stir in about ½ cup of the pecans. Press evenly into the bottom of dish -- it will be a very thin layer. Bake for about 20 minutes (check at 15) or until edges just start to brown, then let cool completely.

Beat together softened cream cheese and powdered sugar. Fold in about 1 cup (eyeball it) of the whipped topping, then spread this mixture over the cooled crust.

Whisk together pudding and milk for about 2 minutes. When pudding thickens, pour it over the cream cheese mixture. Spread a thin layer of whipped topping (about 2 cups) over the pudding, letting the topping turn tan and blend in with some of the pudding. Clean off the scraper and carefully spread more whipped topping, being careful not to drag any pudding up into so that it stays white. If you are feeling fancy, you can pipe it out of a bag with a big start tip.

Cover with plastic wrap and chill for about 5 hours or until ready to serve.

When ready to serve, sprinkle with remaining pecans and cinnamon.