After years of hearing about it, I finally bought a copy of The Silver Palate Cookbook. I'm in love! I've bookmarked more than a few recipes, and so far I've made two including the popular Silver Palate Banana Bread. Here's my very late-to-the-party review of this banana bread recipe.
On paper, what distinguishes The Silver Palate recipe is that it calls for 1 cup all-purpose flour and 1 cup whole wheat. It also has slightly less sugar than most banana breads and doesn't call for any liquid. And finally, this is a banana bread made with butter rather than oil. I was a little concerned about that at first because oil-based banana breads usually seem a little less dry, but this banana bread's flavor made up for any lack of moisture. The Silver Palate Banana Bread also has a nice contrast between crust and crumb - especially if you bake it in a glass loaf pan. It's dark, flavorful,has a nice shape to it and feels more appropriate for breakfast since it is lower in sugar. I also think the slightly less moist texture makes it better for topping with a little butter, if you like butter on banana bread.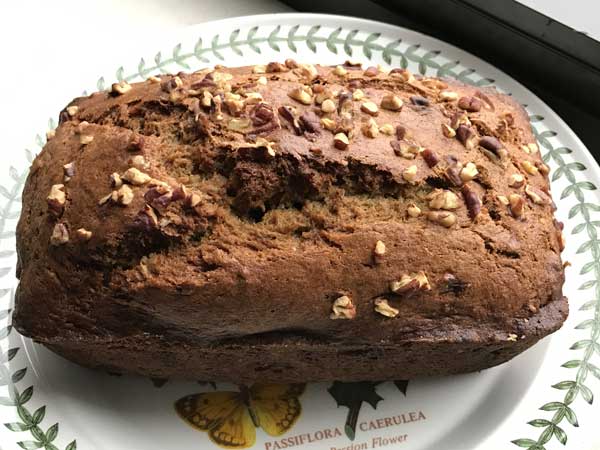 The recipe is easy, but I have a couple of tips. First, if you don't weigh your flour then measure it by spooning it into cup using a light hand. Also, it's really important to stir the dry ingredients together before adding them to the batter because the batter is very thick. Before adding the bananas, it's almost as soft as cookie dough. If the dry ingredients aren't mixed thoroughly you might have some swirls of grey where the baking soda wasn't evenly distributed. I'd end this with "I hope you try it" or something like that, but this is a recipe I feel like everyone has made except me!
If you have a favorite Silver Palate recipe, please share!
Recipe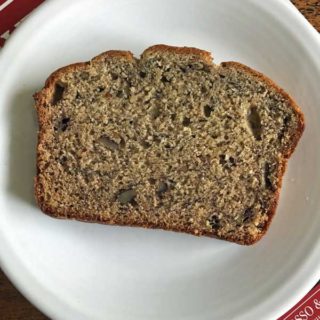 Silver Palate Banana Bread
Silver Palate Banana Bread is a slightly less sweet loaf that's great for breakfast or a snack. It's more of a bread than a cake, but a very good bread!
Ingredients 
1

cup

130 grams unbleached all-purpose flour

1

cup

whole wheat flour

139 grams, stir and aerate before measuring

1

teaspoon

baking soda

½

teaspoon

salt

I recommend ¾ teaspoon

1

stick

114 grams unsalted butter, softened

¾

cup

150 grams granulated sugar

2

large eggs

3

large ripe bananas

mashed by hand (1 ½ cups or 336 grams)

1

teaspoon

vanilla extract

½

cup

chopped walnuts
Instructions 
Preheat oven to 350 degrees F. Grease a 9x5 inch loaf pan.

Whisk together the all-purpose flour, whole wheat flour, baking soda and salt. This step is important, so be sure to whisk or stir very, very, well to make sure baking soda is evenly distributed.

In a mixing bowl, beat the butter and sugar together until fluffy. Add eggs one at a time.

Add flour mixture to butter mixture, stirring until blended.

Fold in the bananas, vanilla and walnuts, then transfer to the pan.

Bake 50-60 minutes or until cake tester comes out clean. If using a glass loaf pan the bread may take up to 75 minutes.
Notes
I've only tested with walnuts, but it's probably fine without. For the loaf pan, I've been using a 9x5 inch Pyrex.