I'm on a big fat cookie kick this week and have been making different versions of giant cookies for my friends here in Chicago. After baking up some chocolate chip cookies, I pulled out this old recipe for Peanut Butter Platters to serve alongside them. The Peanut Butter Platters are big and flat while the chocolate chip are big and fat, but I suppose the two can live in harmony on a cookie plate.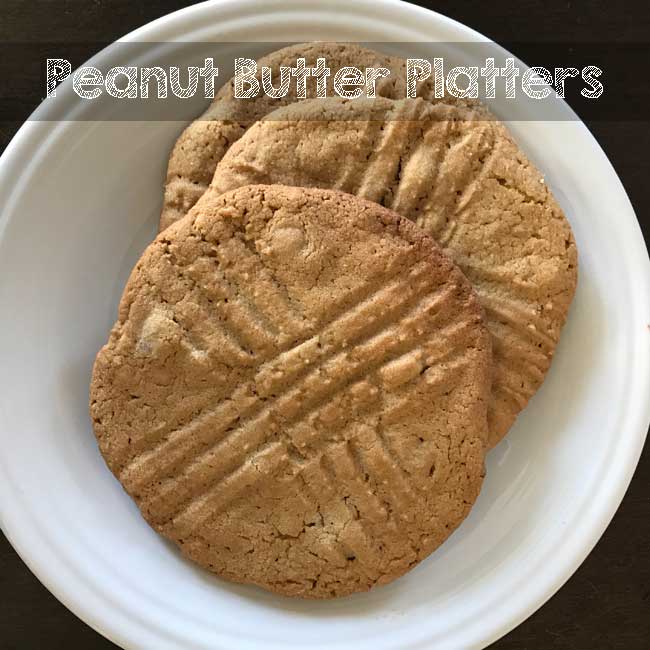 Peanut Butter Platters Notes
The Peanut Butter Platters recipe was was requested years ago by a reader who was sad she lost it because it was the only peanut butter cookie her husband would eat. At first glance, the recipe looks like the usual peanut butter cookie. However, if you look closely you will see that it calls for all brown sugar plus a fairly hefty amount of leavening agents. And then there's the fact each cookie calls for almost ½ cup of batter! And finally, the preparation is unusual in that you press the cookies down using the bottom of a buttered and sugared pie dish.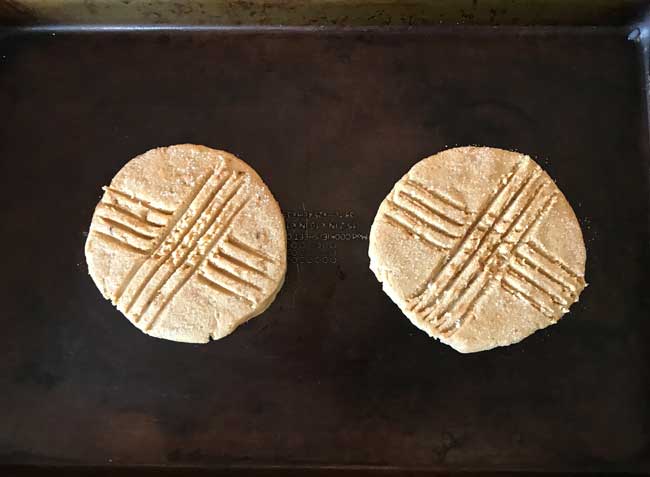 So these cookies area little different and a lot of fun! They're perfect for bake sales or for gifting to your cookie monster friends. Just be sure to bake Peanut Butter Platters on a day when you have plenty of time because they're so big you can only fit two or three cookies per sheet.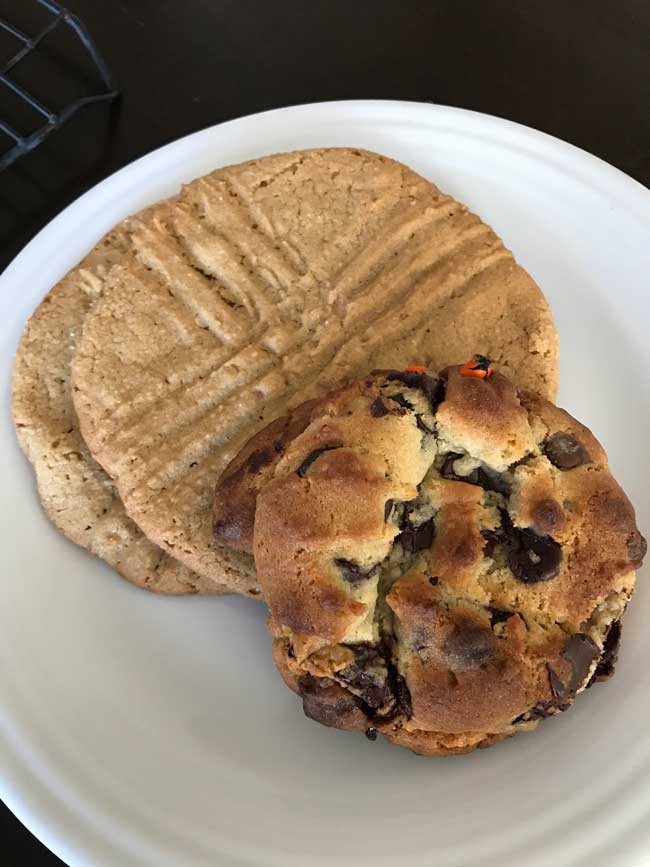 Recipe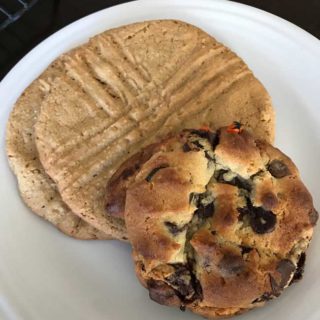 Peanut Butter Platters
Peanut Butter Platters The is adapted from an old Sunset Book. The original version says it makes 10 or 11 cookies, but I make the cookies slightly smaller for even dozen. The cookies are big, flat and chewy with crispy edges.
Ingredients 
8

oz

unsalted or salted butter, softened

(230 grams)

1

cup

crunchy peanut butter

(260 grams)

2

cups

firmly packed brown sugar

(400 grams)

2

large

eggs

2 ½

cups

all purpose flour

(315 grams)

1 ½

teaspoons

baking soda

1

teaspoon

baking powder

1

teaspoon

salt

only if using unsalted butter

1

cup

chopped salted peanuts or ½ cup peanut butter chips

optional

Granulated sugar
Instructions 
Preheat oven to 350 degrees F. Have ready a two ungreased baking sheets -- the largest you own. Depending on the size of your baking sheets, you'll probably only be able to bake 2 or 3 cookies per sheet.

With an electric mixer, cream the softened butter, peanut butter and brown sugar with high speed of an electric mixer. Beat in the eggs.

Stir the flour, baking soda and baking powder (and salt, if using) together in a separate bowl. Gradually add to butter mixture, blending thoroughly. Stir in peanuts, if desired.

Using about a ½ cup measure, portion out 10 or 12 big balls of dough onto a couple of plates lined with plastic wrap. Chill the dough balls for about 30 minutes, then shape into neat balls.

When ready to bake, grease the bottom of a pie plate (or a saucepan) and dip in granulated sugar. Set two cookies on a baking sheet spacing them as far as you can. These cookies spread quite a bit! Use the sugared pan to press each dough ball into a large circle a little less than ½ inch thick. If you are making 12 cookies, the circles will be about 4 ½ to 5 inches. If you are making 10 cookies they will be about 5 ½ inches. If necessary, press cookies with fingers to make them even. Make crisscross pattern on top of cookies by lightly scoring with fork tines or pressing with a wire cake rack (which may be difficult if you using a rimmed pan!).

Bake for 12 14 minutes or until edges are lightly browned. Let cool on baking sheets for about 5 minutes. Transfer to racks and let cool completely. Makes 10 to 12 cookies
Notes
For the peanut butter I used Extra Crunchy Skippy Natural (which is sweetened).