For the past two years I've been trying to find a bread pudding recipe similar to one served by a local barbecue restaurant.  It's a thick, almost chewy, bread pudding that tastes like pecan pie in bread pudding form.  Most of the recipes I tried were for praline or pecan bread pudding and were too custardy, but I hit the jackpot when I tried one labeled Pecan Pie Bread Pudding.  It's from Something Swanky and calls for corn syrup, brown sugar, butter – all the things you'd find in a pecan pie, and no milk or cream.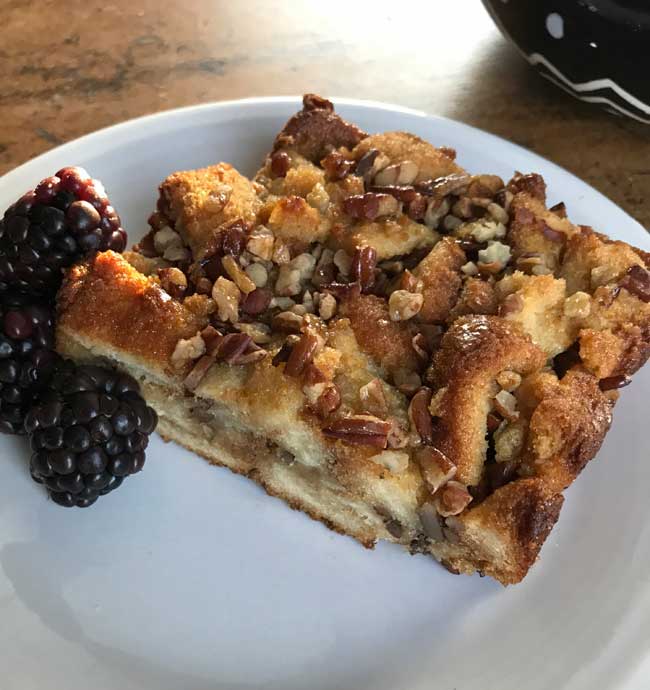 As usual, I scaled it down to serve 2 to 4 and had some fun playing with different loaf pan sizes.  Best results were in an 8 ½ by 4 ½ inch loaf pan, but I also made a good one in a slightly smaller pan (8x4). If you are a fan of more custardy, softer bread puddings you may not like the firmness and the fact it's a little chewy around the edges.  In some ways it's more like pecan pie than pudding, hence the name.  We like this one a lot and it's a great way to use up leftover Fluffy Dinner Rolls and hopefully, challah.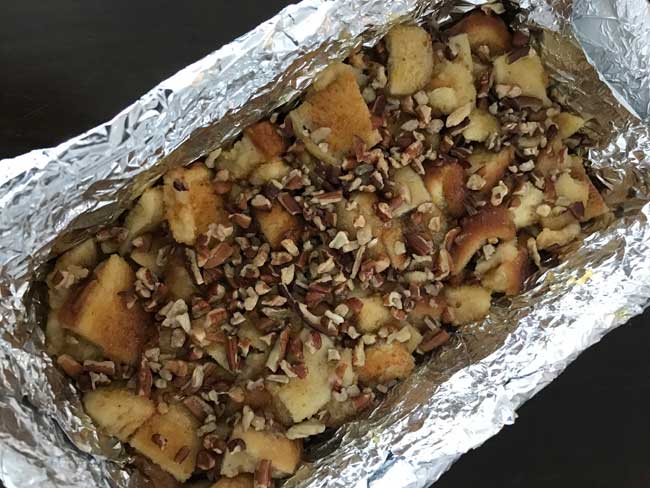 Speaking of which, the type of bread you use will change the dish.   For instance, 2 ½ cups of store bought buttermilk sandwich bread weighs about 6 oz while 2 ½ cups of light and fluffy dinner roll cubes weighs only 5.  I haven't tested yet with challah, but I suspect 2 ½ cups of that will weigh even less.  I'll update when I test with challah.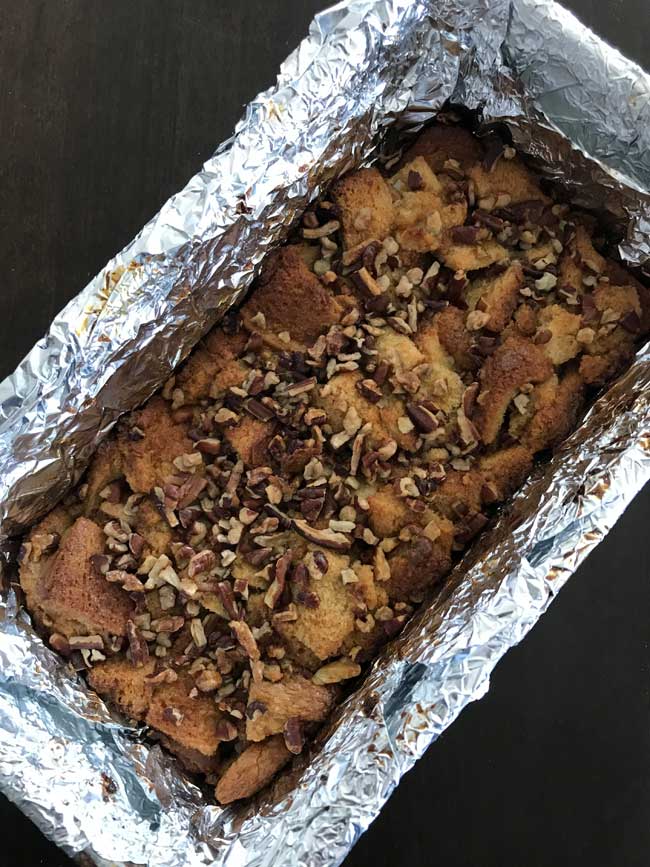 Here's how I made it (multiple times!), which is more or less a "thirded" version of the one I linked to.  I may add a few changes and I do intend to try it with Challah.  If you have some rolls or bread to use up and like the idea of a small batch pecan pie bread pudding, give it a try and let me know what you think.
Recipe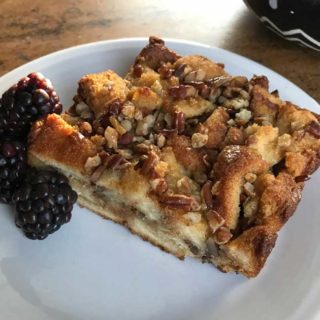 Small Batch Pecan Pie Bread Pudding
Small Batch Pecan Pie Bread Pudding
Ingredients 
3

tablespoons

of melted butter

2 ½

cups

cubed fluffy dinner rolls or bread

5 oz weight

1

large egg

2

tablespoons

dark brown sugar

25 grams

1 ½

tablespoons

granulated sugar

20 grams

⅓

cup

plus 1 tablespoons corn syrup

105 grams

⅛

teaspoon

salt

½ to 1

teaspoon

vanilla

I used Baker's brand, so 1 teaspoon

¾ 

cup 

finely chopped pecans
Instructions 
Preheat oven to 375 degrees F.  Line an 8 ½ by 4 ½ inch OR an 8x4 inch loaf pan with regular or nonstick foil.  Put 1 tablespoon of the butter in the pan and tilt it so it covers the bottom.  Even if you are using nonstick foil, you still want the butter for flavor and to brown the crust.

Toss the remaining butter with the bread cubes.

In a small mixing bowl or in a 2 cup glass measure, whisk the egg, both sugars, corn syrup, salt and vanilla.  Pour over bread mixture and stir well to coat bread.  Stir in half the pecans.

Spread mixture in the buttered loaf pan, pressing down tightly.  Sprinkle remaining pecans over top.  Using a scraper, scrape any residual syrup mix from your mixing bowls and drizzle over the pecans.

Bake at 375 for about 35-40 minutes.  During the last 15 minutes or so of baking, lay a sheet of foil loosely over top to prevent pecans from over browning.

Let cool slightly, then lift foil from pan and carefully peel it away so that you have a nice block of bread pudding.  Cut into chunks and serve with whipped cream.