A few weeks ago I bought a bag of ground flax, which you probably know has a short shelf life if kept at room temperature. I put mine in the freezer, but still feel like I'm in a race to use it before it starts to deteriorate. So Wheat and Flax Bread was just the result of a "breads with flax" search. Exciting? Not really, but the bread is excellent and will be replacing my old wheat bread recipe.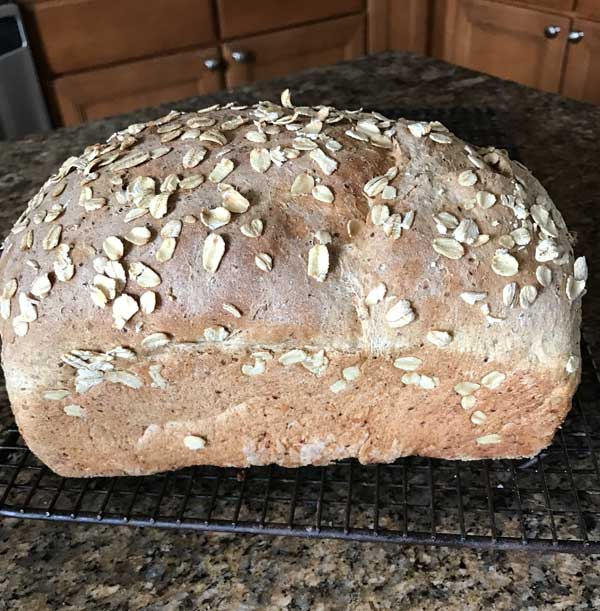 Flax Bread Notes
The source of this recipe is Betty Crocker, but I've made a few changes. I used quick rising yeast, thus the mixing technique changed. Plus I used a mixture of honey and maple, which made the bread slightly less sweet than the original all-honey version. And finally, I used more flax.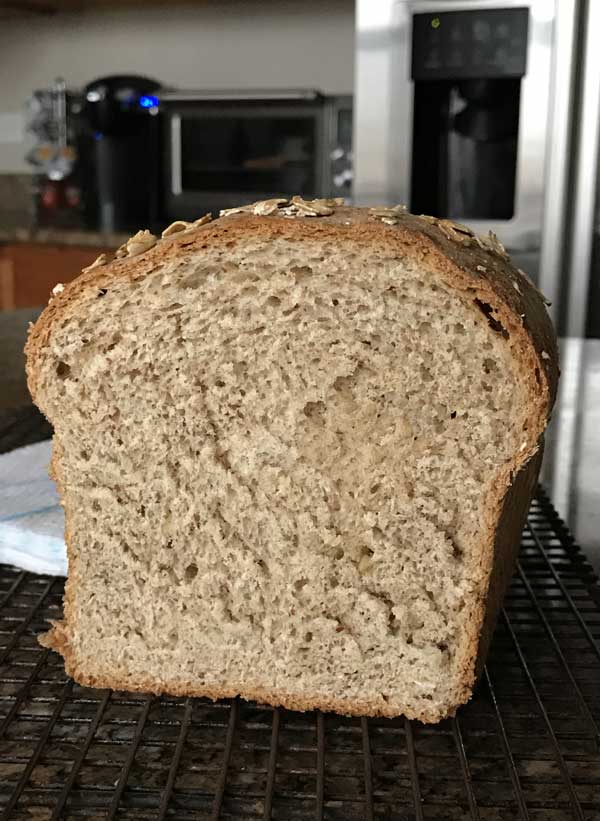 This is a high rising flax bread, and I think you'll love its shape and flavor. It has a tiny bit of sweetness, but is versatile enough to be used as a base for peanut butter or garlic toast.
Update: Flour Type
This recipe calls for a combination of bread flour & whole wheat. If you want a fluffier, softer bread, try omitting the whole wheat and using only bread or all-purpose.
Recipe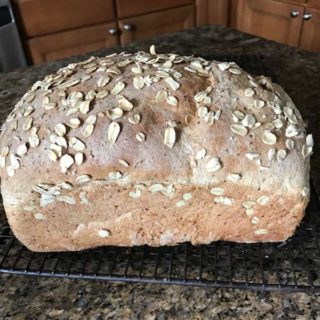 Wheat and Flax Bread
A whole wheat loaf bread made with ground flax. If you use more than ¼ cup of flax you'll probably end up using less flour.
Ingredients 
1 ½ to 2

cups

bread flour

all-purpose okay (210 to 250 grams)

1

cup

whole wheat flour

125 grams

1

teaspoon

salt

2 ¼

teaspoons

fast rising or SAF yeast

¼

cup

old-fashioned or quick-cooking oats

¼

cup

ground flaxseed

(30 grams)

½

cup

milk

½

cup

water

1

tablespoon

butter

3

tablespoons

honey or maple syrup

or a mixture of both
Instructions 
In the bowl of a stand mixer, combine 1 ½ cups of the all-purpose flour, the wheat flour, salt, yeast, oats and flax. Stir well.

In a 2 cup microwave-safe glass measure or in a saucepan, heat the water and milk together until very hot (about 130 degrees). Add the butter and stir until it is soft (it doesn't have to be completely melted), then pour water mixture and honey (or maple syrup) into the bowl with the flour. Stir by hand to make a soft dough, and add just enough of the remaining half cup of flour to make a dough that is neither too sticky nor too dry.

Set the bowl on a stand mixer, attach the dough hook and knead for about 8 minutes.

Put the dough in a greased bowl, then cover and let rise for an hour. Punch down dough and fit into a greased 8 ½ by 4 ½ inch or 9x5 inch loaf pan. Cover loosely and let rise for another 45 minutes or so.

Preheat the oven to 375 degrees F. If desired, brush top of loaf with egg white and sprinkle with more oats. I did not use egg whites and the oats kept falling off!

Bake for 30 to 35 minutes or until loaf sounds hollow. Let the loaf cool completely (at least 2 hours).