From what I've read, school lunches are improving. They're trimming fat, reducing sugar, adding whole grains, and baking instead of frying. It's about time these changes were made, but I have to admit I'm glad to have the taste memory of old-school school lunches where they served things like macaroni & cheese, peanut butter cookies and those hot rolls you could smell from the other side of the building.
The description of this recipe as being "just like the ones served at the cafeteria" reeled me in. I didn't really believe the rolls really would remind me of school days, but they did. That or the rolls fried chicken places used to serve before they all switched to biscuits. Remember those days? Anyhow, these were undoubtedly the best rolls I ever made. I don't know if it was the actual recipe or rather that I'm getting better at making yeast breads, but these were just the lightest, tightest crumbed, delicate rolls to come out of my kitchen — and they didn't call for any tricks like adding potato flakes or beer.
I adapted this from an Allrecipes.com Cafeteria Rolls which makes this recipe x3. So this is actually 1/3 of the original recipe and it gives you 12 good sized rolls. for our small family, that's a lot of rolls, but I baked them all at once and froze the rest.
This scaled down version worked perfectly, but there is one catch and that's the egg. The original recipe called for 2 eggs and since I was making 1/3, I had to do the silly maneuver of cracking the egg, spooning out about a tablespoon and using the remainder. Whatever. It worked! If you buy small eggs you can skip that, but who buys small eggs?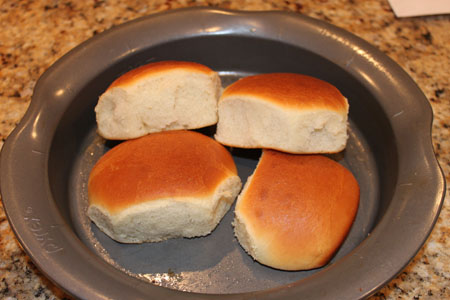 For the flour, I weighed out 15 oz of King Arthur Unbleached All-Purpose.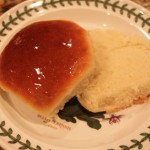 Print Recipe
Lunch Lady Rolls
Light textured rolls that might remind you of the ones in old school lunches.
Ingredients
1

cup

warm water

110-120 degrees

1

teaspoon

granulated sugar

1

.25 ounce envelope active dry yeast

1

large egg

lightly beaten

1

tablespoon

and 1 teaspoon milk

1

teaspoon

salt

3-1/3

cups

all-purpose flour

15 oz -- If you don't weigh it, fluff it up very well before measuring.

3

tablespoons

plus 2 teaspoons granulated sugar

1

tablespoon

and 1 teaspoon shortening

1

tablespoon

and 1 teaspoon butter

melted
Instructions
In bowl of a stand mixer, mix together the warm water and 1 teaspoon of the sugar. Sprinkle the yeast over the top, and let it stand for about 10 minutes, until the yeast is foamy.

Beat the egg in a small bowl then measure out about 1 tablespoon and discard. Whisk in the milk and salt, then add the egg milk mixture to the yeast mixture.

Combine the flour and sugar in a separate bowl. Cut in the shortening with a fork. Gradually stir the flour mixture into the yeast mixture. Set the mixing bowl on the stand mixer with the dough hook and knead for about 3 minutes or until dough appears smooth and elastic and is pulling away from the bowl. Cover the mixing bowl with plastic wrap or a warm towel and set it aside to rise for 1 hour.

When the dough has risen, pour the melted butter over it, return to stand mixer and knead with the dough hook for about 3 more minutes. (See Note). Dough should be smooth, elastic, slick, but not shaggy. Flour a large surface. Let the dough rest for a few minutes, then roll or pat out to a little less than 1 inch thick. Using a knife, cut the dough into 2 inch squares. Tuck the corners of the squares under to make smooth rounds and set them in the pan (I used two 9 inch round pans with about 6 balls of dough in each. Space about 1 inch apart.

Set pans aside for another 40 minutes rise. Preheat the oven to 400 degrees F. If you like, brush the rolls with some extra melted butter. Bake the rolls for about 12-15 minutes, until golden brown. I brushed them with a little more butter before serving.
Notes
One step I've kind of modified over the years is when adding the butter after the first rise, I just stir it a bit and then knead it by hand rather than returning to the stand mixer. The dough is squishy, scraggly and weird. Rather than roll it out, I pick up lumps a little smaller than a plum, squish them into lumpy balls and set them about an inch apart in two 9 inch round cake pans (about 7 to a pan). They look lumpy and terrible at this point, but they look pretty when they are fully risen and baked.