If you're looking for Thanksgiving desserts, consider Sour Cream Cheesecake with Biscotti Crust. You can make one for now, and if you like it you can make a second and freeze.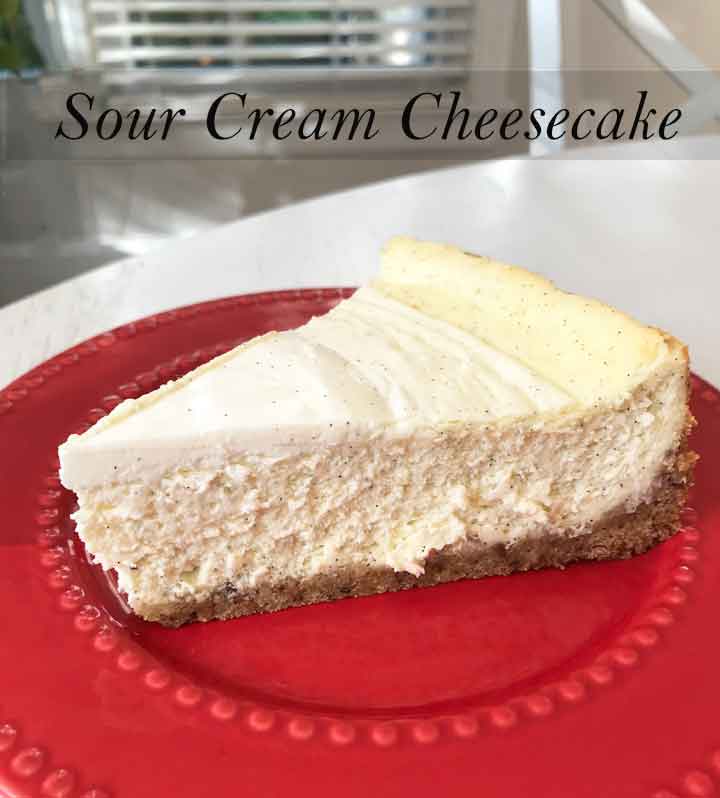 This recipe was a new one for our family, but I'll definitely be making it again - especially since it only calls for 2 packages of cream cheese. I also bake a ton of biscotti and using the biscotti for a cheesecake crust worked out really well.
When I first saw this recipe I thought it seemed similar to Fluffy Cheesecake, but it's really not. It does call for folding egg whites in at the end, and the eggs do aerate the texture just slightly, but for the most part it's still a dense and creamy cheesecake. It's also the least sweet cheesecake I've ever made. It's tart with all the sour cream, so vanilla or vanilla bean adds enough flavor and you don't need to add any citrus. And best of all, there's no need for a water bath.
Biscotti Crust
Sour Cream Cheesecake would be terrific with a graham cracker crust, but since we have a freezer full of biscotti (I've been trying to make the burnt biscotti like we ate in Rome) so I put some of it to good use with this recipe.
Sour Cream Cheesecake and Biscotti Crust Notes
Hopefully some of this will be helpful. I'll add more notes in time based on how this works one second, third and fourth bakes and notes from other bakers.
Bring all ingredients to room temperature. I can't stress that enough with cheesecake. If you use room temperature cream cheese and add cold eggs or cold sour cream, the cream cheese will form little lumps. Everything needs to be room temperature erring toward lukewarm rather than slightly cold.
If you want to use a stand mixer and only have one stand mixer bowl, you can whip your egg whites first, scrape them into a separate bowl, then use the stand mixer bowl and the same attachment to make the filling. The beaten egg whites will be just fine for five minutes while everything else is being mixed.
The vanilla flavor stands out in this recipe. You don't have to spend $40 on it, but maybe don't use the 99 cent vanilla that works so beautifully in cookies.
Baking in a 350 oven for 30 minutes and turning off the heat. This worked pretty well in my oven, though it holds a lot of heat so I did have a tiny crack. I'm curious to see how it will work in other ovens.
Sour Cream Topping -- I was short of sour cream and had make half the topping so my cake's not as pretty as yours will be.
Recipe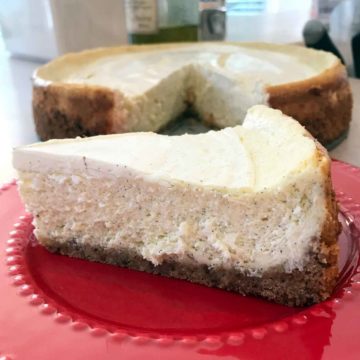 Sour Cream Cheesecake
A fluffy cheesecake with beaten egg whites and sour cream. This version has a crust made of biscotti.
Ingredients 
Biscotti Crust
½

pound

store bought or homemade biscotti

3

tablespoons

sugar

5

tablespoons

unsalted butter

melted

1

pinch

salt
Cheesecake
1

pound

cream cheese

at room temperature and softened

½

cup

sugar

3

large

eggs, separated

at room temperature

1

pint

sour cream, divided use

at room temperature

1 ½

teaspoons

vanilla

(1 teaspoon goes in batter, ½ in topping)

1

tablespoons

sugar
Instructions 
Preheat oven to 350. Grease a 9 inch springform pan.

In a food processor, crush the biscotti into crumbs. You should get a little over 1 ½ cups. I went by weight and used 8 oz/half pound.

Add the sugar, melted butter and salt and pulse to mix. Empty into prepared cheesecake pan and press over bottom and just slightly up the sides.

Set crust on a rimmed baking sheet and bake for 10 minutes.

In a large mixing bowl, using an electric mixer, beat the cream cheese and sugar until smooth. add the egg yolks one at a time and beat on medium speed until blended. Still on medium speed or by hand if you prefer, fold in HALF the sour cream and 1 teaspoon of the vanilla.

In another bowl, beat the egg whites until stiff peaks just start to form. Fold the beaten egg whites into the cheesecake batter.

Scrape the batter into the pan over the baked biscotti crust and bake for 30 minutes.

While the cheesecake is baking, stir together the remaining 8 oz of sour cream with the remaining ½ teaspoon of vanilla and the tablespoon of sugar.

After the cheesecake has baked for 30 minutes, remove from the oven and quickly spread the sour cream/sugar mixture over the top. Return to the oven. Turn off the oven and let the cheesecake sit in the off oven for 2 hours.

Chill for several hours or overnight, then remove springform side and serve. Can be frozen.