If you're feeling nostalgic and are in the mood to bake, here's a recipe that is supposed to be the same or at least very similar to the original Toll House chocolate chip cookies. The recipe is from a radio program called Uncovering The Original Toll House Cookie Recipe with Maria Stefanos. It was transcribed from an interview with Peg, daughter of Sue Brides who was Ruth Wakefield's assistant. Many thanks to Peg for sharing her memory of the recipe! It's similar to the one on the Toll House bag but about1 1/2 times the amount and with shortening instead of butter. And then there's the issue of dissolving the baking soda in water.
Does Dissolving the Baking Soda Make a Difference?
Some of the very old Toll House recipes (so many claim to be the original) call for the baking soda to be dissolved in water, and I've always wondered if that really makes a difference. Today I finally took the time to run a test. I made one batch of cookies with baking soda dissolved in water and one batch of cookies with it mixed into the flour (as usual). The resulting cookies seemed pretty much the same, but I can see the argument for dissolving it. Maybe it activates the dough quicker or maybe it just ensures the baking soda is distributed evenly. If you notice a big difference in baking soda that's dissolved in water vs. mixed with the flour, let me know.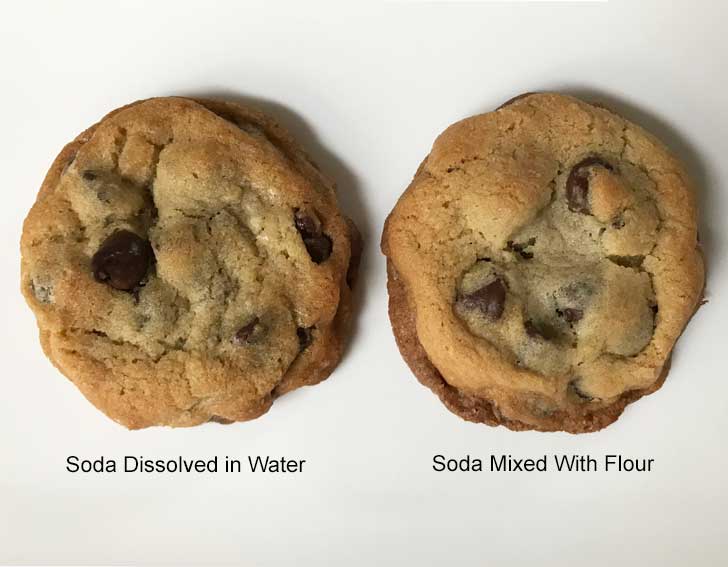 Butter vs. Shortening
What did make a difference was butter vs. shortening. I made a batch of the cookies using an equal weight of butter and they spread. It was a reminder that for the best in flavor and texture, all roads lead back to this recipe. However, if you are baking for people who are very sensitive to texture and want a thicker, softer cookie, this 100% shortening version is worth a try.
Small Batch Shortening Chocolate Chip Cookies
If you want to try the recipe but don't need a full batch, here are the ingredient amounts. I always make Toll House chocolate chip cookies by weight, so these are gram amounts.
96 grams shortening
72 grams brown sugar
72 grams granulated sugar
1 large egg
3/4 teaspoon vanilla (or 1/2, I like a little more)
1/2 teaspoon salt (2.5 grams salt)
1/2 teaspoon of soda dissolved in 1/2 teaspoon hot water (2.5 grams soda)
132 grams of King Arthur all-purpose flour (or any brand)
1 cup or more of your favorite semisweet chips
I didn't see directions in the radio show transcript so I just creamed the butter and sugar thoroughly, added the egg and beat until light (sometimes I do the opposite and barely beat the egg at all, but for these I really whipped that egg). Beat in vanilla and salt, followed by dissolved baking soda and flour. Fold in chips (and nuts if using), scoop out balls and bake at 350 for about 13 minutes. — Makes 18 to 20
Toll House Bars
The original Toll House recipe works well for bars! I made small batch version in a square glass dish. They baked and browned evenly and their texture was chewy. They didn't have any butter flavor, but the texture made up for that. Also, since I knew I wouldn't have any butter flavor I used a few more flavors of chips and added pecans.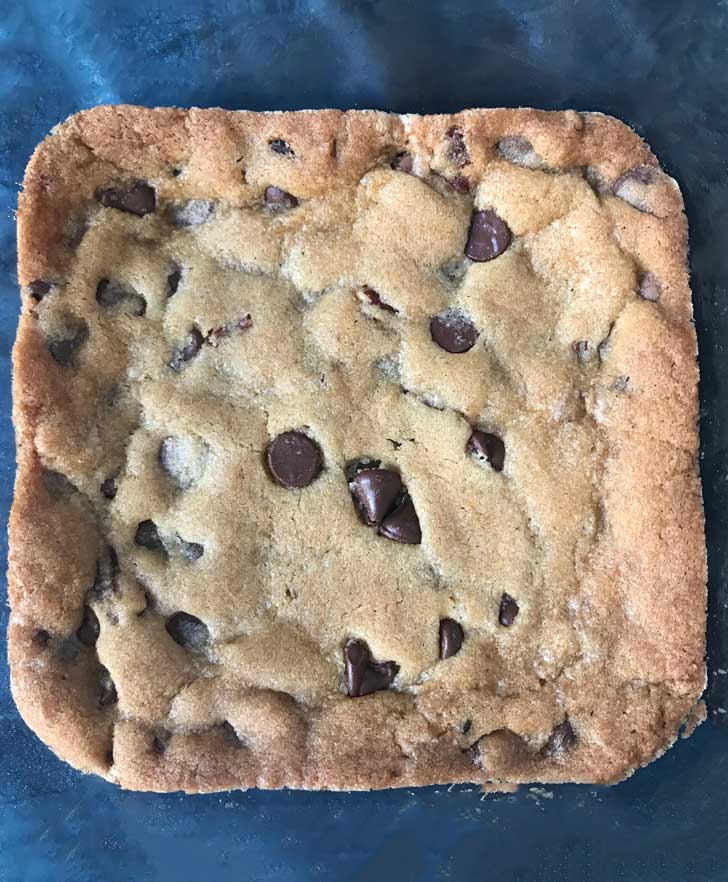 Recipe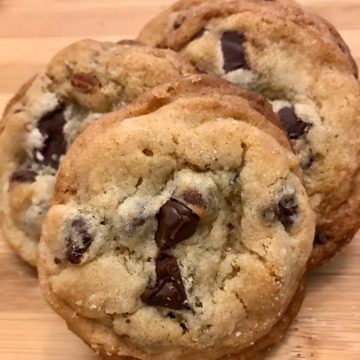 Possibly The Original Toll House Chocolate Chip Cookies
Chocolate Chip Cookies made with shortening rather than butter. Yield is approximate and really depends on how big you make the cookies. The Toll House recipe on the bag is supposed to make 5 dozen (60 cookies) so theoretically this should make 90. I made mine larger and didn't get nearly as many.
Ingredients 
1 1/2

cups

Crisco brand shortening**

(288 grams)

1 1/8

cups

light brown sugar

(225 grams)

1 1/8

cups

granulated sugar

(225 grams)

3

large

eggs, room temperature

1 1/2

tsp

vanilla extract

1 1/2

tsp

salt

1 1/2

tsp

baking soda

1 1/2

teaspoon

water

3

cups

plus 2 tablespoons all-purpose flour (King Arthur)

(396 grams)

3

cups

semisweet chocolate chips (about 1 1/2 bags)
Instructions 
Preheat oven to 350 degrees F. Have ready three baking sheets lined with parchment paper.

With an electric mixer, beat shortening, sugar and brown sugar until creamy. Add the eggs and vanilla on medium speed for 3-5 minutes. Beat in salt. Dissolve baking soda in water and add to batter. Stir until fully blended.

Gradually add flour, stirring until almost fully blended. Add chocolate chips and stir until chips are mixed in and flour is fully absorbed.

Using a medium size cookie scoop, scoop balls of dough and arrange on baking sheets spacing 2 1/2 inches apart.

Bake one sheet at a time for about 12 to 14 minutes or until edges are slightly browned.

Remove cookies from baking sheets and cool on racks. Repeat with remaining dough.
Notes
You can use other brands of shortening. Lately I've been experimenting with different ones (Aldi, Spectrum, Agreena) and feel like I still get the best texture with Crisco.