It's 2020. Are cookie bouquets still a thing? Back when I first posted this recipe, putting cookies on a stick and arranging them to look like flowers was a big deal. And the cookies always tasted so good! I was never able to decorate quite as well as the people who made cookie bouquets, but I did find a recipe for cookies that are just as tasty. They also hold up well enough for cookies on a stick, should you wish to arrange them as a cookie bouquet.
Cut-Out Cookies
I don't plan on putting cookies on a stick anytime soon, but I do love using this recipe for sugar cookie cut-outs. The cookies are sturdy, thick, easy to decorate and have a decent shelf life. For best results, weigh the flour.
To make you feel better about your own decorating skills, here are some pictures of mine! This cat is terrible looking, but the picture brings back good memories.
Slightly improved decorating skills a few years later. The cookies in this photo were made with a slight variation to the recipe where I used Wondra flour. It made the texture somewhat lighter and crumblier, though I don't know if I'd buy Wondra specifically for cookie making.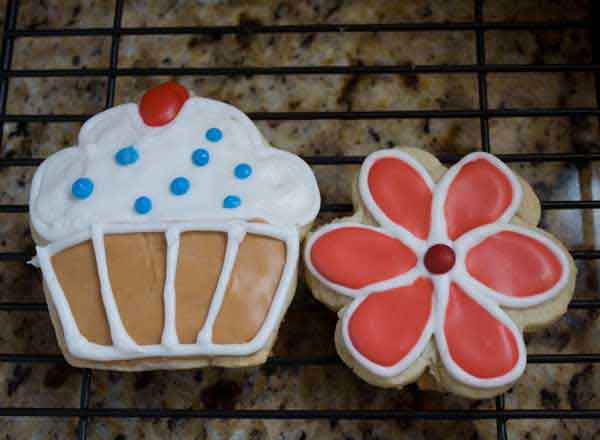 Recipe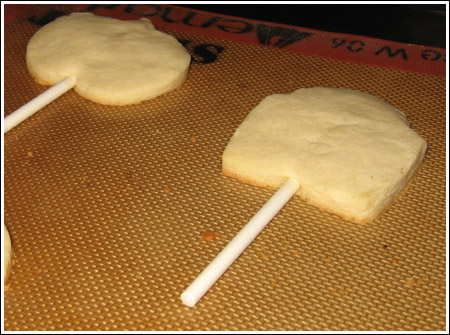 Sugar Cookies on a Stick
This dough is great for making cookies on sticks, but it's also great for making cut-out cookies that are sturdy enough to ship and which keep fairly well.
Ingredients 
3

cups

all-purpose flour

13.5 oz/380 grams

1

teaspoon

baking powder

2

sticks

butter

unsalted, softened (8 oz)

1

cup

granulated sugar

200 grams

1

large

egg

room temperature

1/2

teaspoon

salt

1

teaspoon

vanilla extract

1/4

teaspoon

almond extract
Instructions 
Mix together the flour and baking powder and set aside.

In a mixing bowl, beat the butter and sugar until light and creamy. Stir in the egg, salt and both extracts.

Slowly add flour mixture (1 cup at a time) and stir until incorporated

Form the dough into a disc and wrap in plastic wrap. Refrigerate for at least 1 hour.

Preheat oven to 375 degrees F. Roll the dough onto a lightly floured surface to approximately 5/8″ thick. Cut the cookies into shapes and place the cut cookie shape on a parchment lined cookie; Poke a stick into cookies.

Bake the cookies for approximately 8-10 minutes or until the edges begin to turn golden brown in color. Remove cookies from the oven and allow tocool on a wire rack for 5 minutes. For larger cookies, bake at 350 F for a slightly longer time.
Notes
This recipe makes about 2 pounds or of dough. The number for cookies you get will vary depending on how big your cutters are and how thick you roll your dough. For icing, I prefer buttercream, but if you need a good royal icing this one works.
Royal Icing
1 pound confectioner's sugar
5 T meringue powder or 1/4 cup pasteurized egg whites
Ice cold water according to desired consistency and 1 teaspoon vanilla
Stir together, using as much water as needed for desired consistency