Inspiration for yesterday's scratch best yellow cupcake recipe was Mela, who emailed me saying she was having a hard time finding a good yellow cake. I told her about this one, and after trying the recipe she emailed to say she loved it.  Plus, she shared her strawberry frosting recipe!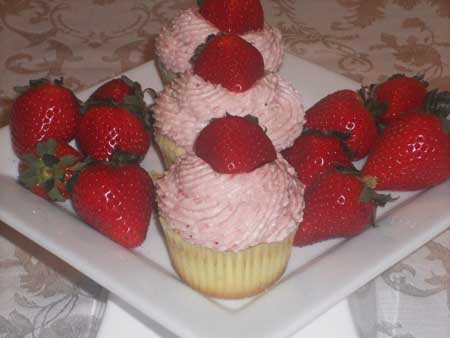 Tiny Batch Strawberry Frosting Recipe
For those of you interested in a frosting with fresh strawberries and cream cheese, here's the recipe courtesy of Mela. I made ¼ of the recipe and used 1 fresh strawberry and about a teaspoon of Orchard's Finest strawberry preserves. Rather than puree the strawberry, I just chopped it up, put it in with the butter and cream cheese, and crushed it with the friction of the stand mixer. It was fun watching the icing turn pink! I also added a small dash of vanilla because I like how vanilla tastes with strawberry. I might try mixing in a little malt to give it a strawberry malted milkshake flavor. Thanks, Mela!
Update
I've tested a few of the ground freeze dried strawberry frosting recipes, and while they are pretty, I don't love the flavor. This one's still my personal favorite. I big part of what makes it taste good is the cream cheese, which works so well with the fresh strawberries. I may try adding a small amount of ground freeze dried strawberries to this one, but right now I still prefer the fresh ones combined with a little jam.
Recipe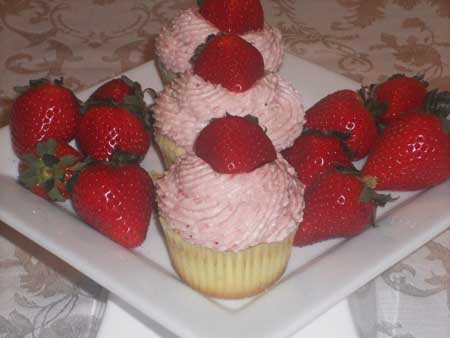 Strawberry Frosting
Strawberry frosting recipe from Mela.
Ingredients 
½

cup

unsalted butter, softened

(114 grams)

8

ounces

cream cheese

(230 grams)

2-½

cups

powdered sugar

3

large

strawberries (you can increase or decrease slightly

2-3

tsp.

strawberry jam or preserves

pinch

of salt

optional
Instructions 
Cream butter and cream cheese for about 2 minutes.

Add powdered sugar 1 cup at a time. Add in jam and slowly add pureed strawberry until you get the desired consistency.

Chill before frosting your cupcakes.
Notes
I put the frosting in a pastry bag while it's soft, then chill for about an hour before frosting.