I first made Marshmallow Krispie Topped Brownies back in 2008 and had no idea how popular they'd become with my friends. For a bake sale, event or party, these are a sure thing. The recipe starts with packaged brownie mix, so it's almost fool-proof.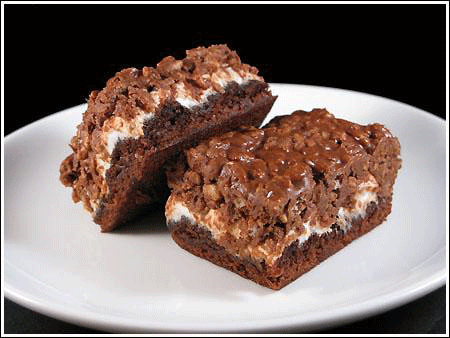 Thanks to the brownie mix, these come together quickly. Packaged brownie mix works really well here because it's not too rich and doesn't upstage the peanut buttery-chocolate crispy topping. Peanut Butter Marshmallow Krispie Topped Brownies have everything going for them -- the texture, flavor, easiness.  They will always be one of our favorites.
Packaged Brownie Mix Box Sizes
Since posting the recipe I've experimented with different size boxes of packaged brownie mix and it doesn't seem to matter which size or brand you use since you just use the directions and ingredients called for on the box for the base. 
Marshmallow Krispie Topped Brownies in an 8 Inch Pan
The recipe below is designed for a 13x9 inch pan of brownies, but you can also make them in an 8 inch pan by halving everything.  Some brownies mixes are designed for 8 inch pans, so you could also use one of those mixes and just halve the toppings.
Recipe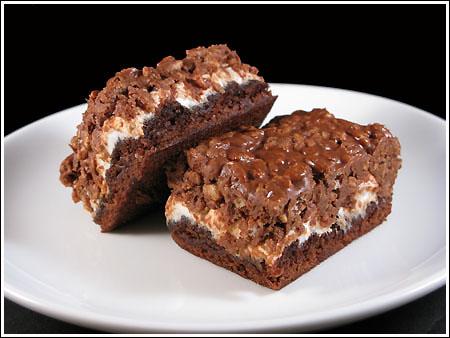 Easy Peanut Butter Marshmallow Krispie Topped Brownies
Easy Peanut Butter Marshmallow Krispie Topped Brownies
Ingredients 
1

box

18.3 to 21 oz brownie mix plus eggs & oil (or whatever box calls for)

4

cups

marshmallows

small ones

1 ⅓

cup

semi-sweet chocolate chips

1

cup

creamy peanut butter – regular type

3

tablespoons

butter

2

cups

crispy rice cereal
Instructions 
Preheat oven to temperature directed on brownie package.

Line a 13x9 inch pan with non-stick foil.

Prepare brownies using amount of oil, eggs, water called for on box. Two minutes before they are supposed to be done, pull brownies from the oven and sprinkle marshmallows across top. Return to oven for 2 minutes to soften marshmallows. Remove from oven and spread soft marshmallows over top of brownies. Let cool completely on a wire rack.

Prepare topping. In a microwave-safe bowl, combine chocolate chips, peanut butter and butter. Heat on high for 30 seconds. Stir and repeat until chocolate is melted and mixture is smooth. Add cereal and stir to coat. Drop spoonfuls of chocolate mixture over marshmallow layer, spreading as evenly as possible. Things will look gooey at this point, so don't even think about cutting. Put the brownies in the refrigerator for a few hours to chill.

Lift from pan and score into squares (about 16 or 20).

Half Batch Version

This recipe halves well. Just cut everything in half (half a 19.5 oz box of brownie mix is 2 cups mix) and bake in a non-stick foil lined 8 inch square metal pan. Bake time will be about 22 minutes total.
Notes
Cook time includes time needed to cool and chill