Ever heard of a non-dairy gelato called Gel-Not-O? I hope not because that's what I've decided to name my company when I mass produce this frozen coconut milk dessert. Just kidding. That's 100% not happening, but I do plan to make this Coconut Milk Chocolate Ice Cream again and again! It's not really ice cream nor is it gelato, but it is very satisfying and pretty close in texture to the dairy versions.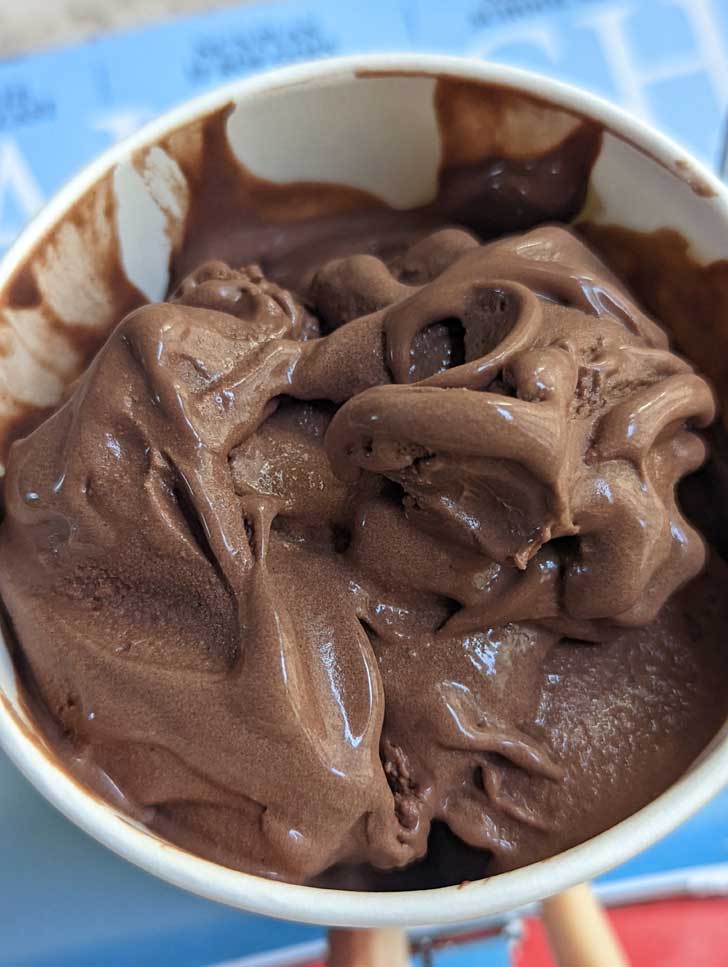 So if you liked the Strawberry Coconut Milk Ice Cream and were hoping to see a chocolate version, here it is. I know there are a lot of recipes for this on the Internet, but I tried to make my Chocolate Gel-not-O (sorry, I won't call it that anymore) just a little different by adding a starch, which in this case is tapioca starch. Tapioca starch is the same thing as tapioca flour, and it's so much easier to find these days. It's also worth buying, as it helps keep the non-ice cream smooth and creamy. The maple syrup helps too, and does not make the ice cream taste like maple. Or maybe if you buy a very strong maple syrup it will, but I just use the cheapest "pure" I can find. Do NOT use pancake syrup. I'm all for shortcuts, but that's not an option. You'd be better off using golden syrup or even light corn syrup.
Does it Taste Like Coconut Milk
Ah, the big question! Fuzz commented that she loved the flavor "especially the coconut". She said that she could taste the coconut milk in this one much more than she could in the Key lime version, but that she loved it. When I tried it, I did not get much coconut flavor. To me, the level was about the same as in Nada Moo, which is my favorite of the storebought coconut ice creams.
Heating Tapioca Starch
Many of the easy coconut milk ice creams don't call for heating, but in this recipe the coconut milk mixture needs to be heated to activate the starch, especially if you use cornstarch rather than tapioca. While tapioca starch needs less heat to activate it, the ice cream tastes better with a heated and cooled custard. So I apologize for the extra time involved, but it's worth it. Plus tapioca starch is everywhere now, so you don't have to hunt it down or grind up instant pearls to make the powder. Speaking of which, I need to go back and re-do this blueberry pie recipe with tapioca starch.
One Can Coconut Milk Ice Cream
This is a small batch recipe that uses one can of coconut milk, which is a convenient amount. However, you also have to use ⅓ cup of whatever non-dairy milk you have on hand. I've tested with oat milk and almond milk and both work just fine.
Rock Hard Coconut Milk Ice Cream
So I've talked about how "creamy" this is, but I haven't yet found an easy way to keep it soft once frozen. The pectin in the roasted strawberries seemed to help the Roasted Strawberry version, so I may try using a little pectin (I've seen it at Target in the canning section) next time. A little vodka didn't do much. Sunflower lecithin might. But in the end it's not a huge deal because you can just leave the dessert out for 20 minutes to soften. Here's a picture of it on day 2 after I let it softened and took out a scoop.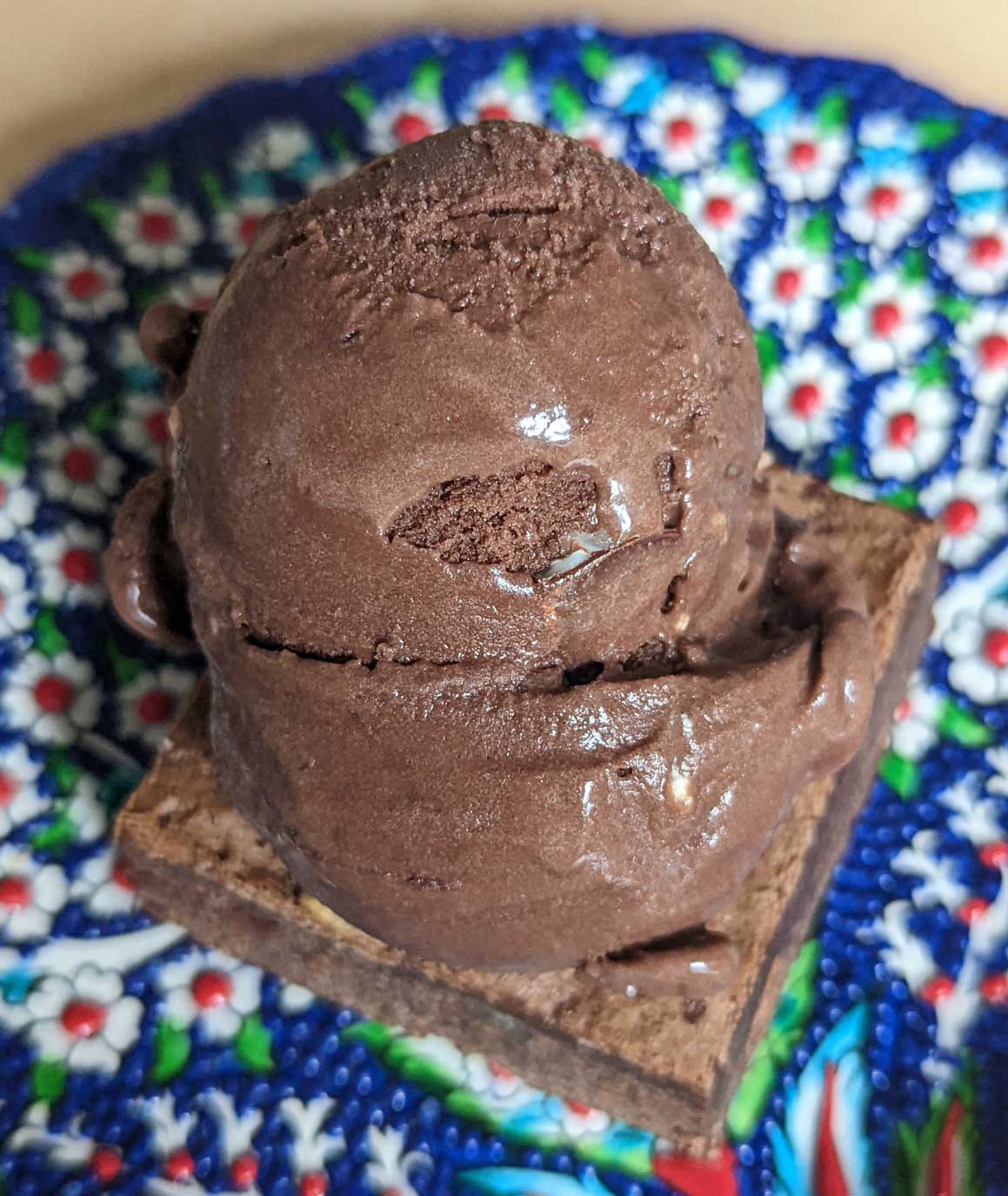 Variations
I made one version of this as Rocky Road using the same technique as I did with Easy Rocky Road, but I think this non-ice cream would be really great with chopped up chewy brownies -- particularly the Tapioca Flour Brownies! They are delicious and chewy and have the kind of texure that should go well with ice cream. Plus they're another way to use the tapioca flour!
Recipe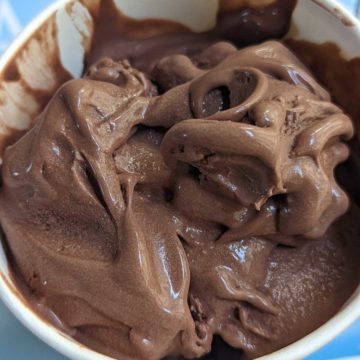 Coconut Milk Chocolate Ice Cream
Non-dairy chocolate ice cream recipe made with coconut milk and oat or almond milk. You can serve this shortly after taking it out of the freezer or freeze overnight and let soften slightly.
Ingredients 
⅓

cup

almond milk or oat milk

½

tablespoon

tapioca starch

1

can

coconut milk (13.5 oz) , preferably one with guar gum if you can handle gums.

1

tablespoon

sugar

¼

cup

maple syrup

(80 grams)

⅓

cup

unsweetened cocoa powder, Dutch or natural

(33 grams)

½

teaspoon

vanilla

olive oil or lecithin cooking spray
Instructions 
In a medium size bowl (I use a 1.5 liter Pyrex), whisk together the tapioca starch and almond or oat milk.

Pour the can of coconut milk into a small to medium (2 quart) saucepan. Whisk in the sugar, maple syrup, and cocoa powder, then whisk in the dissolved tapioca & milk mixture.

Turn heat to medium and cook, whisking constantly,until mixture comes to a gentle boil. Continue to boil and whisk for about a minute (especially if using cornstarch). Mixture should thicken just slighty. Remove from heat and pour back into the bowl you used for whisking together the starch & milk.

Let cool for about 5 minutes, then whisk in the vanilla extract. Spray a small sheet of parchment with cooking spray and press it over the custard base. You can use olive oil spray or a lecithin spray like Pam.

Let cool at room temperature until it's cool enough that you feel comfortable with putting it in the refrigerator, then cover and chill for 4 hours or until very cold.

Process the mixture in your ice cream maker as directed by manufacturer.