So I recently learned (because I visited their web page) that Pepperidge Farms cookies were named after European cities their founder visited while voyaging on The Queen Mary. Vienna, Milano, Brussels, Chessman City (just kidding) -- the names evoke luxury, which is why Pepperidge Farm were the "fancy" cookies back in the day. They kept that reputation for sure, but at some point they started getting a little homier with locally named cookies including Sausalito and Chesapeake. And the cookies were a different style too -- like homemade, but better. Or are they? For years I resisted the urge to find out. Until today. I bought some Pepperidge Farm cookies and then made some Chesapeake Copycats to find out.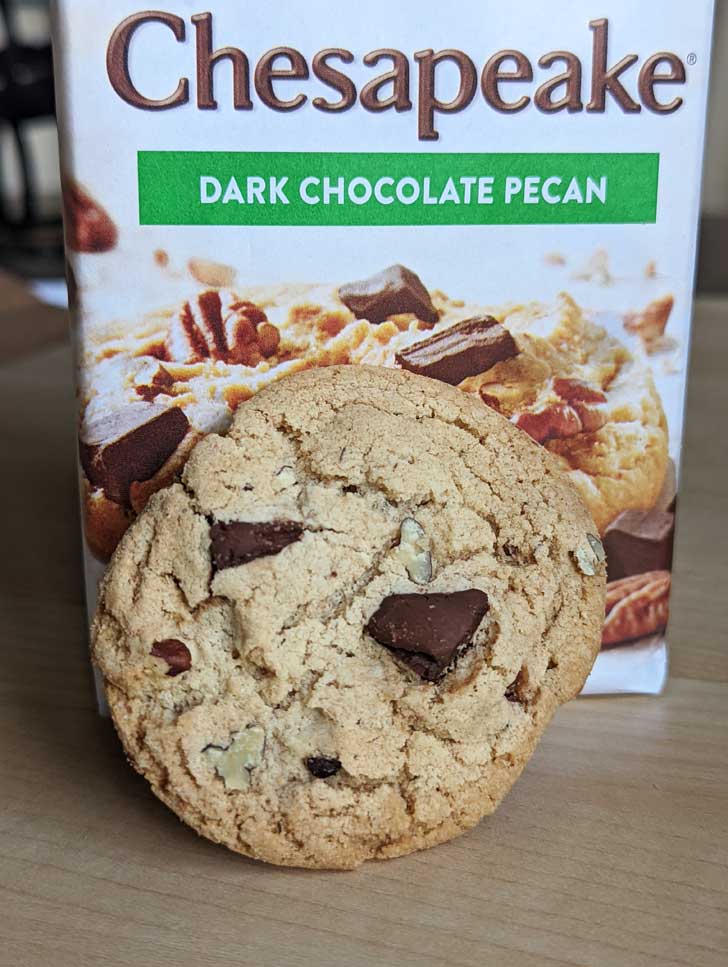 Copycat Recipe Changes and Notes
There's already a copycat recipe floating around, and the only real ingredient change I made was to use shortening in place of half the butter. I also added the weights, especially flour, because that can vary the most. The most interesting thing about the copycat is that you do not cream the butter and sugar. Instead, you cream the butter with the egg and vanilla, then add the sugar along with the dry mixture. With this method there's more undissolved sugar in the dough, which helps create air pockets similar to the ones in the airy, crispy store-bought. But this is where things get interesting.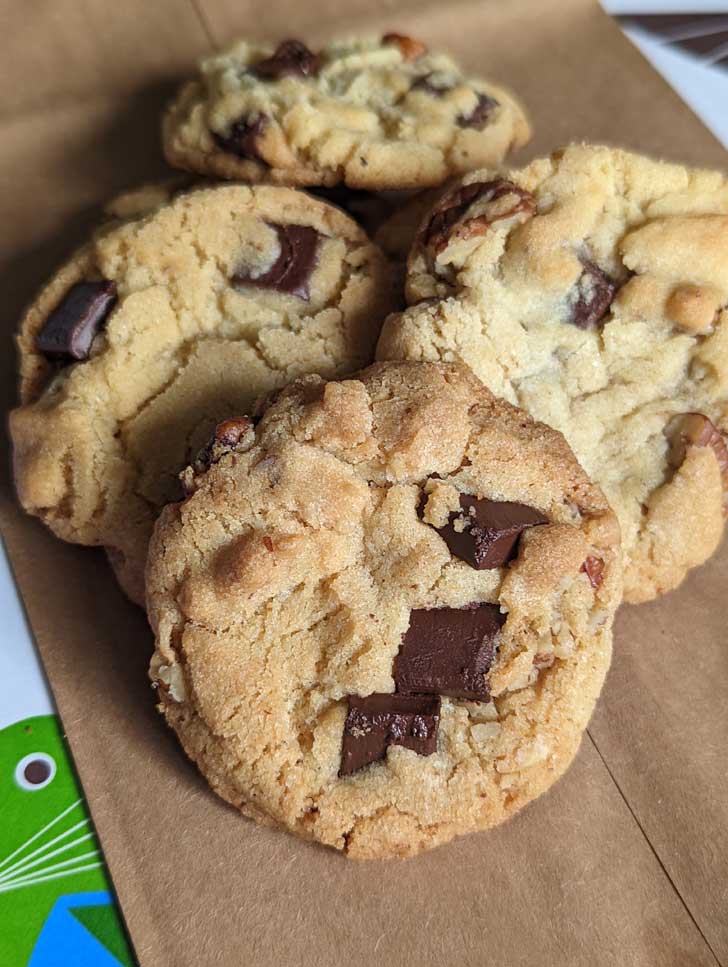 Texture and Flavor Compared to the Originals
I knew just from looking at the original Chesapeakes that the homemade version wouldn't be as light and airy. The Pepperidge Farm cookies are extremely light and crumble all over when you take a bite. Their texture is a lot like Swedish Dream Cookies, which is interesting because the Canadian label for Sausalitos (which are similar) lists ammonium carbonite, but the USA version lists cream of tartar. I use cream of tartar all the time, but it never makes my cookies that light. Anyhow, whatever they do to the cookies, their texture is the best!
The copycats are good too. They are crunchy, light textured, and pecan/vanilla flavored. While the copycats are not as spectacularly light as the originals, the flavor is a little cleaner. The originals, I am sad to say, leave some lingering aftertaste. I still love them, but I liked the flavor of the copycats better. And honestly it was nice being able to put all the chocolate I wanted in each cookie.
Gluten-Free Pepperidge Farms Chesapeake Copycats
So in the end I liked the packaged version and the homemade equally, but one huge advantage to having a homemade copycat recipe is that you can make them gluten-free. I tested a second batch using King Arthur Measure for Measure which worked perfectly, though I didn't actually use it measure for measure. For the gluten-free version, I only needed 300 grams of flour. Like wheat flour, gluten-free flours are notoriously variable in their weight per volume, so for best results weigh 300 grams of gluten-free flour. With King Arthur's Measure for Measure, I usually get 140 grams per cup, so that would be about 2 cups and 2 tablespoons.
Chilling, Even Baking, Cracks and Crevices
I'm always in favor of chilling cookie dough, but in this case the cookies come out more evenly baked (crispy throughout) when baked right away. When you chill the dough balls and bake them later, you may get cookies with crispy edges and soft centers. To solve this issue, reduce the oven heat to 350 or even as low as 325F and bake slightly longer. But if you can bake the cookies immediately, you'll probably get more cracks and crevices and an even texture throughout.
Another tip for getting more crevices in the dough is to chop the chocolate. I used Aldi Belgian chunks and didn't bother to chop them, but chopping the chocolate into pieces and shards should create more air bubbles with the dough and cause more cracking.
Chesapeake Cookie Copycats Ingredients
After you master the Chesapeakes, you can try making some Sausalitos. To make Sausalitos, just use milk chocolate and macadamia nuts.
Butter-- I've been making these with unsalted KerryGold.
Shortening -- Any shortening should work, but the test cookies were made with Spectrum, which was measured by weight. Having a scale makes measuring shortening so much easier.
Egg -- 1 cold large egg
Vanilla
Baking Soda
Baking Powder
Cream of Tartar -- I did not use any, but you could try skimming off a tiny bit of the baking powder and replacing it with a pinch of Cream of Tartar if you have some.
Salt
Light Brown Sugar -- Measured by weight
Granulated Sugar -- Measured by weight
All-Purpose Flour -- King Arthur AP, used 315 grams. Dough was on the dry side, but the texture of the cookies was great. For the gluten-free, I used 300 grams of King Arthur Measure for Measure.
Chocolate Chunks -- Aldi's Belgian Chocolate Chunks work great!
Pecans -- Costco always comes through with reasonably priced pecans. I toasted them before using.
Recipe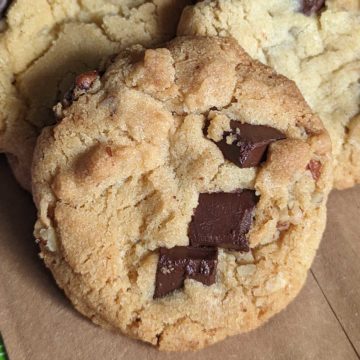 Pepperidge Farm Chesapeake Copycats
Crispy, crunchy chocolate chip cookies with pecans and dark chocolate.
Ingredients 
1

stick

unsalted butter, cool room temp, cut into chunks

(114 grams)

½

cup

shortening (Crisco or Spectrum)

(96 grams)

1

large

egg, cold

1

teaspoon

vanilla

¾

cup

granulated sugar

(150 grams)

¾

cup

brown sugar

(160 grams)

½

teaspoon

baking powder

¾

teaspoons

baking soda

1

teaspoon

salt (use ½ if using salted butter)

2 ¼

cups

all purpose flour, weigh for best results**

(315 grams if using AP 300 grams for gluten-free blend)

1 ½

cups

dark chocolate chunks (Aldi)

1 ½

cups

toasted pecans, coarsely chopped
Instructions 
Preheat oven to 375 degrees F.

In the bowl of a stand mixer, using the whisk attachment, beat the cool butter and shortening until creamy. Add the egg and vanilla and continue to beat until creamy. It may look a bit curdled at first. Keep beating for about 2 minutes.

In a second bowl, whisk together the sugars, baking powder, baking soda, salt and flour until evenly mixed.

Add flour mixture to the egg and butter mixture. Return mixer to mixer stand. Using the paddle, beat on medium until evenly blended but still rather crumbly. Empty onto a pastry mat and knead gently until dough comes together. Knead in the chocolate chips and nuts. If using gluten-free dough, you should be able to just stir in the chips and nuts, but the all-purpose dough is a little dryer.

Shape dough into balls that are about 1 inch in diameter or about 30 to 32 grams each.

Arrange the dough balls about 1 ½ to 2 inches apart and bake one sheet at a time (or you can do two sheets if you prefer) for about 12 minutes or until cookies appear golden and cracked.

Let cool on the baking sheet for about 3 minutes, then carefully transfer to a wire rack to cool and crisp.
Notes
The dough should feel a little on the dry side, but should still hold together.  For best results, weigh out 300 grams with a scale.  If you don't have a scale, whisk the flour well to aerate, then spoon it into the cup and sweep the top flat.
If using gluten-free flour, you'll definitely need to weigh it.