When I think of butter cookies, I think of the fancy shaped "Danish" kind which come in a blue tin and which you find at drugstores and such. So when I saw the recipe on the side of the potato starch box for Swedish Butter Cookies, I was expecting something similar – something along the lines of shortbread cookies. Surprise. The resulting cookies were almost identical to Nabisco's old Brown Edge Wafers which were discontinued over 10 years ago. If anything, these were better. The potato starch is key, of course. The recipe is on the back of the box, but here's my adaptation below for you to consider. Of course you might as well follow the recipe on the box, because you'll have to buy the potato starch flour anyway. Don't worry about finding other uses for it, because there are many.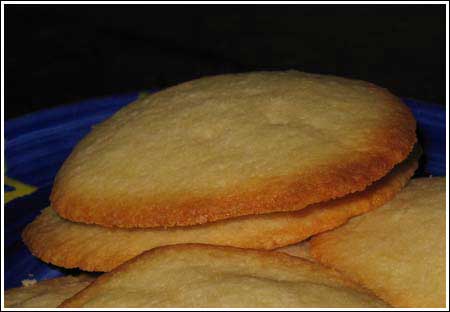 Brown Edge Wafers
Brown Edge Wafers (aka Swedish Butter Cookies) made with a secret ingredient -- potato flour.
Ingredients
1 cup butter (regular, not unsalted), softened
1 cup sugar
1 egg
1 1/2 teaspoon vanilla
1 cup potato starch flour
1 cup all-purpose flour
Instructions
Cream together butter and sugar. Beat in egg and vanilla. Sift together flour and potato starch flour; add to butter mixture and stir until combined. Chill dough for about an hour. Roll into small balls and place on ungreased or parchment lined cookie sheets. Press gently with palm of hand to flatten slightly. Bake at 375 degrees F for 10 minutes or until edges are brown.
Notes
Makes about 60
(I only ended up with about 50)

Note: This recipe is one where you can let your premium vanilla extract (Penzey's, Nielsen Massey) shine. I think they'd be incredible with vanilla bean!

Another Note: I used unsalted butter and a generous pinch of salt. The recipe on the box just says "butter", so I'm assuming they used salted. Whatever you do, don't leave out the salt if you use unsalted butter or else the cookies will taste flat.
Related posts: