My grocery store has been in complete disarray this week. They're changing everything around and the already-too-narrow aisles are lined with carts full of products to be re-shelved. I tried to do some shopping the other day, and while the employees were super apologetic and did their best to help, I came out of the store slightly frazzled. It was as if someone had ransacked my office. I think the revamp might be over today, but haven't gotten around to checking.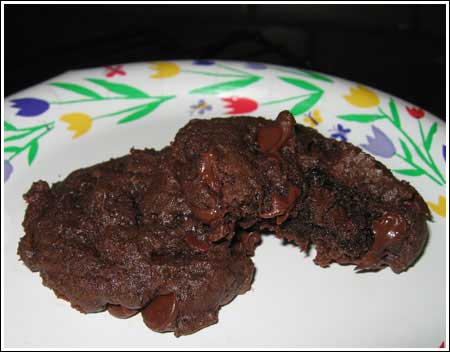 In the meantime, I had to make due with ingredients on hand. This cookie, an old prize winner from Country Woman magazine, was a lifesaver. The original version calls for 1 cup semi-sweet chocolate chips and 1/2 cup white chocolate chips. I'm finicky about where I like white chips, so I used 1 1/2 cups of semi-sweet chocolate chips. At any rate, the soft, thick, cakey and not-overly-rich dough was a perfect foil to chocolate chips. If you need a sturdy-yet-moist and thick cookie, these are perfect. Fuzz, who loves chocolate but isn't a big fan of super rich chocolate cookies, was crazy for these. One warning. Be careful not to over-bake! Personally, I'd err on the side of underbaking and letting the cookies cool and cook internally. Once you nail the bake-time with your own oven, you'll love these.
Sour Cream Chocolate Cookies
Double chocolate cookies with sour cream in them.
Ingredients
1/2 cup butter or margarine, softened
3/4 cup granulated sugar
1/2 cup packed brown sugar
1 egg
1/2 cup sour cream (I don't recommend using light for this recipe)
1 teaspoon vanilla extract
1-3/4 cups all-purpose flour (spoon, don't scoop)
1/2 cup unsweetened cocoa powder
1 teaspoon baking powder
1/2 teaspoon baking soda
1/4 teaspoon salt
1 1/2 cups semi-sweet chocolate chips or use a mixture of chocolate and white chips
Instructions
Preheat oven to 350 degree F.
In a mixing bowl, cream butter and both sugars. Beat in egg, sour cream and vanilla. Combine dry ingredients; gradually add to the creamed mixture. Stir in chips. Drop by rounded
tablespoonfuls 2 in. apart onto greased baking sheets. Bake at 350° for 12 minutes
or until set - do not overbake. They should still look kind of moist on top when you take them out. They will set as they cool.
Cool for 2 minutes before removing to wire racks to cool completely.
Makes about 3 dozen
Related posts: