A few years ago, a friend turned me on to the idea of adding broken packaged cookies to homemade baked goods. For a while, we were putting broken Oreos in everything – brownies, candy and of course, chocolate chip cookies. What we found was this recipe, an old one adapted from a vanilla extract website, really stood up well to the big chunky cookies. The dough has proportionally less fat in it and bakes up into a sturdy, crispy edged, tender-on-the-inside, cookie.
Thinking this dough would also be good with M&M's, I came up with a spooky Halloween version using Halloween colored M&M's (Target sells them….I think they are called "Ghoulish M&M's) and Halloween colored Oreos. Unfortunately, I didn't have any orange colored Oreos on hand, but you get the idea.
Bonus. This is a one bowl cookie!
P.S. Thanks Katrina for jogging my memory of this recipe.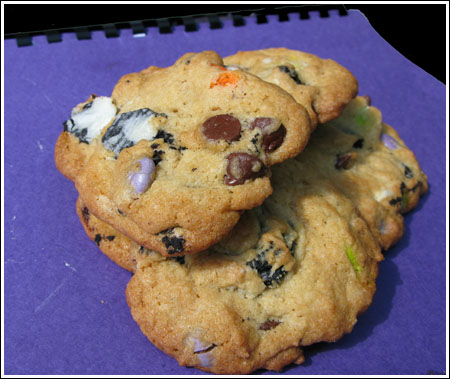 M&M Oreo Chunk Chocolate Chip Cookies
6 oz unsalted butter, softened
1/2 cup plus 2 tablespoons granulated sugar
1/2 cup plus 2 tablespoons light brown sugar
2 teaspoons vanilla extract
1 large egg
1 teaspoon baking soda
1 teaspoon salt
1/2 teaspoon baking powder
1/2 teaspoon cream of tartar
2 cups all purpose flour
1 cup scary colored Halloween M&M candies
1/2 cup semi-sweet chocolate chips
6-8 Oreos, broken into thirds or fourths (just don't crush.
Preheat oven to 350 degrees.
Cream butter and both sugars. Beat in vanilla and egg. Add soda, salt, baking powder and cream of tartar and beat well to ensure the baking powder is well-distributed. Add the flour and stir until it's absorbed. Stir in the M&M's, chocolate chips and cookies. Yum!
Using a heaping tablespoon, drop the cookies about 2 inches apart onto cookie sheets. Bake for 12-15 minutes.
Makes about 2 dozen
Note: I chilled by dough a few hours before baking. It's not critical, but chilled dough might yield fatter cookies.
Adapted from Nielsen Massey.
Related posts: