This recipe, which is loosely based on one from alt.cookies.yum.yum.yum was pretty good! It's also on the wholesome side given the pumpkin, good fat, and whole grain flour. The texture is super-cakey to the point where the cookies are almost little round cakes. The chocolate chips make them extra good, so don't leave them out.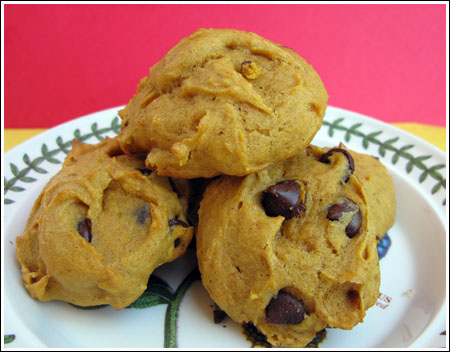 Pumpkin Chocolate Chip Cookies
1 cup canned pumpkin
1 large egg
1 scant cup granulated sugar
6 tablespoons vegetable oil
1 teaspoon vanilla
1 teaspoon cinnamon
1/2 teaspoon salt
1/2 teaspoon baking soda
1 1/2 teaspoons double-acting baking powder
2 cups all purpose flour or white whole wheat flour (9 oz)
1 cup semi-sweet chocolate chips
Preheat oven to 375 degrees F.
Beat pumpkin, egg, sugar, oil, vanilla, cinnamon, salt, baking soda and baking powder together in a mixing bowl. Make sure all the leavenings are dissolved (no lumps). Add the flour and stir just until it is mixed in, then stir in the chocolate chips.
Using a very generously rounded tablespoon measure, drop onto parchment lined cookie sheets spacing about 2 inches apart (cookies shouldn't spread much). Bake at 375º for 13 to 15 minutes.
Remove from tray and let cool.
Makes about 18 cookies
Related posts: