Well, here we go with another carrot cake cupcake. I'm hoping these comparisons of carrot cupcakes might help some of you choose a recipe, but I think the truth is that I just really, really like making carrot cake.  It's relaxing, and it's nice not having to pull out the stand mixer or cream the butter.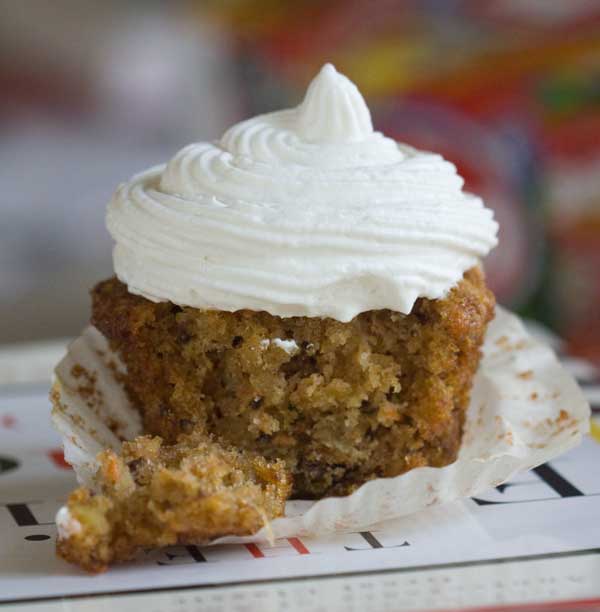 My goal, as stated, is to find a favorite carrot cupcake. Even bad carrot cupcakes are good (I call them muffins), but the kind that are the best are sweet, dense, kind of crumbly and have layers of flavor. If you've tried a carrot cupcake from Sugar Mama's here in Austin, then you know what I'm talking about! Their carrot cupcakes are delicious. Another trait I like in carrot cake is when it's brown rather than orange, and crumbly and moist rather than mushy-moist. This recipe had most of those traits, though it was less dense than Sugar Mama's and not as dark as I was hoping. But I loved the cupcakes anyway and wouldn't call them muffins.
The version that inspired these cupcakes was Rabbit's Carrot Cake from The Fanny Farmer Cookbook. Their recipe is made as two 8 1/2 by 4 1/2 inch loaves, but I made it as cupcakes. The other changes I made were to cut the variety of spices to just one (cinnamon), add vanilla extract, and use packed dark brown sugar for some of the granulated sugar and use a mixture of melted butter and oil rather than just oil. The cupcakes are moist without being mushy, have a very balanced flavor, and are nice and are dense yet crumbly. One thing I've noticed in the past couple of days is I'm getting a crumblier texture when I use baking powder and baking soda as opposed to the 2 teaspoons of baking soda you see in a lot of carrot cake recipes. I read in Cook's Illustrated that baking soda makes the batter more alkaline which causes the cell walls of the carrot pieces to break down and leak moisture into the batter. The comparison they made was to a plastic bag filled with water that gets punctured. Maybe the baking powder keeps the batter more acidic and lessens the breakdown of carrots into carrot juice?

Carrot Cupcakes (Rabbit's)
Carrot cupcake recipe adapted from Fanny Farmer's "Rabbit's Carrot Cake"
Ingredients
1 1/2 cups grated carrots (6 ounces)
2 tablespoons lemon juice
1/2 cups canned crushed pineapple, drained dry
1 1/2 cups (6.8 oz) all-purpose flour
1 cup granulated sugar
3 tablespoons tightly packed dark brown sugar**
1 teaspoon baking powder
1 teaspoon baking soda
1 teaspoon salt
2 1/2 teaspoons cinnamon
6 tablespoons unsatled butter, melted
6 tablespoons grapeseed or canola oil
3 large eggs
1 cup golden raisins (or a mix of golden and brown)
1 cup walnuts, toasted and chopped after measuring
Instructions
Preheat the oven to 350 degrees F. Line 22 to 24 cupcake cups or grease and flour two 8 1/2 by 4 1/2 inch loaf pans.
In a small bowl, mix carrots, lemon juice, and pineapple. Set aside.
In the bowl of your food processor (or just use a bowl), combine flour, both sugars, baking powder, baking soda, salt and cinnamon. Pulse to mix, then add butter, oil, and eggs, one by one until mixed. Add carrot mixture and pulse until mixed, then add the raisins and walnuts and pulse lightly just to mix or just stir with a rubber spatula.
Divide evenly among the cupcake cups, filling a little over 3/4 cup full, or divide among two loaf pans. Bake cupcakes for about 25 minutes or loaves for about 45 minutes.
Notes
If you don't want to use brown sugar, you may use 1/4 cup granulated sugar in place of the 3 tablespoons of packed dark brown. If using light brown sugar, use 4 tablespoons instead of 3.
Related posts: