This is one of my favorite recipes for Blueberry Pie.  When I first started making it I thickened it with ground instant tapioca which comes in pearls.  If you want to grind tapioca pearls that is still an option, but thanks to the proliferation of gluten-free items, it's easy to find tapioca powder.  Another option is to use pearls and skip grinding altogether.  If you allow the pearls to sit in the filling for about 15 minutes before baking, most will dissolve.  You may have a pearl here and there and the filling won't be as smooth.
These days I still make Blueberry Pie with ground tapioca if I have some, but more often than not I just use the original ⅓ cup all-purpose flour.  I also like to top it with a crumb topping instead of using a second crust.  Here's what it looks like with crumb topping. Directions are in the notes section.  If you want to stick with tapioca, tapioca flour is now available at a lot of mainstream grocery stores.  You might also consider using arrowroot.  I haven't tested the amount of tapioca flour or arrowroot, but Spruce Eats gives some guidelines.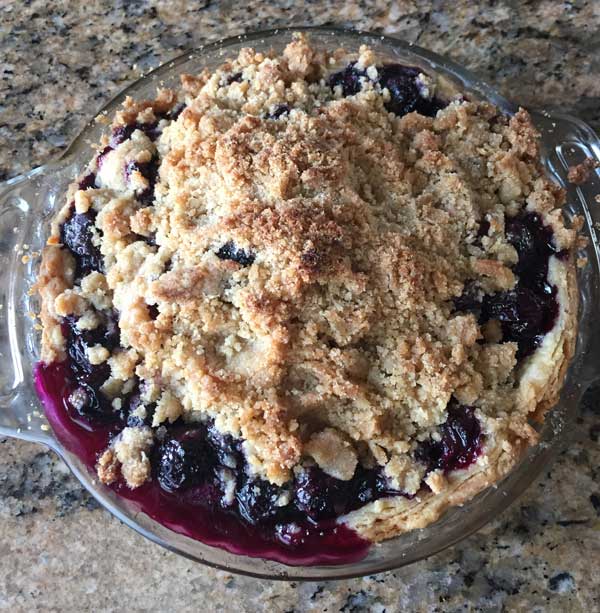 Recipe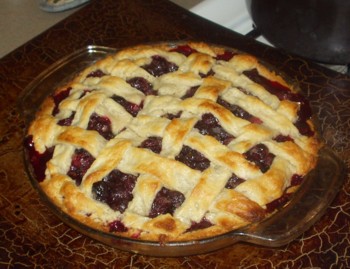 Blueberry Pie
This is a basic recipe for blueberry pie with a lattice top. For this filling you can use ¼ cup ground tapioca or ⅓ cup all-purpose flour.
Ingredients 
Crust:
2 ½

cups

all purpose flour

315 grams

1

teaspoon

salt

2

tablespoons

sugar

Pinch

cinnamon

optional

12

tablespoons

shortening

divided into chunks

6

tablespoons

butter

cup up or grated

⅓-1/2

cup

cold water
Filling:
4

cups

fresh blueberries

see note

1

tablespoon

fresh lemon juice

¼

cup

tapioca

ground up in coffee grinder (or ⅓ cup flour)

½

teaspoon

cinnamon

¾

cup

sugar
Instructions 
Combine flour, sugar, salt and cinnamon in a large bowl or in the bowl of the food processor. Using a pastry cutter or your fingers (or the processor, if using), cut the shortening and butter into the flour mixture until crumbly. Add water a few tablespoons at a time, stirring until dough holds together. Shape into one big ball, then divide in half and make two spheres. Place each sphere in a zipper bag.

When ready to make pie, proceed as follows. Place berries in a large mixing bowl and toss with lemon juice. Combine ground tapioca, cinnamon and sugar. Pour over berries and stir to coat berries. Let sit for about 15 minutes.

Meanwhile, remove one sphere of pie dough from refrigerator but keep it in the zipper bag. Roll dough out in zipper bag. Cut side of zipper bag. Invert dough circle over 9 inch glass pie plate and carefully peel away zipper bag. If dough seems too sticky to work with, throw it in the freezer for a few minutes. Poke holes all over dough with a fork, press a piece of foil gently over the pie dough shell, weigh down with pie weights and bake on a rimmed baking sheet at 400 degrees F. for 10 minutes.

While the pie shell bakes, take out second half of dough and roll into a big circle. Cut into ¾ inch strips.

Put the blueberry mixture into the baked pie shell, arrange the strips in a lattice pattern over the blueberries, set on a rimmed baking sheet and bake at 400 for 35 minutes.
Notes
Crumb Topping Variation
Skip the second crust and forget the lattice.
Bake the bottom crust as directed for 10 minutes, covered with foil and weighed down with pie weights.
Mix together the ingredients below and sprinkle over the filling, then bake on a rimmed baking sheet at 375 F (rather than 400F) for about 45 minutes. After about 30 minutes, lay a sheet of foil over the topping to prevent it from over-browning.
Crumb Topping:
½ cup plus 2 tablespoons all-purpose flour
3 tablespoons dark brown sugar, golden okay too
2 tablespoons granulated sugar
¼ teaspoon cinnamon
⅛ teaspoon salt (omit if using salted butter)
4 tablespoons unsalted butter, melted and cooled
¼ teaspoon vanilla extract (optional)