This recipe for "Chocolate Doubleheaders" is one of my personal favorites.  As a chocoholic, I appreciate it because it makes only 12 cookies, which means I can whip up a batch on the spur of the moment.  And Doubleheaders really do satisfy a chocolate craving. Over the years I've played with the ratios a bit, but I always make them with a mix of melted unsweetened chocolate and chocolate chips.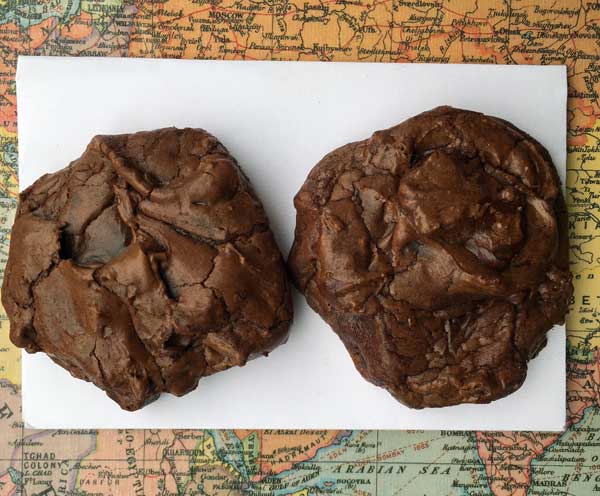 Separating the Egg
What makes these double chocolate cookies special is the separated egg. You beat the egg white with the sugar as if you were making meringue, then fold in the melted chocolate mixture. You then add the egg yolk, vanilla, flour mixture and nuts. The batter should be thick enough to scoop, but have a lightness to it from the egg white.
Adding Even More Chocolate!
In years past I've added extra chocolate chips to the dough, but these days I just underbake as per the directions so that the cookies are super fudgy and don't need any extra chocolate chunks. I do like adding a little more chocolate for texture contrast, so I'll put a piece of dark chocolate or a chocolate wafer on top before baking.
Cookie Shape and Baking Time
Chocolate Doubleheaders can be made with kind of a shaggy look or as neat rounds.  It depends on your own personal preference and how long you wish to chill the dough. If you follow the directions closely, you shouldn't have to chill it at all. The most important thing is not to overbake. The bake time is 9 minutes, then the cookies sit on the cookie sheet for 10. If the cookies are too fudgy (or not fudgy enough) then you can adjust the bake time, but they are supposed to seem underbaked at first.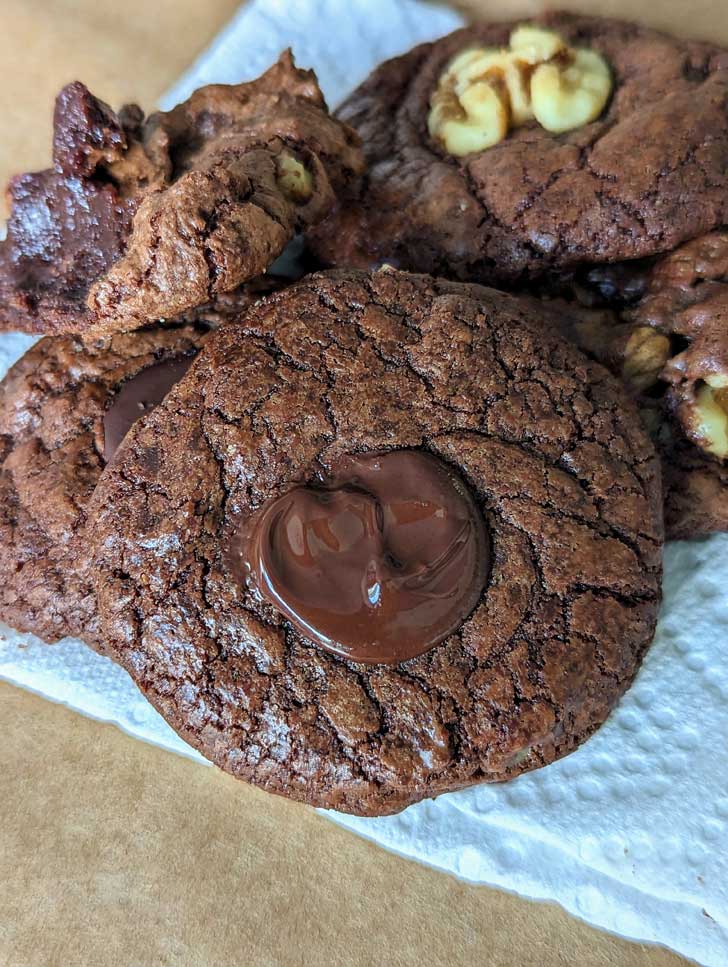 Gluten-Free Chocolate Doubleheaders
This recipe works well with all-purpose flour or a gluten-free 1:1 blend such as Cup4Cup, which is what I used to make my last batch. If using a gluten-free blend, just use the same amount as you would all-purpose flour.
Recipe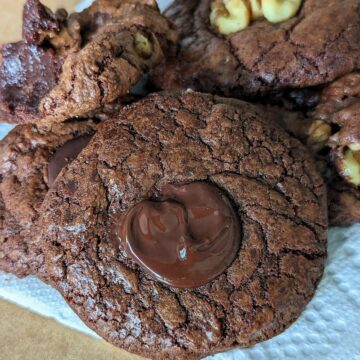 Chocolate Doubleheaders
If you're in the mood for double chocolate cookies, this recipe for Chocolate Doubleheaders (based on an old recipe from "Cookies by the Dozen" ) will give you exactly 12 really good cookies. For jaggedy looking cookies, scoop the dough when it's thick enough to hold its shape and plop it on the tray. For thick, rounded, cookies, chill mounds of dough until slightly firm, then gently shape into smooth balls.
Ingredients 
3

tablespoons

all-purpose flour

(24 grams)

⅛

teaspoon

baking powder

⅛

teaspoon

salt

2

tablespoons

unsalted butter

½

cup

semisweet chocolate chips

1

ounce

unsweetened chocolate, chopped or broken

⅓

cup

plus 2 tablespoons sugar

1

large

egg

separated

1

teaspoon

vanilla

¼

cup

walnuts or toasted pecans (I don't toast walnuts, but I do toast pecans)
Instructions 
Preheat oven to 350 degrees F. Line a cookie sheet with parchment paper.

Combine flour, baking powder and salt in a small bowl; set aside.

In a microwave-safe bowl, combine butter, chocolate chips and unsweetened chocolate. Microwave at 50% power for 1 ½ minutes, stopping to stir every 30 seconds. Set aside and let cool slightly.

In a medium size mixing bowl, begin beating egg white until soft peaks start to form. Gradually add the sugar, beating all the while. Beat in the melted chocolate mixture and stir until smooth. Beat in the egg yolk and the vanilla.

Add the flour mixture and stir until blended, then stir in the nuts.

Drop batter by rounded tablespoonfuls onto parchment lined cookie sheet. Bake for 9 minutes, turning cookie sheet halfway through for even baking. The cookies will not look done, although they should be. Let them cool for about 10 minute on the cookie sheet.