Given my "Rah, Rah, Texas Hill Country" mood of late, I was very happy to come across a recipe for "Mrs. L.B.J.'s Moonrocks" in Maida Heatter's Great Cookie book. For those of you who don't know who "Mrs. L.B.J" is, it's Ladybird Johnson, wife of President Lyndon B. Johnson who grew up in the nearby town of Johnson City and for whom the Johnson Space Center was named. It was clever of Ladybird to take a standard "rock cookie" recipe and call them Moonrocks.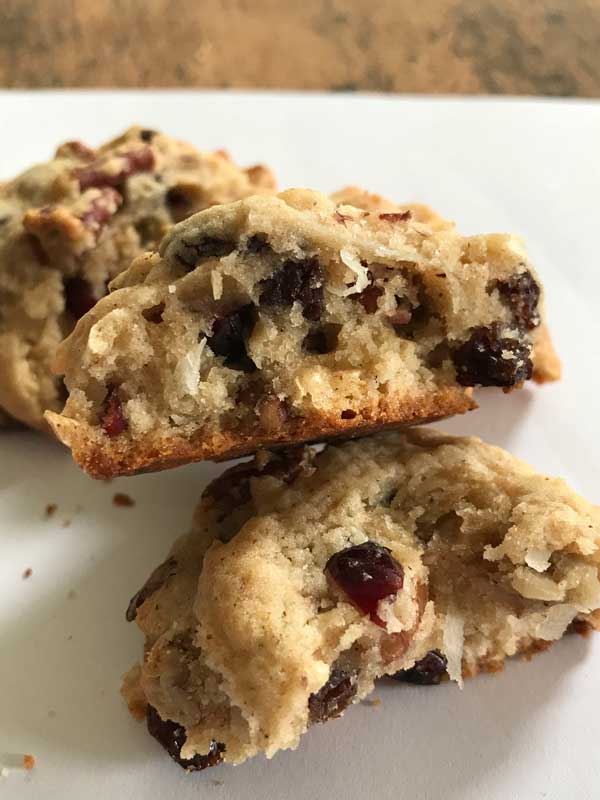 Ladybird had lots of big parties and probably made loads of these. In fact, the original recipe starts with 4 cups of flour. I had a feeling I'd be the only one eating these today, so I scaled the recipe down to ⅓ and made so many little changes that Ladybird probably wouldn't recognize these. I think she'd like them, though! They came out pretty good. They are definitely dry, but in a dense, flavorful way well suited for accommodating a bunch of fruits and nuts. My only regret is that I didn't add crystallized ginger, because it would have been fabulous in these.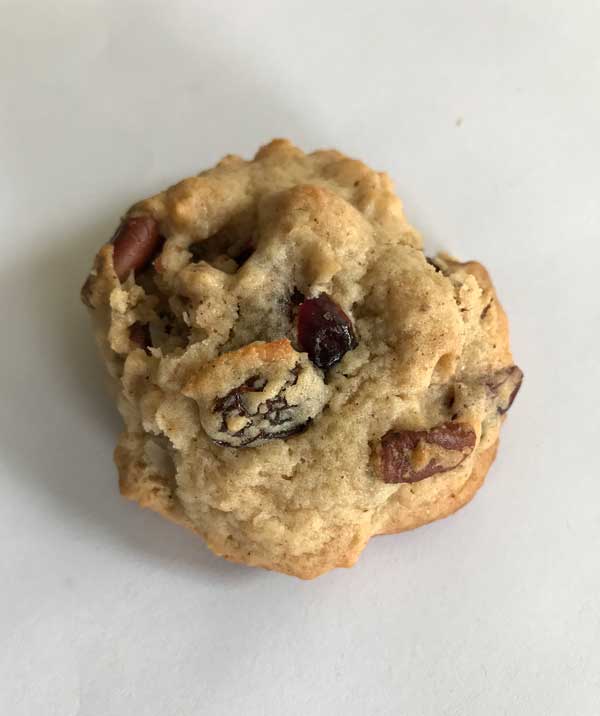 Update:  I've made these dozens of times since posting, but I've changed the recipe so much that I had to change the name.  I switched up the molasses for dark corn syrup (which is what Maida and Ladybird used) and omitted the ginger completely.  I still use cranberries instead of dates, and I almost always use pecans instead of walnuts.
Recipe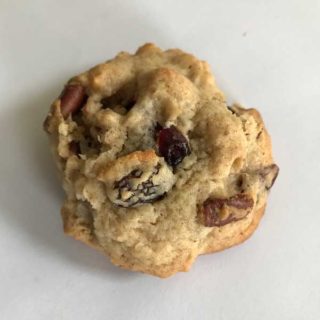 Fruit Rocks aka Moonrocks
This is a version of Maida' Heatter's "Mrs. LBJ's Moonrocks". The original recipe calls for dates, but I usually substitute cranberries.
Ingredients 
4

cups

sifted unbleached all-purpose flour

510 grams

1

teaspoon

baking soda

1

teaspoon

each - cinnamon

cloves, allspice, nutmeg

8

oz

unsalted butter

softened (230 grams)

¼

tsp

salt

1 ½

cup

granulated sugar

300 grams

3

eggs

½

cup

dark corn syrup

¾

cup

shredded sweetened coconut

1

cup

chopped pitted dates OR dried cranberries

1

cup

raisins

2

cups

toasted coarsely chopped pecans or walnuts

Optional -- small handful of white chips
Instructions 
Sift together flour, baking soda and spices. Set aside.

In a second bowl, beat together softened butter and sugar. Beat in egg, syrup (or molasses) and lemon zest.

Stir flour mixture into butter mixture until combined. Stir in coconut, dried cranberries (or dates), raisins and nuts. Throw in some white chips if you like.

Using a medium cookie scoop or a heaping tablespoon, make about 44 balls of dough. Press down slightly.

Bake in a preheated 350 degree oven for 18-20 minutes or until the cookies are brown around the edges. As cookies cool, the edges will get very crisp, but the middle stays soft.