This is one of my old recipes that hasn't gotten as much love as it should. And by that I mean I always forget about it even though I say it's a favorite. It's called Four Day Coconut Cake. It's super easy, but it takes four days to make. I guess that's the real reason it doesn't get as much love. I'm not exactly a patient baker.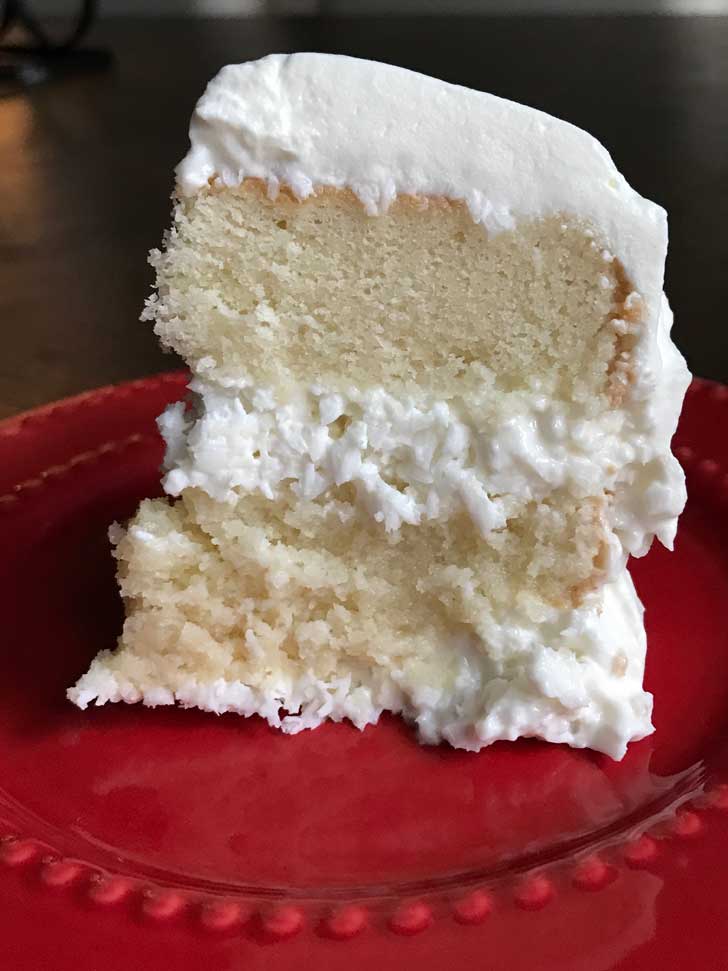 What I do love about this recipe is its source. It's from this little cookbook my grandmother and the ladies of Memorial Drive Baptist Church in Houston, TX made for State Missions Week -- 1980. She and her Sunday school classmates made it by taking strips of wallpaper samples (which is somewhat water resistant), folding it over, inserting typed recipe pages and binding with yarn.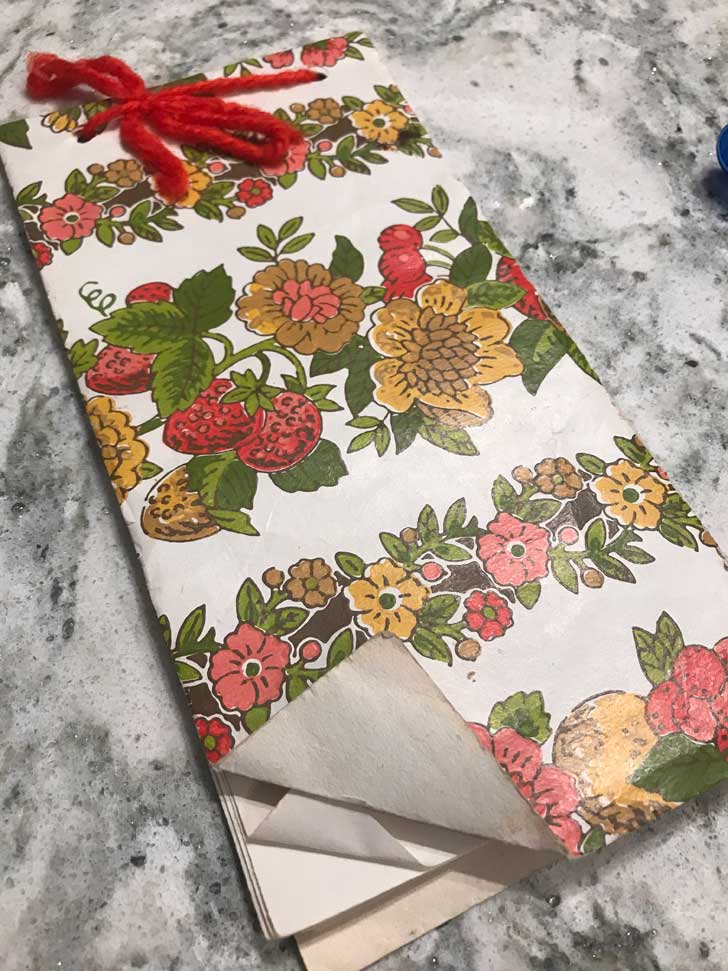 Recipes include Watergate Salad, Strawberry Salad, Carrot and Pea Salad, Spinach Casserole, Broccoli Casserole, Hot Chicken Salad, Hodge Podge, Sesame Chicken, Green Chili Casserole, Lemon Bars, Pumpkin Bread and of course the Four Day Coconut Cake.
Directions for Four Day Coconut Cake
The directions are pretty vague, and that's by design. There's no absolutely right or wrong way to do this, but I have some tips to add which I didn't have back when I first made this cake. Since posting this, I've noticed other versions on-line with more detail, so you might want to check out those until I add more to this post. What you will need for sure is plenty of refrigerator space. The whole cake gets wrapped up (or you can cover with a cake dome) and stored in the refrigerator for four days so that all the flavors and textures meld together.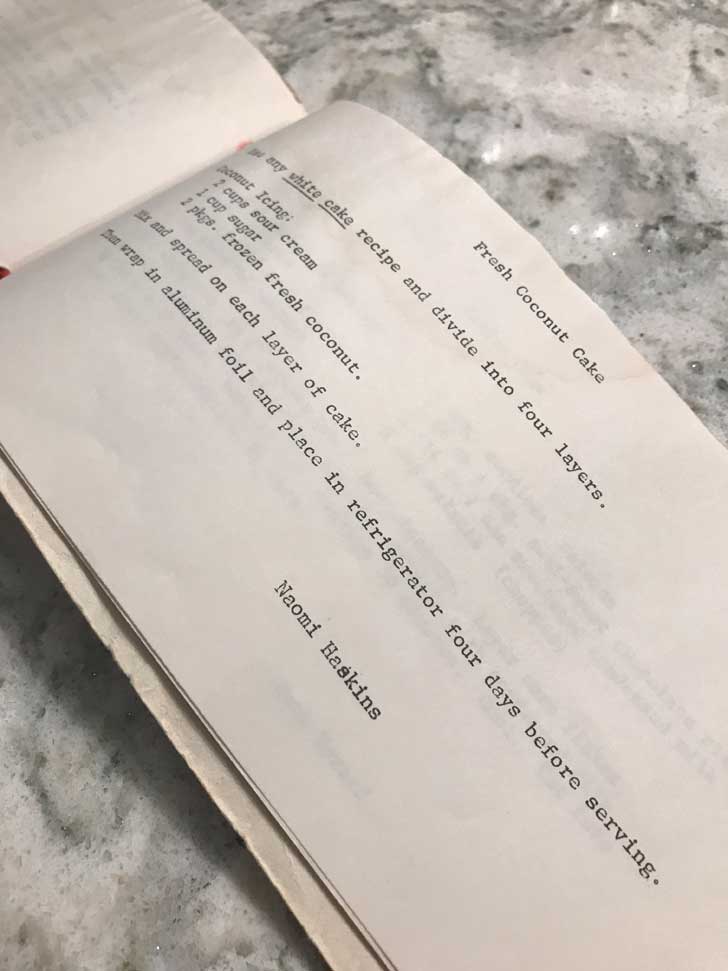 Here's one of my old photos. For this cake, I made it in a square pan, cut the square into just two layers and and stacked the layers and coconut mixture back in the square pan. It was just enough for the family and a little easier to store than the full 9 inch round layer cake.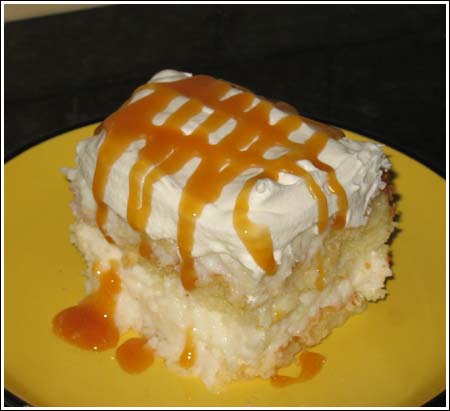 Leftover Cupcake Version
Here's another variation. I used two white cupcakes. To make a Mini 4 Day Coconut Cake with leftover cupcakes, line a mini loaf pan with plastic wrap. Split each cupcake to make four pieces. Lay two pieces in the pan and top with some coconut filling. Cap with remaining pieces and spread coconut filling over and around. Wrap tightly and refrigerate for up to four days. The good news is this mini cake will be ready in 24 hours, so you don't have to wait four days. When ready to serve, turn from pan, peel off plastic and cover with sweetened whipped cream.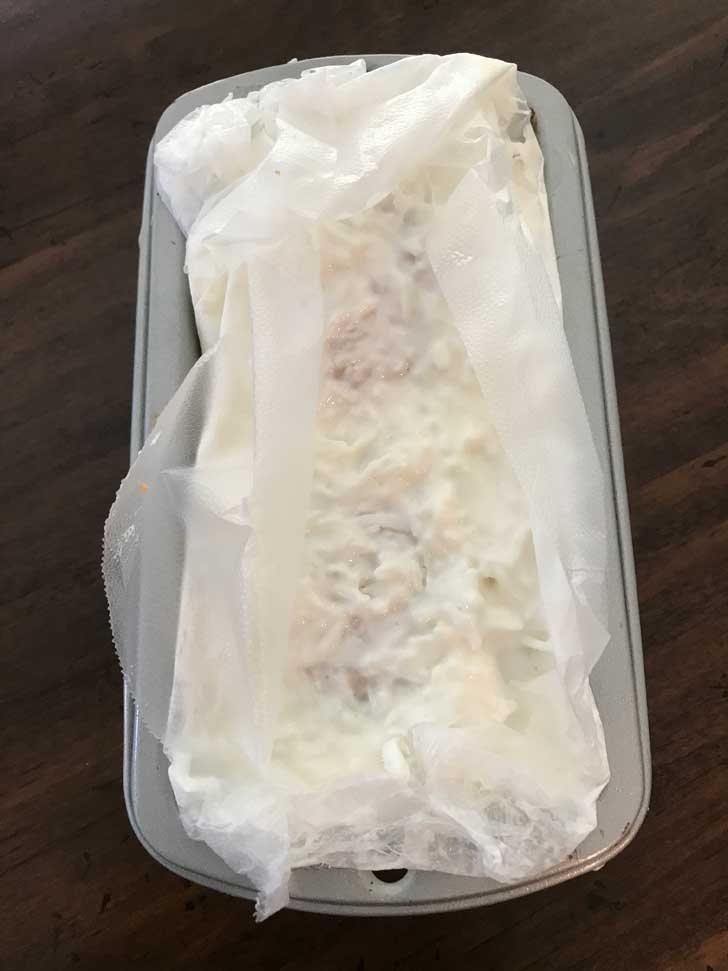 Four Day Coconut Cake Ingredients and Tips
Frozen coconut isn't as commonly used as dried or flaked, but you can usually find it at mainstream grocery stores. Here's Harris Teeter's brand. It comes in a 6-oz package.
The amount of sugar varies from recipe to recipe. I recommend starting with the 1 cup and if that's not sweet enough for you, add more.
I don't recommend using light sour cream. The extra water in it will probably make the cake soggy.
Covering with sweetened whipped cream is an optional step.
Recipe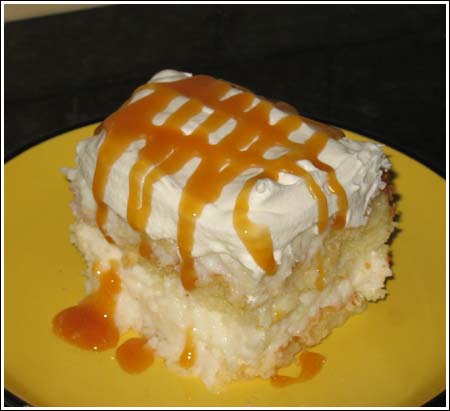 Four Day Coconut Cake
Coconut cake that improves over time.
Ingredients 
2

cups

sour cream

1

cup

granulated sugar, but feel free to add a lot more to taste!

I've added up to 2 cups in the past

12

oz

frozen coconut (book says 2 packages)

thawed

1

whole

yellow or white cake

1234 Cake works well

2

cups

sweetened whipped cream or 2 cups of Cool Whip

Optional
Instructions 
Day One: Mix together the sour cream, sugar and coconut. Cover and let sit in refrigerator over night.

Day Two: Bake a very moist yellow cake using your favorite scratch recipe or a good brand of yellow cake mix. Bake it in two round 9 inch pans, then let cool completely. Cut the cake layers horizontally to make 4 layers. Spoon coconut mixture over each layer and stack. Place stacked cake in some sort of cake container and refrigerate for 3 or even 4 days. The coconut mixture will become firmer as it sits.

Day Three: Do nothing! (today)

Day Four: Serve as is or cover with whipped cream. Whip up a cup of heavy cream and sweeten with a couple of tablespoons of powdered sugar and maybe some vanilla......or buy an 8 ounce tub of whipped topping. Spread over top of cake or all over cake. Garnish cake with something pretty like berries or caramel ice cream topping, then cut into squares and serve.