Sandra in Houston sent me this pumpkin roll recipe. It's her husband Jimmy's, and he says it's the best.
The recipe did not have baking powder, and I made it as directed. It turned out delicious even without the leavening, but I looked through about 10,000 pumpkin roll recipes and saw that they all had either baking powder or soda, so I'm adding it in….or back. I'm waiting to hear from her to find out what the deal is with that. Maybe Jimmy used self-rising flour?
At any rate, his proportions of spices and his filling were outstanding. His recipe, incidentally, is very similar to one in The Ultimate Southern Living Cookbook, but I think pumpkin roll recipes get passed around so much that it's hard to find an original source. The SL version does have baking powder.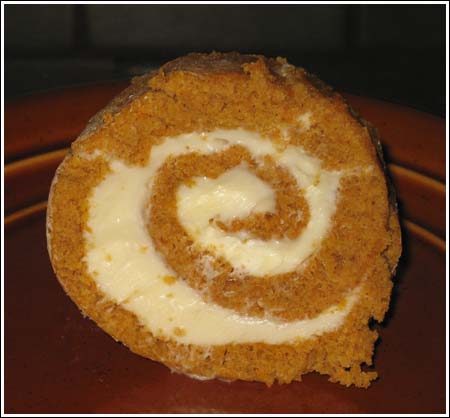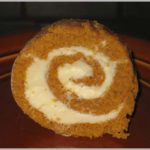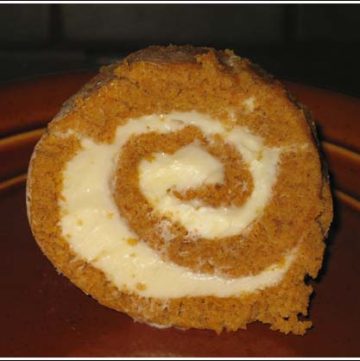 Print Recipe
Jimmy's Pumpkin Roll
Pumpkin roll cake filled with cream cheese.
Ingredients
Cake:
3

eggs

1

cup

granulated sugar

2/3

cup

pumpkin

3/4

cup

all purpose flour

1

teaspoon

baking powder

Jimmy leaves it out

1/4

teaspoon

salt

Jimmy leaves it out

2

tsp.

cinnamon

1

tsp.

pumpkin pie spice
Filling:
1

cup

powdered sugar

8

oz.

cream cheese

6

T.

soft butter

1

tsp.

vanilla
Instructions
Preheat oven to 375 degrees F. Butter a 15x10 inch jelly roll pan and line with wax paper. Butter the wax paper. (Anna's Note: Flour-added Pam also works for this)

Beat eggs and sugar until very light and fluffy. Mix in pumpkin. Stir together flour, baking powder, salt, cinnamon and pumpkin pie spice, then stir into batter. Pour into lined pan and bake at 375 degrees 13-15 minutes. Spread a clean linen dish towel on counter. When pumpkin bread is removed from oven immediately spread powdered sugar all over it and flip the cookie sheet onto the towel quickly. Remove wax paper from bottom of bread. Roll the bread along with the towel into log shape and try not to break it as you curl it. Allow to cool at least 30 minutes (Anna's Note: took over an hour).

Now unroll the dish cloth and bread. After mixing all the ingredients for the filling, spread the filling onto the bread and roll the bread into the same direction. Now cover with wax paper and chill to set for a few hours. Sprinkle with powdered sugar before cutting into slices. It really tastes good after sitting in the refrigerator for a day or so.