Jimmy's Pumpkin Roll Cake is pretty much the only pumpkin roll cake I make these days. I got the recipe years ago from Sandra in Houston, but have changed it a little through the years. As far as roll cakes go, this one is hard to mess up. I mean, I'm sure you could find a way, but for the most part it's an easy cake. Thanks again to Sandra, wherever you are, for sharing this recipe! Here's the latest picture plus a few tips.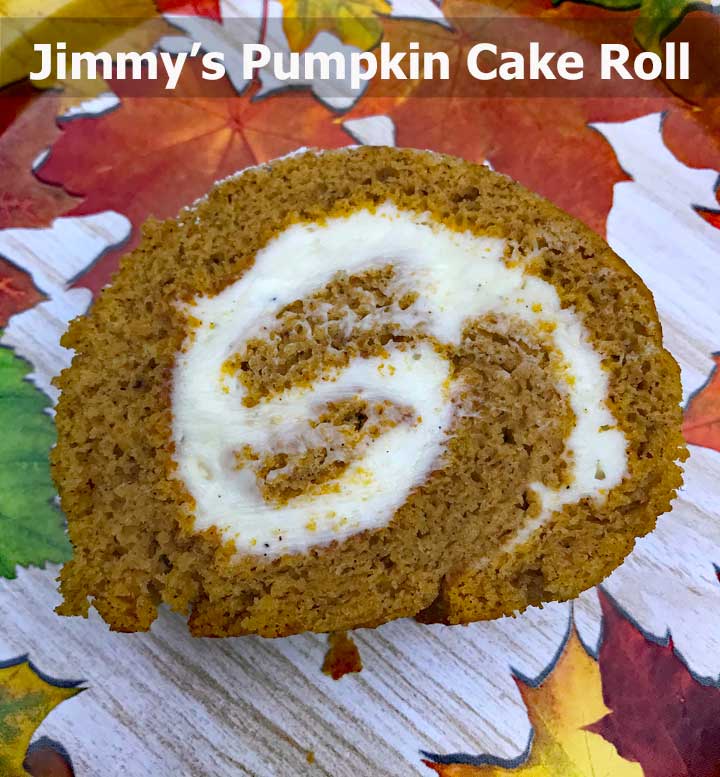 Pumpkin Roll Cake Tips
If you don't have pumpkin pie spice, you can make it yourself. Just mix together ½ teaspoon cinnamon, ¼ teaspoon ginger, ¼ teaspoon nutmeg and ¼ teaspoon cloves. Measure out 1 teaspoon for the pumpkin roll.
Can't find a 15x10 inch pan? This happened to me once and I realized that the broiler pan, which I hardly ever use, is 13x11 so just about the same size as a jelly roll. It worked perfectly.
Roll cake are made with wax paper rather than parchment. Be sure to really grease and flour the wax paper well so that it will peel off the cake! If you are used to using parchment, you may not realize how much more grease wax paper needs. I speak from experience.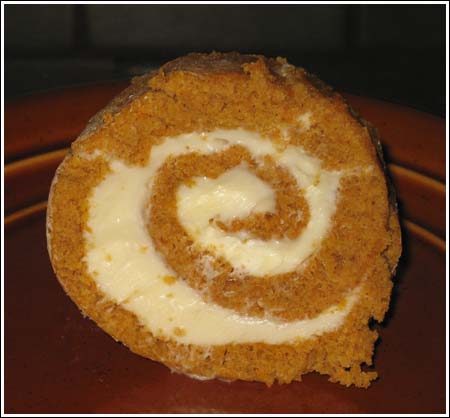 If you're now in the mood for a pumpkin roll cake but don't want pumpkin, this Red Velvet Cake Roll is also good. Or make both and freeze!
Recipe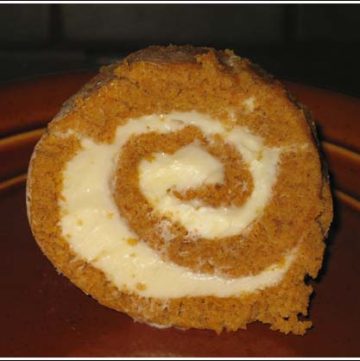 Jimmy's Pumpkin Roll
Pumpkin roll cake filled with cream cheese. This came from a reader named Sandra. It was a little different originally as it did not contain any baking powder or baking soda, and it was still great. Later, I realized it's basically the same as the Libby's recipe, so I added the leavening agents back in for a lighter textured crumb.
Ingredients 
Cake:
3

large

eggs

1

cup

granulated sugar

(200 grams)

⅔

cup

pumpkin

(175 grams)

¾

cup

all purpose flour

(100 grams)

½

teaspoon

each baking powder and baking soda

Jimmy leaves it out

¼

teaspoon

salt

1

teaspoon

cinnamon

Jimmy uses 2, I prefer 1

1

teaspoon

pumpkin pie spice

2

tablespoons

powdered sugar
Filling:
8

oz

cream cheese

softened, (240 grams)

6

tablespoons

soft butter

(84 grams)

1

cup

powdered sugar

(120 grams)

1

teaspoon

vanilla
Instructions 
Preheat oven to 375 degrees F. Grease a 15x10 inch jelly roll pan and line with wax paper. Grease and flour the wax paper.

Beat eggs and sugar until very light and fluffy. Mix in pumpkin. Stir together flour, baking powder, salt, cinnamon and pumpkin pie spice, then stir into batter. Pour into lined pan and bake at 375 degrees 12-14 minutes.

immediately loosen the sides of the cake from the pan. Sprinkle powdered sugar evenly over the cake, then lay a clean dish towel over it. Put a large baking sheet over the towel, then invert the pumpkin cake onto the baking sheet with the towel. Remove wax paper cake. Roll the bread along with the towel into log shape and try not to break it as you curl it. Allow to cool at least 30 minutes.

Filling: Mix together the softened creamed cheese, softened butter and powdered sugar. Beat until light and fluffy, then beat in vanilla.

Unroll cake and towel. After mixing all the ingredients for the filling, spread the filling onto the bread and roll the bread in the same direction. Now cover with wax paper and chill to set for a few hours. Sprinkle with powdered sugar before cutting into slices. It really tastes good after sitting in the refrigerator for a day or so.