A double chocolate cookie packed with cookies and candy.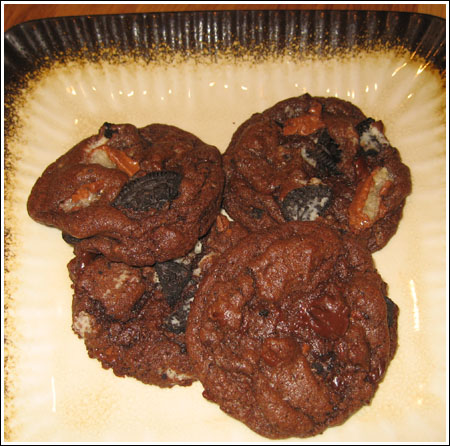 Kathy's Chunky Chocolate Gobs (adapted from Southern Living)
¾ cup unsalted butter, softened (173 g)
⅓ cup butter-flavored shortening (60 g)
1 cup sugar (196 g)
⅔ cup firmly packed dark brown sugar (130 g)
2 eggs
2 tsp. vanilla extract (10 ml)
2 cups AP flour (253 grams)
⅔ cup unsweeted cocoa
1 tsp. baking soda (5 ml)
¼ tsp. salt (1.25 ml)
16 chocolate sandwich cookies, broken up
3 Mounds or other chocolate covered coconut bar, chilled and chopped (147 g)
1 to 2 cups semisweet morsels
Cream butter, shortening and both sugars; Add eggs and vanilla, beating until blended.
Thoroughly combine flour, cocoa, baking soda, and salt. By hand, or using lowest speed of mixer, stir flour mixture into butter mixture. When flour mixture is absorbed, stir in cookie chunks, candy bars, and desired amount of chocolate morsels. Chill dough 30 minutes.
Preheat oven at 350 degrees (180 C). Drop dough by ¼ cupfuls 2 inches apart onto baking sheets lined with parchment paper. Bake for 10 - 12 minutes or until barely set. Cool on baking sheets 10 minutes, then transfer to wire cooling racks to cool completely.
Makes 2 ½ dozen