Last time my dad came over, we dropped Mentos into Diet Coke and tried to make it spurt up like a fountain. It was my dad's idea. He'd seen it on TV and didn't believe that it really worked. He wanted to try it himself so he brought over a 16 oz bottle of Diet Coke and some Mentos and did the experiment on the patio while he was grilling steak. Sadly, there was more fizzle than fountain — a 16 oz bottle is too small.
My dad's coming over tonight and we might try it again while we're grilling chicken. With important experiments in the works, I can't fuss with dessert, so tonight's recipe is an easy dessert from The Salt Lick.
The Salt Lick is an Austin institution, but I am sad to say I've never been. I'm not sure why exactly. Hopefully I'll go before I die, but if not, I will have at least been able to say that I've made their peach cobbler. Picture to come. I'm going to put it in the oven when we sit down to eat. The house is going to smell so good.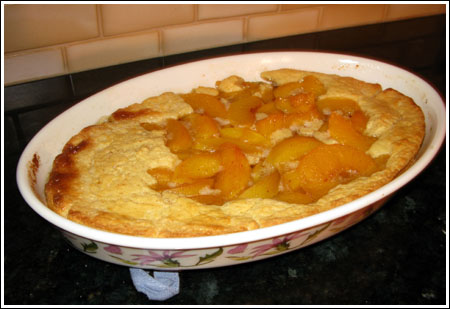 Salt Lick Peach Cobbler
Batter:
1/2 cup melted butter
1 cup flour
1 cup granulated sugar
2 teaspoons baking powder
1/4 teaspoon salt
2/3 cup room temperature milk
1 room temperature egg
Filling:
1 (28 ounce) can sliced peaches, drained
1 cup granulated sugar
1 teaspoon cinnamon
1/2 teaspoon nutmeg
Preheat oven to 350 degrees F. Melt butter in a 9 x 13-inch pan.
Mix together flour, sugar, baking powder and salt. Stir in milk and egg. Pour evenly over melted butter.
Combine peaches, sugar and spices and spread over batter – DO NOT STIR! Bake for 35 to 45 minutes until batter comes to the top and is golden brown.
Serve warm with ice cream.