Larry's Sugar Cookies are based on a recipe similar to that of a bakery called "Larry's House of Cakes" in Southern Illinois. I've never been to Larry's and don't know what the cookies are really like, but these may be close. The cookies are sturdy, crisp on the edges, chewy on the inside and can be decorated with either sparkly sugar or icing.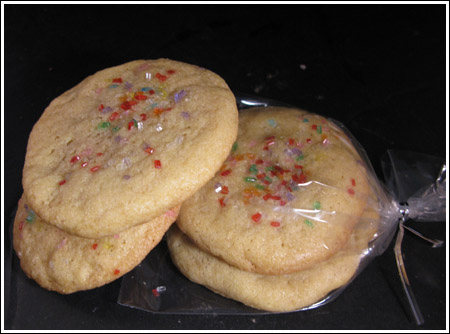 Larry's Sugar Cookies
3 ½ cups all purpose unbleached flour (15 ½ oz)
1 teaspoon baking soda
½ teaspoon salt
¾ cup butter flavored vegetable shortening
4 tablespoons unsalted butter
1 ⅔ cup granulated sugar
⅓ cup firmly packed light brown sugar
4 teaspoons vanilla
1 teaspoon lemon extract
2 large eggs
Sparkly Sugar for rolling cookies
Preheat oven to 350 degrees F.
Thoroughly mix together flour, baking soda and salt. Set aside.
Cream shortening, butter and both sugars. Add extracts and continue beating, scraping sides of bowl thoroughly. Add eggs and beat just until extracts are mixed in.
Add flour mixture to batter and stir until it is mixed in. Shape dough into balls of about 1 ¼ in diameter and place them 3 inches apart on ungreased cookie sheets.
Dip bottom of a flat-bottom drinking glass in water or hold it under faucet. Using the wet glass, press the cookies down slightly to make little disks – the tops will be slightly moist. Sprinkle sparkly sugar on top.
Bake for 12 minutes or until cookies appear set. Over-baking will make the cookies crispy.
Makes about 36 cookies.