(SEE UPDATE AT BOTTOM)
Remember those Total cereal ads where they'd stack cereal bowls on top of each other, put them next to a bowl of Total and say "You'd have to eat 12 bowls of this cereal to get all the vitamins in one bowl of Total". Along with feeling a little nervous that the cereal bowl tower would topple over, I'd think "Gee, who would eat 12 bowls of cereal when they only needed one bowl of super cereal?" So I never had a problem buying Total (even though it was more expensive than other cereals) and when it went on sale, I always felt like I was getting a huge bargain.
Right now Total is not on sale, but I was so excited about Cooking Light's "swag bars" I bought a box at full price for $4.00. I'll bet it's something like $7.00 in New York…or maybe $14. I'm not sure, but I wanted to make good use of my precious box of Total so I came up with another recipe.
These cookies are a spin-off of the old Wheaties Cookies. I guess I could have just make the Wheaties cookies and used Total, but I wanted to be different so I took out the coconut, added chocolate chunks and ground up the oats. The end result was an excellent thick and crunchy cookie. Here's the recipe. It's really simple to throw together if you keep your food processor on the counter ready to go at all times. If not, well, grinding oatmeal with your bare hands is kind of a pain so you could skip the grinding and quick oats (not instant) and crush the cereal and nuts with a rolling pin.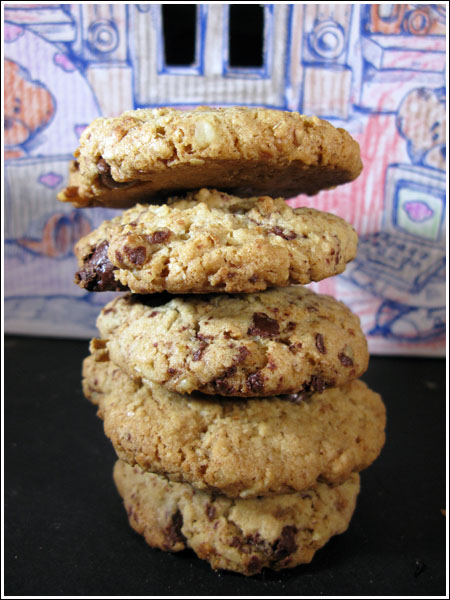 Total Chocolate Chunk Cookies
1/2 cup oatmeal
1 1/4 cups Total cereal
1/2 cup whole walnuts
6 tablespoons unsalted butter, room temperature
1/2 cup light brown sugar, lightly packed
1/2 cup packed granulated sugar
1 large egg
1 teaspoon vanilla extract
1 1/4 cups all purpose flour (5.6 oz/160 grams)
1/4 teaspoon baking soda
1/4 teaspoon baking powder
1/4 teaspoon plus an extra pinch of salt
5 oz semi-sweet or bittersweet chocolate, cut into chunks or about ¾ cup of chocolate chips
Preheat oven to 350 degrees F. Line two cookie sheets with parchment paper.
In bowl of food processor, process oats until fine. Add cereal and walnuts to processor with ground oatmeal and pulse until cereal is finely crushed and nuts are fairly well chopped.
Cream butter and both sugars in a mixing bowl using high speed of an electric mixer; add egg and vanilla and beat just until egg is mixed in. Add the baking powder, baking soda and salt; stir well to mix. Scrape sides of bowl and stir in flour mixture and cereal mixture.
Shape into 1 ½ inch balls, then press the balls lightly so they have slightly flat tops…that is, unless you want rounded tops. Place on cookie sheets, spacing 2 ½ inches apart and bake for 15 minutes or until edges start to brown. Cool on cookie sheet for 5 minutes, then transfer to a rack to finish cooling.
Makes about 20 cookies
UPDATE: I made a few variations on this recipe, one of which did not include ground up oats and nuts. Yesterday I thought the oat & nut free cookie tasted a little too sweet, but I tried one again today and it did not taste too sweet. So you can leave out the oats & nuts. You'll get a crunchier cookie because the overall percentage of sugar is higher, but you won't get the oat & nut flavor. Kids may like that.