Every year I make Fantasy Fudge the same thing happens. It sets up perfectly and looks so good, then a few hours later I cut into it and decide it's too sweet. The next day I'll try it again and it will taste 100 times better. So if I've learned anything about fudge it's that it improves with age and not to try eating it right away.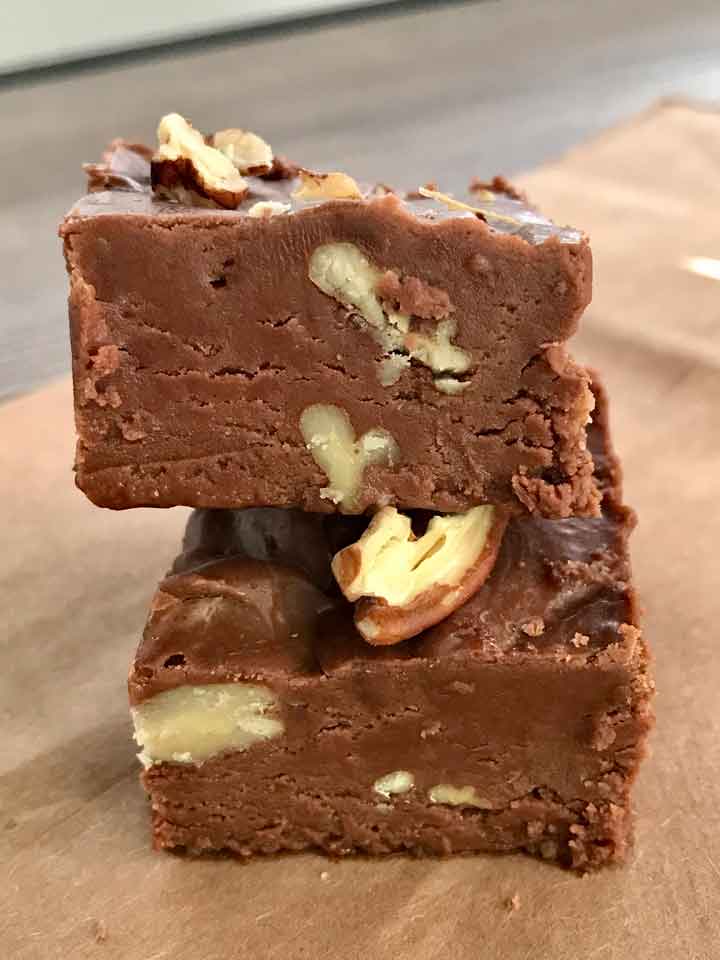 I've also learned that some recipes are better than others. This is a favorite, but I also like the following:
There are lots of other good ones, but the ones above plus Fantasy Fudge are the ones on repeat. Here's my version of Fantasy Fudge, a very popular fudge recipe that calls for Kraft's Marshmallow Creme.
Recipe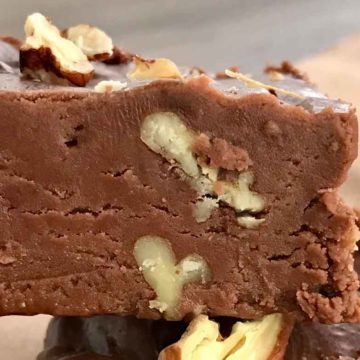 Best Ever Fantasy Fudge
Creamy but still a little flaky fudge made with Marshmallow Creme, chocolate chips and toasted nuts.
Ingredients 
1

cup

pecan halves

1 ½

teaspoons

butter

Pinch

of salt for tossing with pecans

¾

cup

salted butter, softened

180 grams

3

cups

sugar

580 grams

⅔

cup

evaporated milk

2

cups

12 oz bag of semisweet chocolate chips

7

oz

jar of Marshmallow Crème

1

teaspoon

vanilla extract
Instructions 
Preheat oven to 350 degrees F. Lay the pecans on a baking sheet and bake at 350 for anywhere from 6 to 10 minutes. This will vary with the type of pecans you use. Check at 7 minutes. When pecans are fragrant, remove from oven and toss with butter and salt. Let cool completely, then chop.

Line a 9 inch square pan with parchment paper, or line with foil and grease the foil.

Put the chocolate chips, marshmallow cream and nuts in a large bowl and set next to the stove. Also, measure out the vanilla and have it ready to go.

Cut the butter into chunks and put it in the saucepan. If you forgot to soften it, warm it gently in the saucepan. Off heat, add the sugar and stir to blend with the butter, then stir in the evaporated milk.

Set the pan over medium heat and stir until sugar dissolves (mixture will be shiny). When mixture begins to boil, start the timer for 4 minutes and insert the candy thermometer. After 4 minutes, your candy should hit between 234 and 236 degrees F. Remove from heat and pour in the chocolate chips, marshmallow crème and nuts. Also, add the vanilla. Stir with a wooden spoon, scraping just enough to push the fudge out.

Pour fudge into the 9 inch square pan and tilt the pan back and forth to even the surface. Allow it to cool for several hours. It should start setting immediately, but it won't be quite ready for cutting for a while. As mentioned in the blog post, it seems to taste better the second day.