Argo Cornstarch Cheesecake is adapted from a vintage back-of-the Argo cornstarch box recipe. It's been updated over the years and there's a new version on the company's web site, but people love this version because I keep seeing requests for the recipe on various forums.  It had been in my files forever and I'd been waiting for an excuse to try it.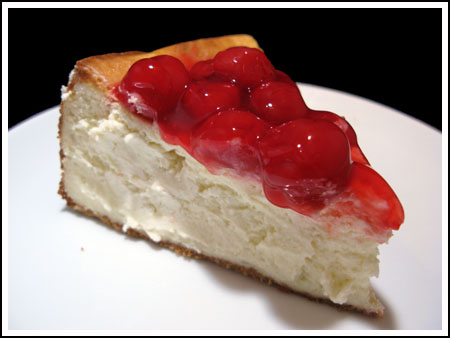 Food Processor Cheesecake
I started the cheesecake early in the day and it came together in minutes thanks to my trusty food processor.  Another bonus was that  I didn't have to deal with making a crust.  As someone who actually likes a good graham cracker crust, my worries that we would miss it were put to rest by the grandness of the finished product. In this case the loose, thin layer of graham cracker crumbs was more than adequate.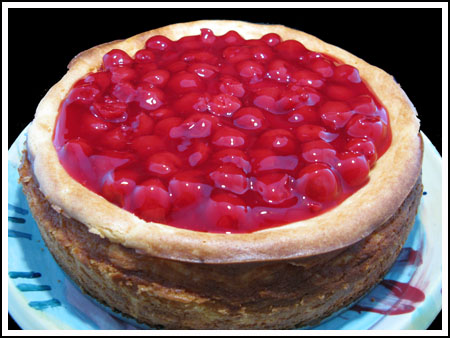 Argo Cornstarch Cheesecake Texture
This cheesecake does not require a water bath. Also, it's not as creamy as some. This is one of those dense, silky, smooth, thick cheesecakes you'd find at a good steakhouse. The flavor is better than most because along with hint of lemon and vanilla, you get the tart from the sour cream and a little butter flavor to round it all out. As for the topping, I fully intended to make Argo's strawberry recipe (below), but the strawberries at H.E.B. did not look so good yesterday and were double the price as usual. You can use any topping you want, but plan on having one because this cheesecake will probably crack.
Recipe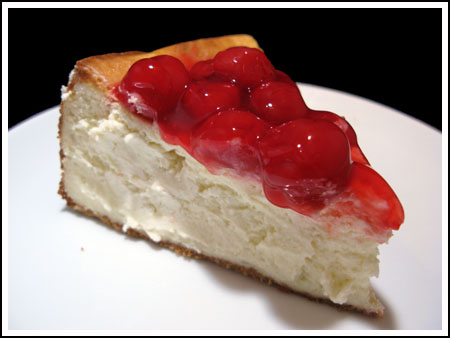 Thick, Dense, Restaurant Style Cheesecake
An old recipe from the Argo cornstarch box
Ingredients 
¼

cup

graham cracker crumbs

4

large

eggs

1

lb.

cottage cheese

not low fat

16

oz

cream cheese, softened

1 ½

cups

granulated sugar

4

oz

salted butter or 4 oz unsalted plus ⅜ tsp salt

melted and cooled

⅓

cup

cornstarch

2

cups

regular sour cream (not light or low fat)

2

tablespoons

fresh lemon juice

1

teaspoon

vanilla
Strawberry Topping
1

tablespoon

cornstarch

¼

cup

water

⅓

cup

corn syrup

¼

cup

crushed strawberries

1

teaspoon

lemon juice

1 ½

cups

approximately nice looking whole strawberries
Instructions 
Preheat oven to 325 degrees F. Spray a 9 inch round springform pan with cooking spray. Sprinkle graham cracker crumbs over bottom.

Combine egg and cottage cheese in blender or food processor and process until smooth. Gradually blend in cream cheese. Put mixture in a bowl and whisk in the sugar, melted butter, cornstarch, sour cream, lemon juice and vanilla.

Pour into prepared pan and bake on center rack for 1 hour 15 minutes or until edge is firm. Turn off oven. Let cheesecake stand in oven one exactly hour to cool. Remove from pan and let sit at room temperature for a while.

When it's cool, transfer to the refrigerator and chill for at least 4 hours. Cheesecakes are usually better on day 2, so you could make this ahead of time. Top with strawberry topping below or topping of your choice.

Topping: Combine cornstarch, water, corn syrup and crushed strawberries in a medium saucepan and bring to a boil over medium heat, stirring constantly. Boil for 1 minute. Strain. Stir in 1 teaspoon lemon juice. Arrange whole (or you can slice them) fresh strawberries over top of cheesecake. Cover strawberries with the glaze.

Serves 12-16