Adding Snickers to Carmelita bars really pumps up the flavor. Or at least I think so. I made the traditional version today, but threw in a handful of chopped Snickers to make Snickers Carmelitas. It was definitely a "use up the Halloween" candy tactic, but I'd do it again.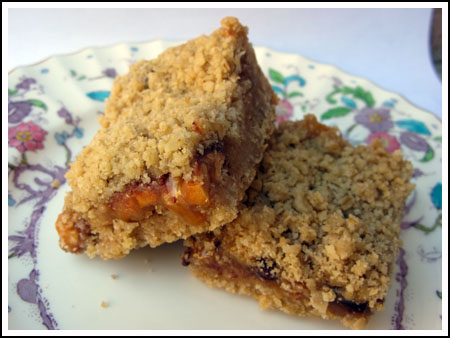 To make the Snickers Carmelitas, follow the Carmelitas recipe from Pillsbury, but line the pan with non-stick foil and use chopped up Snickers bars for half of the chocolate chips. If you like your bars gooey, you can skip the chilling, but I recommend putting the cooled bars in the refrigerator for 4 hours before lifting from the pan and slicing. The bars firm up quite a bit and are easier to eat and serve.
Also, I apologize for the weird lighting in this week's pictures. One of the bulbs in my light box lamp broke and I've had to improvise. None of my lighting experiments are working well.