I like all brownies, but lately I'm partial to super chewy brownies -- the chewier the better. And if there's one way to make brownies chewy, it's to add chopped up Snickers. The catch is you have Snickers flavored brownies, but that's a very fine trade-off.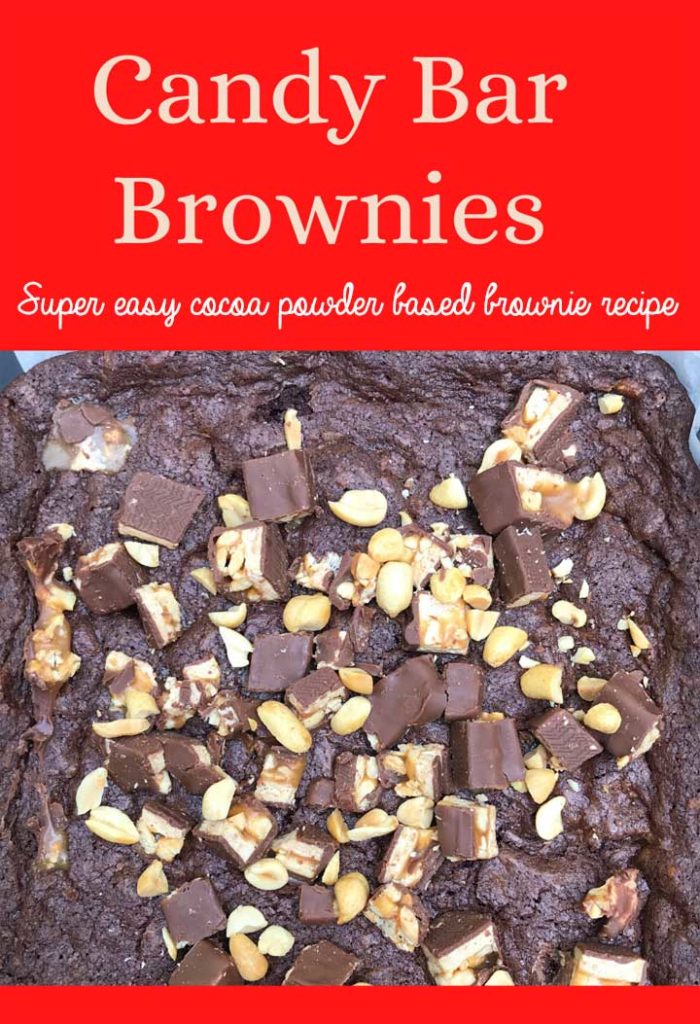 As far as recipes go, I have two favorites. This old one for Candy Bar Brownies (from a Forrest Gump cookbook) and now Dave Lieberman's Candy Bar Brownies. Dave Lieberman was a Food Network star who transitioned into medicine and is now and MD. I I guess we won't be seeing any more of his recipes, which is too bad because they are all highly rated -- especially the brownies. They have outstanding reviews, with many reviews stating tips and hints. They have some bad reviews too. Those are pretty interesting when you read through and compare them to the good ones.
Grinding the Snickers Bars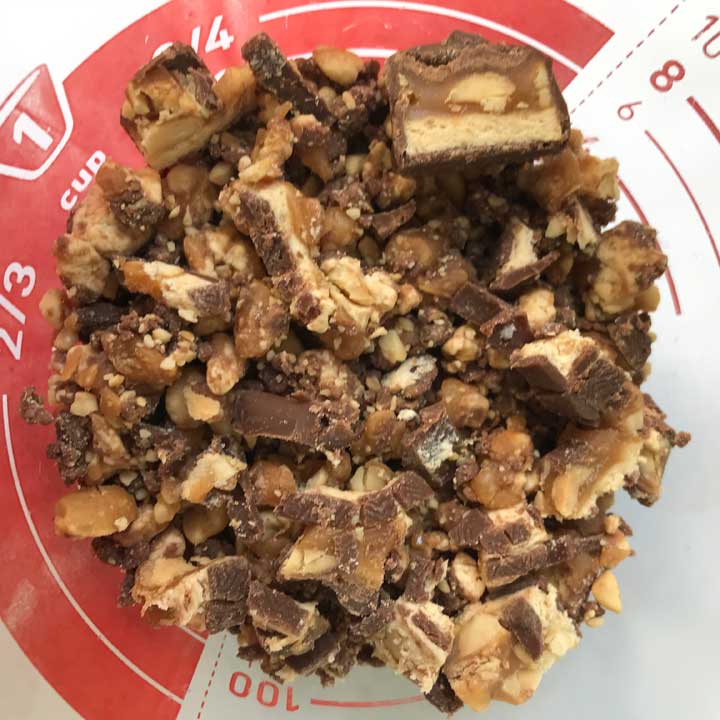 Anyhow, the recipe says to grind the Snickers in a food processor. Since I'm always complaining about cleaning the food processor, I ground the Snickers in a mini chopper and it worked well. Throwing in extra salted peanuts added a little friction and made things less sticky, but extra peanuts is a personal choice so you can add them if you love peanuts and salt like I do. Since I left some of the Snickers in big chunks, I used a little over ¾ cup rather than just ¾ cup.
The second time I made these I just chopped the heck out of the bars and chopping worked just fine too.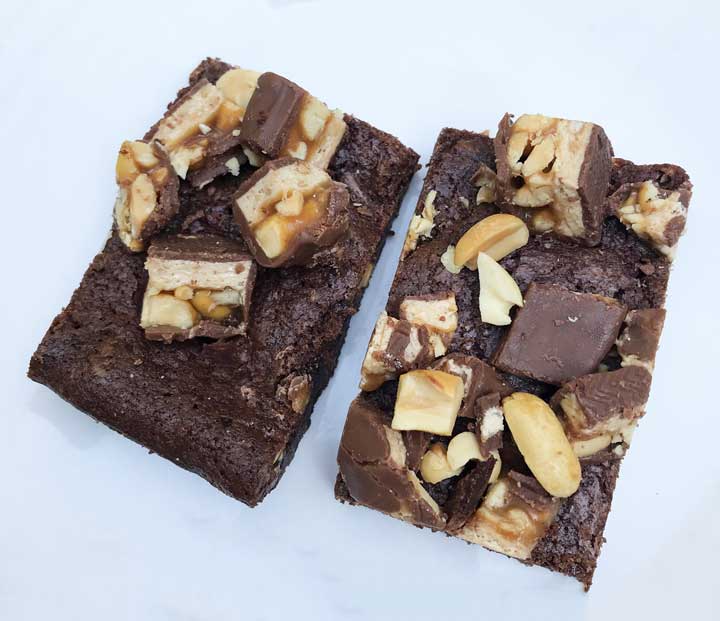 Dave Lieberman's vs. Forrest Gump's
The brownies are very thin, which I had anticipated after reading the Food Network reviews. I think Dave Lieberman's Brownies have more chocolate flavor than Forrest Gump's Candy Bar Brownies, which is not to say Forrest's aren't just as good, but these have more chocolate flavor while Gump's have a stronger Snickers flavor. Someday maybe I'll do a side-by-side taste test. Lastly, I strongly recommend natural cocoa powder over Dutch in these, but that's subjective so if you want to use Dutch process go for it.
Recipe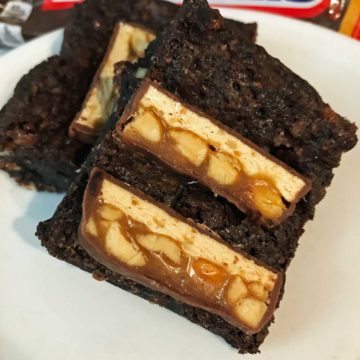 Dave Lieberman's Candy Bar Brownies
Chewy brownies enhanced with ground up Snickers bars
Ingredients 
6 to 12

chilled Snickers Fun Size

6 bars makes ¾ cup ground,

6

tablespoons

unsalted butter

(84 gram), softened to the point of almost melted

¾

cup

sugar

(150 grams)

1

large egg

1

tablespoon

water

¼

teaspoon

vanilla extract

¼

teaspoon

salt

¼

teaspoon

baking powder

6

tablespoons

unsweetened cocoa powder

natural type**

¼

cup

all-purpose flour

(35 grams)
Instructions 
Preheat oven to 350 degrees F. Line an 8 inch pan with nonstick foil or parchment.

Chop the candy bars, then put them in a food processor (or mini processor) and grind them.. 6 bars should give you ¾ cup. You can also use a chef's knife and just chop the cold bars into tiny bits.

Beat the very soft butter and the sugar together in a large bowl until blended.

Beat in the egg, water, and vanilla. Add the salt and baking powder and stir until blended, then add the cocoa powder and stir until blended.

Add the flour and stir until blended, then fold in your ground up candy bars.

Scrape the batter into the prepared pan. Bake for about 30 minutes (I usually pull them at 28) until the center is set, the edges look a bit crusty, and the top of the brownies start to crack a little.

At this point you can take the optional step of slicing more Snickers bars and laying them on the hot brownies. Allow the brownies to cool, then put them in the refrigerator or freezer to chill. When very cold, cut into squares.
Notes
6 Fun Size Snickers is about 3.4 oz, so you'll need that much plus extra  for decorating the top.
I wasn't too happy with the flavor of the brownies made with Dutch process cocoa.  Other family members were okay with it, but I felt like it clashed with the Snickers.  For the second batch I just used the inexpensive "natural" cocoa powder from Aldi and the flavor was much better.