Whenever I need a tried and true recipe for soft chocolate chip cookies, this big batch version is the go-to. The recipe is Kristen in CA. Kristen got it from an old Country Baker cookbook series her mother gave her a million years ago. Kristen loves the recipe because it makes a bunch!  And since Kristen has been baking for years and even had a little baking business at one point, I was really excited to try her recipe.  She describes them as slightly cakey, soft chocolate chip cookies.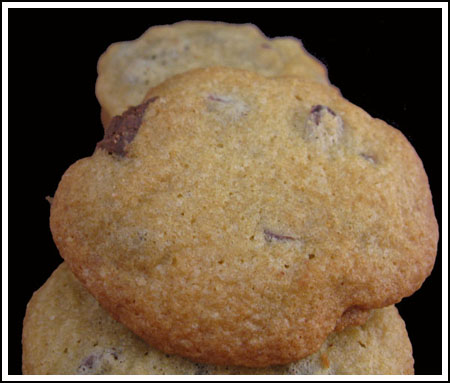 Soft and Cakey Chocolate Chip
I made a batch yesterday and was surprised to find that instead of the cratery, crinkly tops, they had smooth tops. Also, the cookies weren't puffy, but instead had a cake-y look appearance and seemed like they might be too soft and egg-y. They tasted okay warm, but I like my cookies firmly set and let them cool for a few hours more.  When cooled, they were much better.
As mentioned 100 times already here, they were soft – borderline cakey in the very center, but not overly so, just moist. Plus the edges stayed crispy. I couldn't stop eating them and was already thinking about making another batch as I did so.
For part of the dough, I used a mixture of semi-sweet chocolate chips and milk chocolate. And in another part of the dough I used dried cherries and chopped up quite chocolate. Both versions were good, but the extra egg went particularly well with the cherry and white chocolate, so if you have those things on hand and like dried cherry, I recommend making some of the cookies white chocolate cherry flavored.
Recipe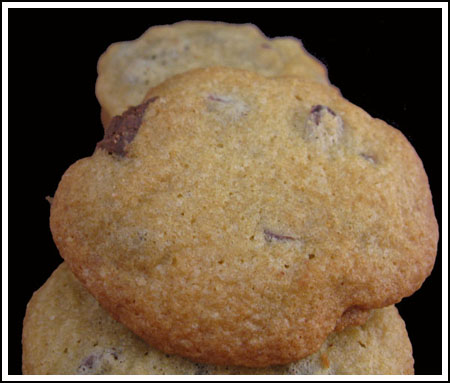 Kristen's Big Batch Soft Chocolate Chip Cookies
Kristen's Soft Chocolate Chip Cookies
Ingredients 
8

oz

1 cup regular salted butter (230 grams), softened

1 ¼

cup

granulated sugar

240 grams

1

cup

brown sugar

firmly packed (200 grams)

4

large eggs

1

tablespoon

vanilla extract

1 ½

teaspoons

baking soda

½

teaspoon

salt**

3

cups

all purpose flour

400 grams

4

cups

semisweet chocolate chips

or more

2

cups

toasted nuts

chopped (optional)
Instructions 
Preheat the oven to 350 degrees F. Lightly grease a couple of baking sheets or line with parchment paper.

Beat butter and both sugars using high speed of an electric mixer until light and fluffy. Beat in the eggs, two at a time. Beat until well mixed. Scrape sides of the bowl, then using lowest speed of mixer (or by hand) stir in the baking soda, salt and flour. I like to add the soda and salt first so I can make sure they're well-dispersed and not sticking to a clump of flour. Stir in the chocolate chips.

Drop the dough by rounded teaspoonfuls onto the baking sheets, spacing 2 inches apart, and bake for 12-15 minutes. I thought the cookies were best at 14, but that will vary oven from oven.
Notes
**If using unsalted butter, you might want to increase salt by 1 teaspoon and use a total 1 ½ teaspoons)
Let me now what you think of these soft chocolate chip cookies, and feel free to add suggestions.