Our family just moved to the great city of Chicago. We love it, and we've been so busy! There's always something to do and it's so easy to get around on foot, train or by car. Between all the unpacking and exploring, I've managed to squeeze in some baking and sample some really good cookies. At our house, we call these CPS Butter Cookies.


CPS Butter Cookies
A friend gave me this cookie last week. It was made by her friend who wraps each cookie individually and shares or sells them. He obviously puts a lot of love in his baking, and his cookie seems like it might be reminiscent of the ones they used to serve in Chicago public schools. It's a cross between a butter cookie and a sugar cookie and is made with just four ingredients -- butter, sugar, flour and vanilla. There's no chemical leavening agent, but the cookies bake up light and crispy thanks to the air that's whipped in with the butter and sugar. The texture is much lighter than shortbread, but the butter flavor comes through loud and clear.
I made a batch yesterday using a mishmash of different CPS butter cookie copycats. Mine are smaller than the originals and not exactly the same, but they got a vote of approval from a friend who attended Chicago public schools. So even if they're not the same cookies, they're good on their own merit.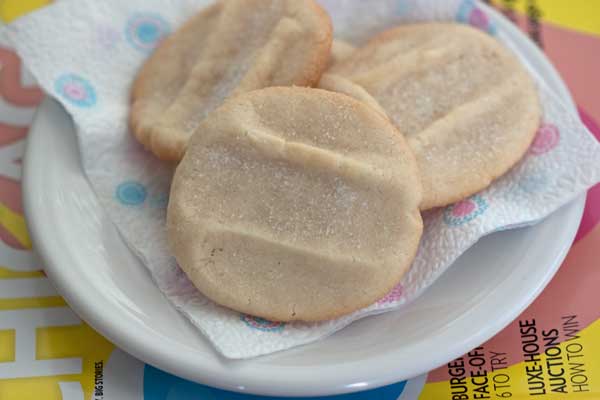 Notes on the Butter
I used Danish butter from one of my neighborhood grocery stores, Treasure Island. It's called Lurpak, and I know we've discussed it before, but I had trouble finding it back in Austin. Apparently Treasure Island will be my new go-to source for butter because they had a nice variety of interesting ones including an Amish butter. Also, I used unsalted and added my own salt to the recipe, but most shortbread type recipes advise using salted.
Notes on the Flour
For the flour I used regular old Pillsbury's Best bleached. I normally used unbleached, but I figured CPS probably used bleached and from my experience, cookies with bleached flour don't spread quite so much. The key is getting the amount of flour just right so that the cookies don't spread too much (too little) or the dough is too dry (too much). That can be tricky since volume measurements of flour aren't always accurate, so if you have a scale it's best to weigh, but also go by the feel of the dough. The dough should be stiff enough to work with and not require any refrigeration.
Update:  I've made these over and over since first posting and have added a few more tips in the notes section. For instance, KerryGold butter works so well. It's easier to find than the Danish butter and you can buy it in bulk at Costco.
Recipe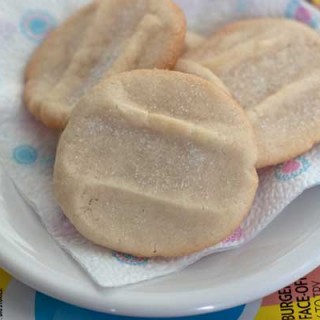 Chicago Public School Butter Cookies
A recipe for cookies that are supposed to be similar to the ones they used to serve in Chicago public schools.
Ingredients 
2

sticks

230 grams good salted butter, at cool room temperature **

¾

cup

granulated sugar

150 grams

1 ½

teaspoons

vanilla extract

2

cups

all-purpose flour

2

more tablespoons flour

optional, only if needed
Instructions 
Preheat oven to 350 degrees and have ready an ungreased or Silpat lined baking sheet.

With an electric mixer, beat the butter and sugar for about 5 minutes, scraping bowl often, until very light and fluffy. Beat in vanilla and scrape sides of bowl again.

Gradually stir in flour, ½ cup at a time, until a smooth dough forms.

Using a generously rounded tablespoon, scoop up dough and shape into 24 balls. At this point you can bake the dough or chill it until ready to bake.

Arrange the dough balls on baking sheets spacing about 2 ½ inches apart. Dampen fingers and press index, middle and ring fingers into each dough ball to make indentations and flatten.

Bake for 12 minutes or until lightly browned around the edges. Carefully transfer to a cooling rack and let cool completely.
Notes
**If using unsalted butter, add ¾ teaspoon of salt when you whip the butter and sugar. For the flour, I used two (5 oz weight/140 grams each) cups (280 grams total or 140 grams per cup). Since flour weight varies cup for cup, I recommend weighing. If you don't have a scale, go by the consistency of the dough. It should be a nice, workable consistency neither dry nor requiring refrigeration.
Also, I recommend you add the flour gradually. Start with 1 ½ cup and then add the flour a few tablespoons at a time stirring until the dough is just firm enough to be shaped into a ball.
Use the best butter you can get find. The Danish butter is good, but KerryGold works really well too and gives the cookies a yellow hue.