My favorite Rice Krispie Treat recipe is adapted from an old brand name recipes cookbook. About 3 years ago I posted it with the title Marshmallow Treats from the '80s . In hindsight, that wasn't a very good name since the key to the recipe is the phrase "…melt the butter completely until it just starts to brown." So I've decided to go with something more descriptive and have re-named the recipe Rice Krispie Treats with Browned Butter.
This morning I made a batch of my old favorite recipe on an electric stove and I noticed that the butter browned very quickly. If I hadn't lifted the pan off the electric burner, it would have burnt and ruined all the treats. So given that, I've revised the recipe somewhat and linked to a tutorial on browning butter. One interesting tip I ran across was to use a stainless steel pan. Butter doesn't always brown properly in aluminum pans and if you use a dark bottom pan, you'll have a hard time keeping track of how dark the butter gets. I discovered that by trial and error years ago, but it was good seeing it in print.
Recipe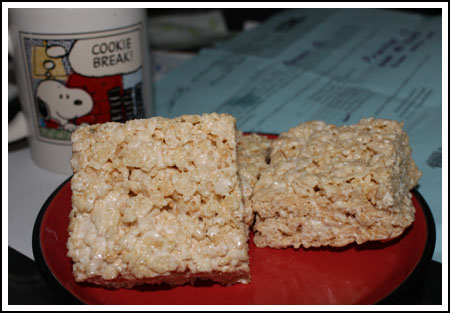 Rice Krispie Treats with Browned Butter
Rice Krispies treats made with browned butter. Peanut butter is optional.
Ingredients 
4

tablespoons

butter, salted

(56 gram)

4

cups

marshmallows

(280 grams)

¼

cup

peanut butter

optional

5

cups

Rice Krispies cereal
Instructions 
Have ready an 8 inch square metal pan. In the past I've used a 9 inch square or 13x9 inch, but I like the look of tall krispie treats, so these days I use an 8 inch pan.

Rub a very large, light colored stainless steel saucepan or Dutch oven with butter to prevent sticking. Set over medium heat and melt the butter until it just starts to brown. This will happen at a different rate of speed depending on your stove. If it starts browning too quickly, remove from heat, swirl the pan, and put the butter back on at a very much reduced heat. Be careful not to burn it.

Stir in the marshmallows and reduce heat to low. Stir marshmallows until they begin melting. When melted, add the peanut butter (if using) and cereal and stir until coated.

Transfer mixture to pan and press down with a piece of greased foil or parchment. Let the treats cool completely then lift them out of the pan, place on a cutting board and score into giant size squares.
Notes
Serving size will vary depending on how big you cut them.