Circus Animal Brownies are basically an excuse to buy and eat Circus Animal Cookies.  At least that's what they started out as.  It turns out the brownie recipe used to support the hippos, elephants and lions is actually a good one.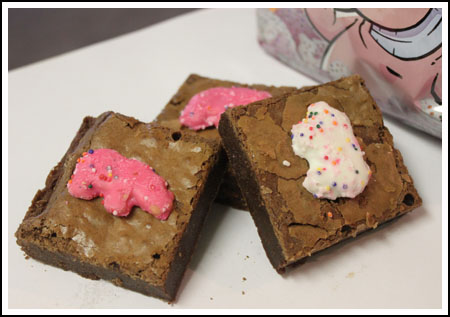 Circus Animal Brownies are fudgy all the way, with a flaky, shiny top. They taste great on day 1, but are better on day 2, and chilling is key. The brownies are really cute with the Circus Animals, which I am sure Julia Child and Nick Malgieri, whose recipes were combined and adapted to make this one, would just love, but you can leave them off if you don't like animals....or ones coved with icing and sprinkles.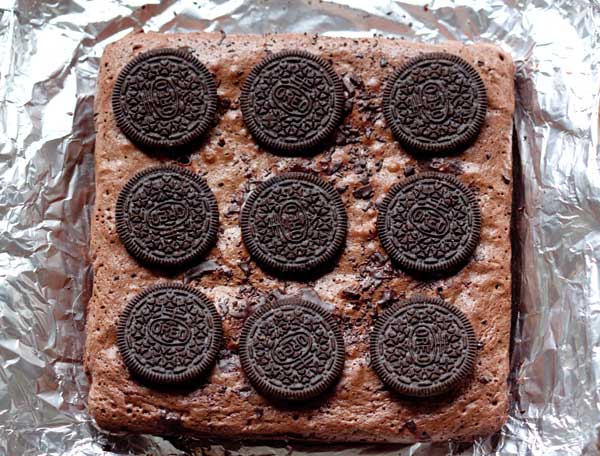 Update: I really love this recipe and still make it after all these years. Circus Animals are fun, but your can also stick Oreos on top. I sprinkled a little chopped chocolate on the hot brownies so that it would melt and help the cookies adhere, then I just put the cookie halves across the top.
Another Update! Just saw Halloween Circus Animals at Target and am thinking a Halloween version of these would be great for a Halloween party.
And yet another update. Looks like the Circus Animal Brownies recipe has morphed into Circus Animal Blondies across the Internet. I'm glad everyone likes Circus Animals as much as I do. Time to try the new Blondies version.
Recipe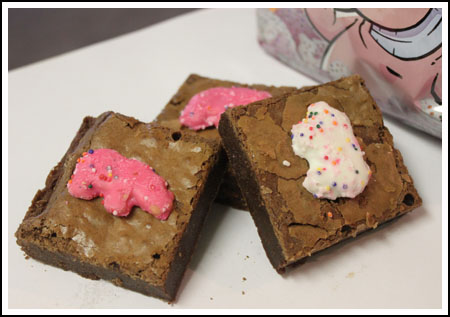 Circus Animal Brownies
Circus Animal Brownies
Ingredients 
1

stick

4 oz unsalted butter

4

ounces

bittersweet chocolate

at least 60%

½

cup

packed light brown sugar

2

large eggs

room temperature

¼

teaspoon

salt

½

cup

granulated sugar

1

teaspoon

vanilla extract

½

cup

flour

Circus Animals as needed

12-16, room temperature, plus broken ones for eating
Instructions 
Line an 8 inch square metal pan with foil and spray foil with cooking spray or rub with a little extra butter. Set aside.

In a saucepan set over medium heat, melt the butter. Reduce heat to low, then add the chocolate and stir until melted. If pan is very hot, turn off heat and melt the chocolate over residual heat. Stir the brown sugar into the hot mixture. Set aside to cool for 10 minutes.

In a mixing bowl or bowl of stand mixer, beat the eggs on high for about 2 minutes. Beat in the salt and sugar; continue beating another minute or 2 minutes until light. Beat in the vanilla then gradually pour in the chocolate. With a heavy duty scraper (my favorite tool for mixing flour into brownies because it helps you incorporate flour without beating the batter too much), stir in the flour.

Pour into the pan and bake on center rack at 350 degrees F for 25-30 minutes. Remove from oven and let cool on a rack at room temperature for about 30 minutes, then transfer to the refrigerator and chill for about 2 hours.

Lift from pan by grasping foil. Set brownies on a cutting board and score into 12 or 16 bars. Stick a Circus Animal on each brownie. Circus Animals should adhere without any extra icing, but if for some reason your animals won't stick, melt a little chocolate in the microwave and use it as a glue.