When it comes to ice cream recipes, Bruce Weinstein's Ultimate Ice Cream Book is my go-to guide. His Mint Chocolate Ice Cream is a family favorite, but this weekend I needed to use up some egg yolks and decided to make Extra Rich and Creamy Vanilla.
Extra Rich and Creamy Vanilla Ice Cream calls for 7 egg yolks, so I worried that it might taste a little "egg-y".  It didn't.  It was creamy, smooth and had a deep rich vanilla flavor.   While the vanilla bean version would have probably been better, my goal was to use ingredients on hand and what I had was some Watkins vanilla extract.  I'd never tried Watkins before, but it has a fairly distinctive flavor and I can see why it has a loyal following, But since I've only used it in one recipe the jury is still out.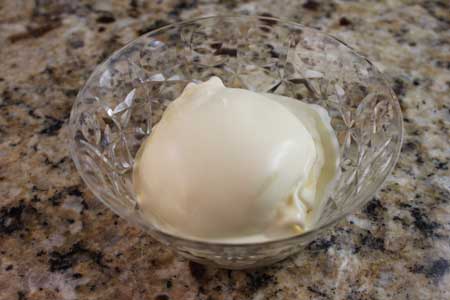 But back to the ice cream.
This is definitely one of my top ice cream recipes.  Do you have a favorite?  After surfing the Internet, I found a few others I'd like to try including David Lebovit'z vanilla ice cream and this one on allrecipes.com which uses whole eggs.  One thing's for sure, and that is I will stick with the custard base as opposed to the no-egg base.  Fresh eggs add a little flavor and give the ice cream the perfect texture.
Recipe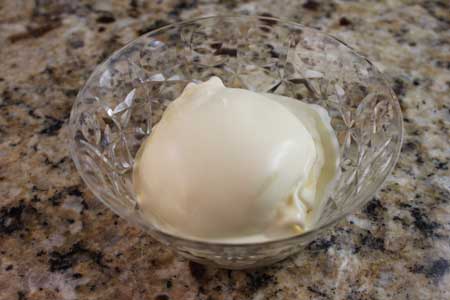 Homemade Vanilla Ice Cream
Rich and Creamy Vanilla Ice Cream
Ingredients 
1

cup

granulated sugar

scant, or a tiny bit less than 1

1/4

teaspoon

salt

7

large eggs yolks

1 1/2

cups

half-and-half

1

cup

heavy cream

1

tablespoon

vanilla extract
Instructions 
In a mixing bowl, beat the sugar and salt into the egg yolks until thickened and pale yellow. Set aside.

Bring the half-and-half to a simmer in a heavy medium sauce pan or in the top of a double boiler.

Slowly beat the hot half-and-half into the egg mixture. Pour the entire mixture back into the pan saucepan (or double boiler) and stir constantly with a whisk or wooden spoon until the custard thickens slightly. It will not be thick like pudding, it will be more like a thin gravy and will coat the back of the spoon. Be careful not to let the mixture boil or the eggs will scramble.

Remove from the heat and pour the hot custard through a strainer into a large, clean bowl. Allow the custard to cool slightly, then stir in the cream and vanilla. Cover and refrigerate until cold or overnight.

Stir the chilled custard, then freeze in 1 or 2 batches in your ice cream machine according to the manufacturer's instructions. When finished, the ice cream will be soft but ready to eat. For firmer ice cream, transfer to a freezer-safe container and freeze at least 2 hours.