Feel like eating scones, but want the work of making cinnamon rolls? Cinnascones are the answer! This is kind of a weird recipe, but like other recipes in the Alice's Tea Cup Cookbook it is fun and whimsical. You make scone dough, roll it into a rectangle, spread it with a brown sugar paste, roll into a spiral, then cut and bake like cinnamon rolls.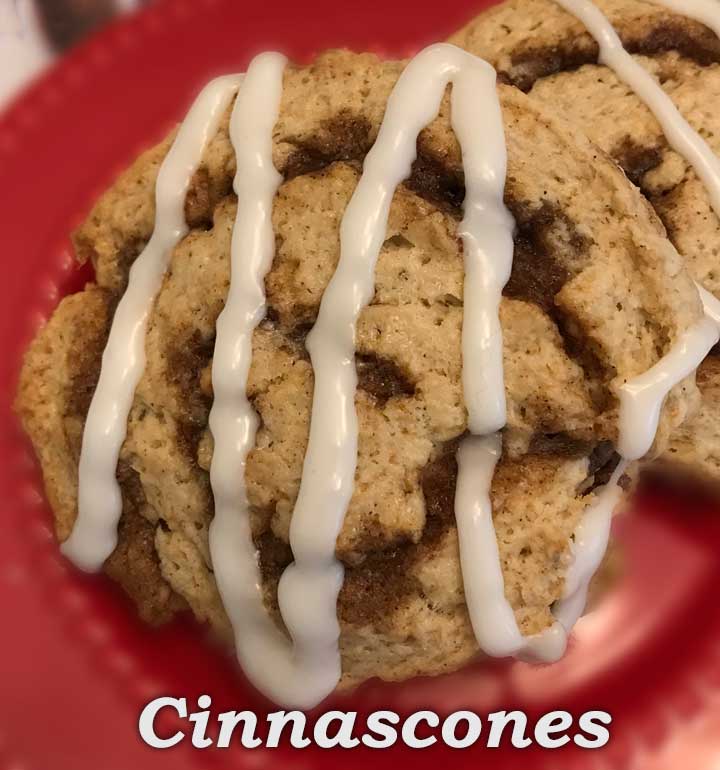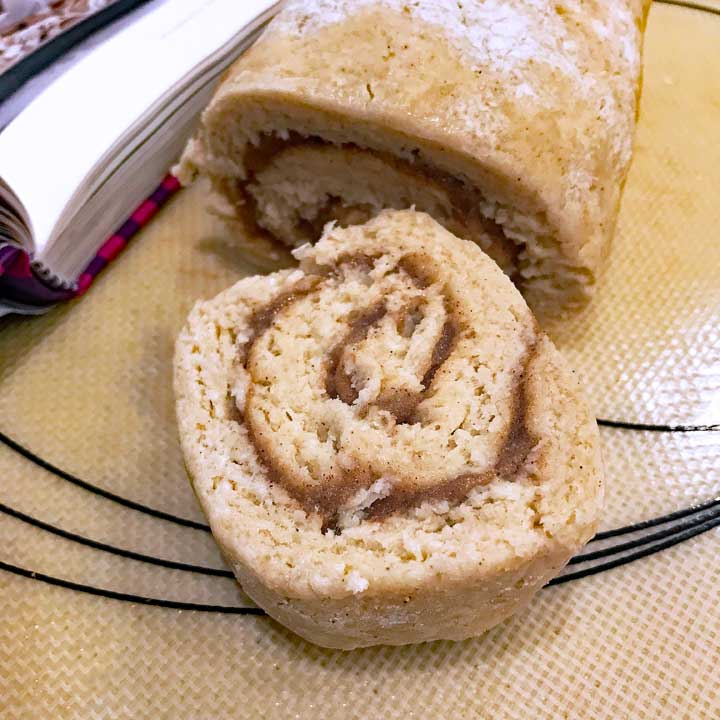 Here's a picture of the dough. The book calls for ½ cup of buttermilk which is not nearly enough, so start with ½ cup but have another ½ cup ready. Also, be sure to add the milk very gradually. You can flavor the scones with almond extract of vanilla. Our favorite is vanilla. Also, don't forget to turn down the heat of the oven. You put the scones into a hot 400 degree oven, then immediately turn it down to 350 for a lower and slower bake.
Recipe
Alice's Tea Cup Cinnascones
Scones shaped like cinnamon rolls
Ingredients 
Filling:

4

tablespoons

salted butter

56 grams

½

cup

packed brown sugar

100 grams

1 ½

teaspoons

ground cinnamon

Dough:

3 ½

cups

flour

420 grams

½

cup

sugar

100 grams

¾

teaspoon

baking soda

1 ¾

teaspoons

baking powder

¾

teaspoon

kosher salt

1 ½

teaspoons

ground cinnamon

¾

teaspoons

ground nutmeg

10

tablespoons

butter

as cold as possible or frozen (140 grams)

½

cup

buttermilk

you'll need more so have 1 cup ready

¾

teaspoon

almond or vanilla extract

¼

cup

heavy cream for brushing scones

Icing

1

cup

confectioner's sugar

2 ½

tablespoons

whole milk

½

teaspoon

almond or vanilla extract
Instructions 
Preheat oven to 400 degrees F. Have ready a parchment lined baking sheet.

Prepare the filling first. In a microwave safe bowl, soften 4 tablespoons of butter. Add the brown sugar and cinnamon and stir to make a paste. Set aside.

In a large bowl, mix together flour, sugar, baking soda, baking powder, salt, cinnamon and nutmeg.

With a flat grater, grate the cold butter into the dry mixture, stopping after every tablespoon or so to toss. The goal is to distribute the butter evenly. Alternatively, you can do this in your food processor.

Make a well in the center and pour in HALF the buttermilk and extract. Mix with a heavy duty scraper (or your hands). Continue adding buttermilk until the dough holds together.

Turn dough out onto a pastry mat. Using a floured rolling pin, roll into a ½ inch thick rectangle. It should be around 10x11 inches.

Spread the cinnamon paste over the rectangle.

Starting at the 10 inch side, roll the dough tightly, evening it out as your roll, to make a long cylinder. Using a sharp knife, slice the roll into 10 1 inch thick disks. Lay the disks on their side, two inches apart, on the parchment lined pan. Press them with the palm of your hand to flatten them to ½ inch thick (I don't always do this).

Using a pastry brush, brush the tops liberally with heavy cream.

Put the scones in the hot oven and close the door.

Reduce the heat to 350 and bake for 20 to 25 minutes

Make the frosting by combining confectioner's sugar, milk and remaining extract. Whisk until smooth. Using a pastry bag or a spoon, drizzle over scones. Serve warm with a nice cup of tea.