The Betty Crocker Chocolate Chip Cookies from the 1969 Betty Crocker Cookbook are always a hit, which is why I always go back to this recipe year after year.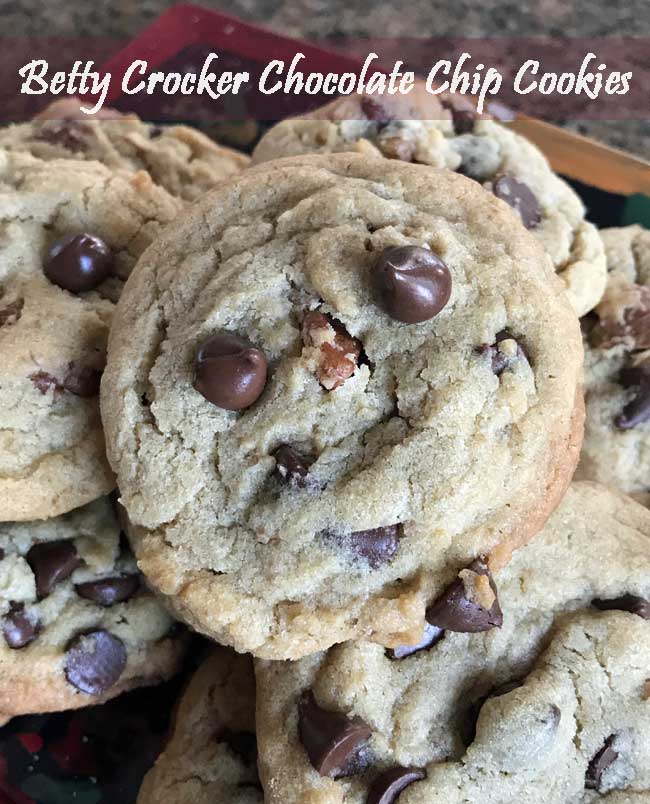 It calls for a mixture of shortening and butter so the cookies don't spread too much and are fairly thick. Chilling the dough overnight will give you even thicker cookies, as will baking them in a convection oven. I like to make a bunch of dough balls and bake them as needed in my Breville convection toaster oven using the "Cookies" setting.
Betty Crocker Chocolate Chip Cookies
Half batch version of chocolate chip cookies from the 1969 Betty Crocker Cookbook.
Recipe type:
Chocolate Chip Cookies
Ingredients
1/3 cup shortening (65 grams)
1/3 cup butter (75 grams)
1/2 cup light brown sugar (100 grams)
1/2 cup granulated sugar (100 grams)
1 large egg (50 grams)
1 teaspoon vanilla
1/2 teaspoon salt
1/2 teaspoon baking soda
1 1/2 cups flour (210 grams) – but can use extra ¼ cup if desired
1 ½ cups semisweet or bittersweet chocolate chips
Instructions
Preheat oven to 375 degrees F.
Beat the shortening and butter until creamy, then add both sugars and beat with an electric mixer until light and creamy. Add the egg and beat until it is blended in, then beat in the vanilla.
Add the salt and baking soda and beat until thoroughly mixed, then add the flour and stir until blended. Stir in the chocolate chips.
Using a medium size cookie scoop, scoop out balls of cookie dough. Bake immediately or arrange on a foil lined dinner plate, cover with plastic wrap and chill overnight.
To bake the cookies, arrange 2 ½ inches apart on a parchment lined baking sheet and bake at 375 for 10-12 minutes (time will vary depending on size of cookie and how cold the dough is).
Let cool on baking sheet for about 5 minutes, then carefully transfer to a wire rack.
Notes
The yield will vary depending on how big you make the cookies. If you make the cookies fairly small you can get over 3 dozen. I like using a medium size cookie scoop.