Grape Nuts Peanut Butter Bars are perfect for days when you're craving something sweet, but it's too warm to bake. They're like eating a peanut butter candy bar with a little fiber added.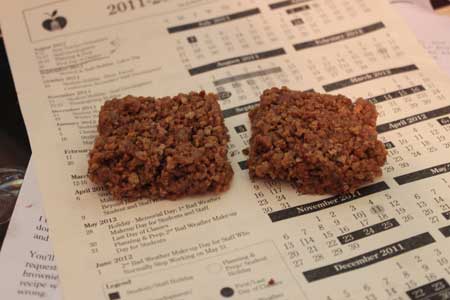 No-Bake Grape Nuts Peanut Butter Bars
¼ generous cup of peanut butter**
⅓ cup white corn syrup
⅓ cup granulated sugar
1 ⅓ generous cups Grape Nuts cereal
Line a 9x5 inch loaf pan with non-stick foil (or use regular foil and spray it with cooking spray.
In a medium sized microwave-safe bowl, mix together the peanut butter, corn syrup and granulated sugar. Microwave for two minutes, stopping to stir after one minute. Stir in the cereal, then dump it all into your lined pan and press to make a bar. Let it cool, then slice into 8 squares.
**I used Skippy Natural with Honey