If you're a Food Network Magazine fan, be on the lookout for the March issue. Mine arrived in the mail yesterday, and while I was not surprised to see that the focus for February was chocolate, my expectations were exceeded given the choice of recipes. Along with Crispy Chocolate Chip Cookies, there were a lot of very doable chocolate desserts plus little bonus booklet with 50 brownie recipes.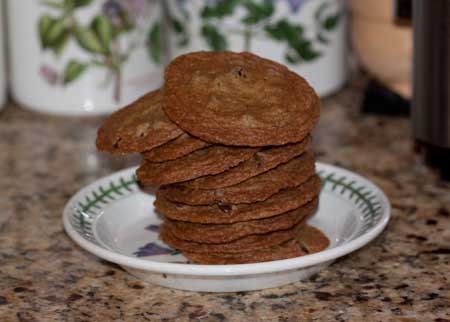 But naturally I got sidetracked by the chocolate chip cookie article where they listed a few different variations. I was craving thin and crispy chocolate chip cookies, and made those. They were thinner than the ones in the magazine's photo, and they also did not take 20 minutes to bake, but rather 13. And mine must have been slightly larger because I got 30 rather than 36. Aside from all that, they were great. I just thought I'd mention those things in case other people try the recipe. We'll see what happens when reviews start rolling in over the site where I found it.
I didn't make any changes, so here's the recipe for Crispy Chocolate Chip Cookies from Food Network Magazine.