The last time I put a secret ingredient in sugar cookies, it was pudding mix. This time it's something different. It's pineapple extract! Not a lot – just a few drops or enough to add a tiny bit of flavor to the cookies. I got the idea from a reader in California who thought pineapple extract might be the secret ingredient in Potbelly sugar cookies. To date, neither of us has cracked the Potbelly recipe, but I think we're both enjoying our new extract.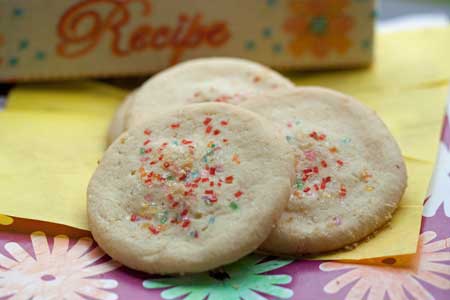 Pineapple Extract
Pineapple extract might not be as common as vanilla, but it's used more often than you think in culinary applications thanks to its fruity aroma. And it's not necessarily always in pineapple flavored things. In some cases it's just mixed with other flavorings to form new flavors. I first discovered it while vacationing in The Cayman Islands where some ladies told me they used it in banana bread. I bought some there, then bought more later online from Watkins. In sugar cookies, the extract just adds "that little something".
Imperial Sugar Cookie Recipe
As for the base sugar cookie recipe, it came right off the Imperial Sugar bag. The first ingredient is Butter Flavor Crisco, which caught my eye because I recently had some bakery cookies which I was positive were made with butter flavored shortening, but which I liked in spite of that. Like the pineapple extract, the butter flavored shortening is not always the greatest flavor alone. However, when mixed with other flavors it transcends! The texture of these cookies is irresistibly crispy and light. In fact, I need to go hide the rest of the cookies from myself so that Fuzz can have one for a snack.
Recipe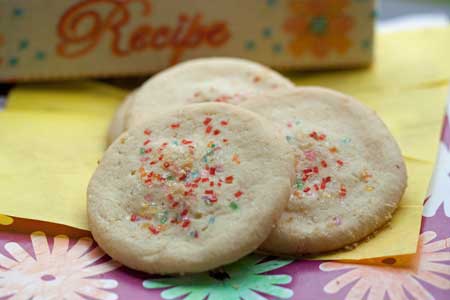 Another Secret Ingredient Sugar Cookie
Crisp, light sugar cookies with a hint of flavor from pineapple extract
Ingredients 
1

cup

plus 1 tablespoon butter flavored Crisco

1 ¼

cups

sugar

¼

cup

water

1

large

egg

2

teaspoons

vanilla extract

¼

teaspoon

pineapple extract

½

teaspoon

salt

½

teaspoon

baking soda

1

teaspoon

cream of tartar

2 ½

cups

5.5 ounces bleached flour (unbleached okay)

(11 oz or 308 grams)
Instructions 
Preheat oven to 350°F. Line a baking sheet with nonstick foil or parchment paper.

With an electric mixer, beat the Crisco and the sugar until creamy. Beat in the water and egg. Beat in the vanilla and the pineapple extract. Scrape sides of bowl. Add the salt, baking soda and cream of tartar and stir until blended. Add the flour and stir just until blended.

Shape the dough into balls about 1 inch in diameter and arrange on the baking sheet. Press down with bottom of a spice jar or shot glass. Sprinkle with sugar.

Bake 11-12 minutes or until the cookies just start to turn brown around the edges