After making a batch of big, soft, ginger cookies and admiring the lovely cracks and crevices, I decided to try converting my molasses flavor ginger cookie recipe to jumbo chocolate chip. It took a little experimenting, but I finally got what I was looking for - dense, chewy cookies with a deep brown color and lots of cracks and crevices. These are very good jumbo chocolate chip cookies (although I cheated and used chunks). Chips or chunks will do.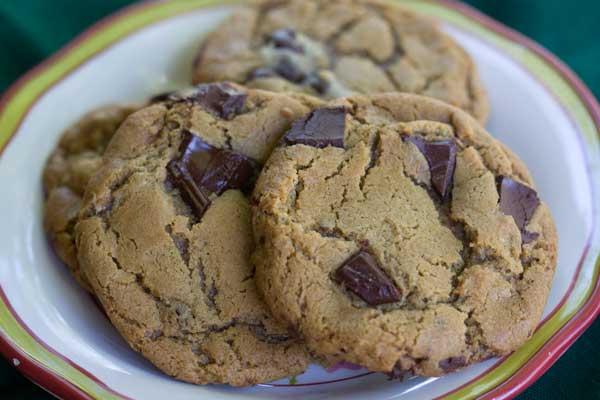 Secret Ingredients
The key to the great texture is using an egg yolk instead of a full egg, adding 2 tablespoons of molasses and using a generous amount of baking soda, which makes the cookies rise quickly and crack. I also used a lot more vanilla than usual, and the cookies tasted great! Definitely not too vanilla-y, which was a concern. Maybe the vanilla and molasses kind of balance each other out? I don't know, but it worked.
Molasses Flavor
Jumbo Chocolate Chip Cookies have more of a molasses flavor than average chocolate chip cookies, but not so much that they'll remind you of spice cookies. Also, I used Brer Rabbit Full strength molasses. If I'd used mild molasses, I would have ended up with less molasses flavor. But I liked these and wouldn't change them! They're big, flashy and perfect for bake sales. They also do NOT require any electric mixers, which is a big plus in my book.
Jumbo Chocolate Chip Update
Here's a photo of the recipe tested again on 5/25.  No changes made. The brand of Molasses was Publix, flour was King Arthur All-Purpose (2 ⅓ cups 10.5 oz) and I tested with chocolate chips and chocolate chunks.  The cookies looked like this right out of the oven and cracked a little more after they cooled.
Recipe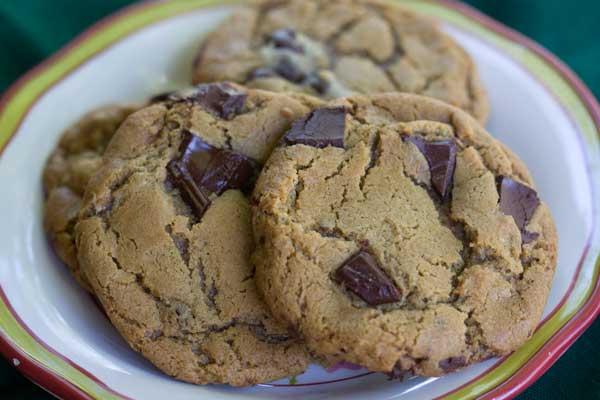 Jumbo Molasses Chocolate Chip Cookies
Jumbo size dense, chewy chocolate chunk cookies
Ingredients 
6

oz

unsalted butter

(170 grams)

1

large egg

1

large egg yolk

⅓

cup

light brown sugar

(65 grams)

1

cup

granulated sugar

(200 grams)

2

tablespoon

molasses

I used Brer Rabbit Full Flavor

1

tablespoon

vanilla extract

2 ⅓

cups

unbleached all-purpose flour

(10.5 oz/295 grams)

1 ½

teaspoon

baking soda

1

teaspoon

salt

2

cups

large bittersweet or dark chocolate chips or 2 large bars 60% cacao chocolate

cut into chunks. Note: Chunks of chocolate may cause more spreading, so I recommend chips for the first batch.
Instructions 
Melt the butter in a microwave-safe bowl. Let it cool for 10 minutes.

In a large bowl, mix together the egg, yolk, both sugars, molasses and vanilla. Add the cooled butter.

In a separate bowl, mix together flour, baking soda and salt.

Stir flour mixture into sugar mixture until thoroughly combined. Stir in chocolate chips.

Scoop dough (about ¼ cup -- but it's not precise) and shape into 16 equal sized mounds. If you have a scale, each dough mound should weigh about 2 ½ oz. Place shaped mounds on a plate or tray, cover and chill thoroughly for at least 3 hours (overnight is best).

Arrange dough mounds about 3 inches apart on a baking sheet that has been lined with parchment paper. Bake at 350 degrees F. for 13 to 15 minutes or until cookies appear set, nicely browned and cracked. If cookies spread a little, push the edges inward using the tip of a spatula so that they're a little more rounded. Let cool on the baking sheet for about 10 minutes, then transfer to a wire rack and let cool completely. I like to put mine in the refrigerator to set the chocolate.
Notes
Consider the amount of chocolate a suggestion, but in my opinion these are best when you really stuff them to the max with chocolate. They expand quite a bit in the oven, so if it seems like you've added too many chocolate chips or chunks, you'll probably be happy with the finished product.
The recipe does not double well.