I've updated my granola recipe. The old one was good, but crunchy rather than crispy. Oil makes granola crispy and crunchy, so I've switched to a recipe that calls for a little more oil. This one is similar to Alton Brown's, but with a few changes in ingredients and technique. Also, I like my granola clumpy, and this technique guarantees a good deal of clumps. The key is covering the granola with foil to prevent over-browning and not stirring until the end, at which point you break it all up.
Bags for Clumpy Granola
There are lots of ways to package granola. For this batch, I used some little goodie bags from Michael's craft store. And of course, you can always use the tin tie down bags from PaperMart. Pay close attention to bag sizes because they are all different.
Recipe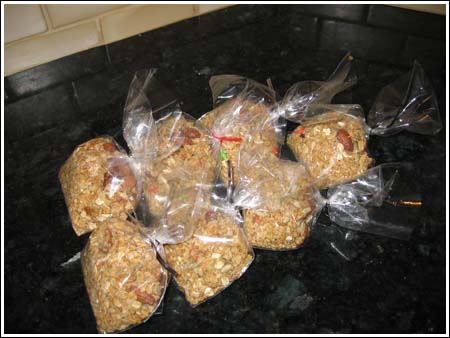 Clumpy Granola
A fairly clumpy granola made with honey, maple syrup, coconut and nuts.
Ingredients 
3

cups

rolled oats

1

cup

slivered almonds

and whole if you like

1

cup

pecans

⅓

cup

shredded sweetened coconut

⅓

cup

sunflower seeds

½ to ¾

teaspoon

salt

6

tablespoons

light brown sugar

¼

cup

maple syrup

2

tablespoons

honey

1

teaspoon

vanilla

¼

cup

vegetable oil
Instructions 
Preheat the oven to 250 degrees F. Line two large rimmed cookie sheets (or roasting pans if that's all you've got) with parchment paper. If you are making half, you can use one cookie sheet. Don't try putting it all on one cookie sheet or it won't cook properly.

In a large bowl, stir together the rolled oats, almonds, pecans, coconut and sunflower seeds. Toss in salt and stir to evenly disperse salt.

In a microwave-safe measuring cup, stir together the brown sugar, maple syrup, honey and vegetable oil. Heat on high for 1 minute, then stir to dissolve sugar slightly. Stir in vanilla. Pour hot syrup mixture over granola and stir until evenly coated. Dump oat mixture out onto the two cookie sheets, spreading as evenly as possible and pressing down slightly so that oats are in a thin, closely packed layer

Cover loosely with large pieces of foil. Bake for 1 hour, 1 pan on lower rack and one on upper. When you smell the granola (after about 40 minutes), check it to make sure it's not browning too much. If it's covered, it should be fine. Also, the granola on the lower rack will cook quickly, so after 40 minutes, swap racks. After 1 hour, remove the foil. Cook for another 15 minutes or until it is golden brown. Remove from oven and let cool completely. Granola will crisp as it cools, so don't worry if all of the granola doesn't seem crisp after 1 hour and 15 minutes. When cool, break the bigger clumps up into smaller clumps.

Note: You may want to try this first with half a batch baked on middle rack of oven. When baking two pans, you run the risk of burning the pan on the bottom rack, so if you are doing two pans, watch bottom pan closely and swap spaces.