Caramel Icing Is What Makes The Cake!
Check out my birthday cake!  It may not appear very festive, but it definitely brightened the day because it was topped with caramel icing made from scratch.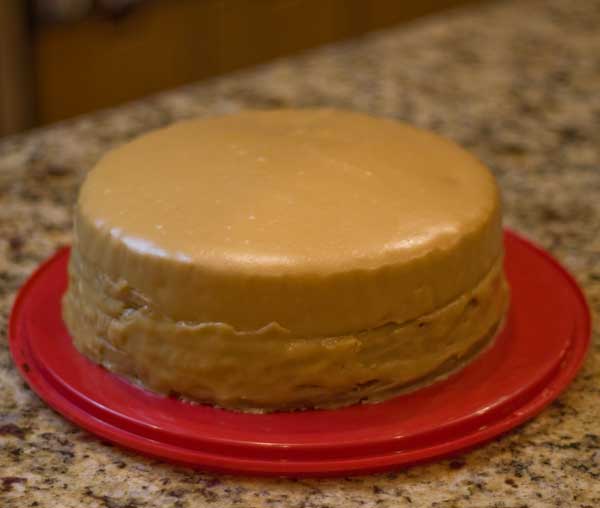 Caramel icing on yellow or white cake is a Southern classic, but I'd never heard of it until I was in my thirties and saw it in a Cake Mix Doctor book. That caramel icing recipe included confectioners' sugar and brown sugar and set up like a praline after you poured it over the cake.  I was proud of myself for mastering the quick version of caramel icing, but I soon learned that real Southern caramel icing was made with granulated and/or brown sugar and cooked over the stove using a candy thermometer.  The version I'd been making was the "cheat" version, so I vowed to seek down something more authentic.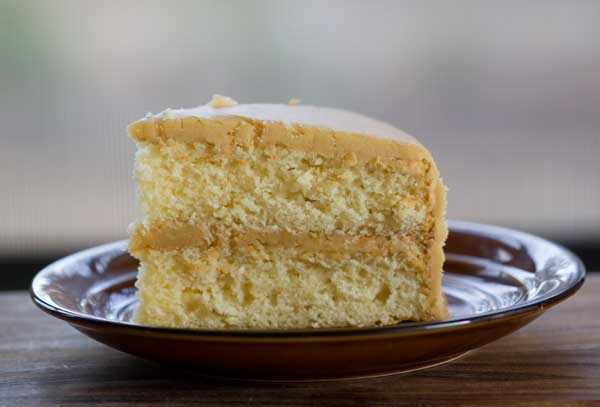 Yesterday I had some extra time for baking and decided to try a new yellow cake with caramel icing recipe. Since I didn't have a Southern grandma around to tell me how to do it, I just used a Southern Living version found via Food.com. The yellow cake was fantastic.  As for the caramel icing, it was unusual in that it contained granulated sugar and an egg, whereas most of the other versions called for brown sugar and evaporated milk.  Maybe the egg is what made it easier to work with because it didn't harden as fast as the confectioners' sugar based icing and didn't crack quite so much, either.  We loved it, but now that I've studied up on caramel cake, I want to try some of the other  versions made with with brown sugar and evaporated milk. As for the cake, I'm sticking with this this one, though I've seen another popular version that calls for self-rising flour.
Update: I recently found another one very similar to this but with slightly less sugar. I haven't tried it yet, but Kathryn Stockett, author of the help, says this is Minnie's Caramel Cake recipe.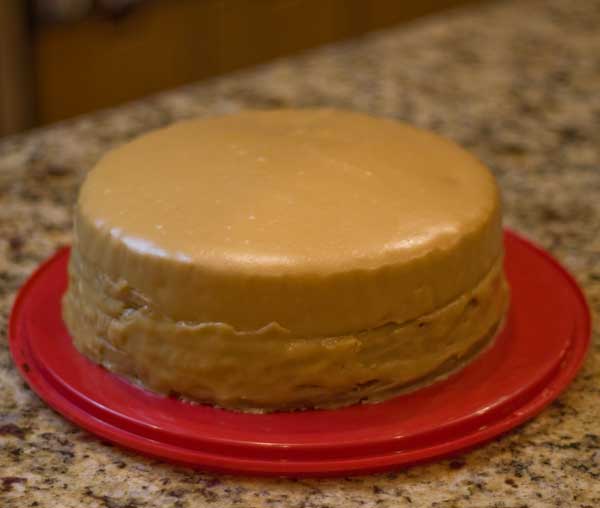 Caramel Cake
A scratch yellow cake made with sour cream and topped with a caramel frosting
Ingredients 
2 3/4

cups

12.4 ounces aerated and stirred all-purpose flour

2

teaspoons

baking powder

1/2

teaspoon

salt

2

sticks

8 ounces unsalted butter, room temperature

2

teaspoons

vanilla

2

cups

granulated sugar

4

large eggs

1/4

cup

milk

1

cup

room temperature sour cream
Frosting
3

cups

sugar

divided

1/2

cup

unsalted butter

softened

1

large egg

lightly beaten

3/4

cup

whole milk

room temp

1/4

teaspoon

salt

1/4

teaspoon

vanilla extract
Instructions 
Preheat the oven to 350 degrees F. Spray two 9x2 -inch metal cake pans with flour-added baking spray or grease with shortening and dust with flour. Line pans with parchment circles if desired.

Mix together the flour, baking powder and salt and set aside.

In a stand mixer bowl, beat the butter on medium high speed until light and creamy. Beat in the vanilla. Gradually add the sugar, scraping the sides of the bowl once or twice and beating for about 5 minutes or until light and creamy.

Add eggs one at a time and continue beating for another minute or two, scraping sides of bowl.

Reduce speed to low and add the milk, then add flour and sour cream alternately. When flour is fully incorporated, divide evenly among the pans.

Bake on center rack for about 35 minutes or until cakes spring back when touched and a pick inserted comes out clean.

To make the frosting, put 2 1/2 cups of the sugar in a large mixing bowl. Add the butter and mash it around until mixture is grainy and moist, then add the egg, milk and salt and stir until smooth. Set aside.

Sprinkle remaining 1/2 cup sugar in 3 quart heavy duty saucepan; cook over medium heat, stirring constantly, until sugar melts and syrup is a light golden brown.

Remove from heat and stir the butter mixture into hot caramelized sugar, then return to heat and cook over medium, stirring constantly, until mixture reaches 235 on a candy thermometer. Note: When you first put the butter mixture into the caramelized sugar, it will start to harden and clump. Just keep cooking and stirring and it will all melt together, but do keep the heat even. This process should take about 10 to 15 minutes.

When mixture reaches 235, remove from heat and let cool for about 5 minutes.

Add the vanilla and beat frosting with a wooden spoon to almost spreading consistency or you can cheat a bit. Pour it into a mixing bowl and beat it with a handheld mixer until it starts to thicken. As soon as it's thick enough to pour, but not too runny, spoon some over the first layer of cake. It should fan out a bit, but eventually set. Stack on the second layer of cake and pour some more caramel carefully over the top. Spread it around the sides the best you can.
Notes
Instead of using a mixing bowl for the sugar/milk/egg mixture, you can mix everything together in a thick, heavy, 3 quart saucepan, caramelize the 1/2 cup sugar in a small metal saucepan or skillet (whatever pan you are most comfortable caramelizing sugar in), use a heat resistant silicone scraper to scrape the caramel syrup into the saucepan that holds the milk mixture, then put the thick saucepan over the heat and cook to 235 degrees.
I