Todd's been a little fixated on Key lime pie. He kept looking for it on menus at Disney World, and lately he's been talking about going to Key West just to eat pie. Sounds fun, but expensive. We have to save for Fuzz's college, so rather than book a flight to The Keys, I tried a new recipe.
It Should Not Be Green
If you want to start an argument, put a bunch of people together and serve Key Lime Pie. Even though its exact origin is unknown (though historians trace it back to Bahamian settlers), people claim it's only "authentic" if X,Y or Z. Everyone has an opinion.  However, no one ever argues about the color, which we all know should not be green.  Limes are green and green is pretty, but true Key lime pie is more of a yellow. 
Condensed Milk and Nellie & Joe's
Another thing we can agree on is that condensed milk is authentic. It was used in early versions, because before the 1930s, it was difficult to get fresh milk to The Keys.  So you can be authentic and enjoy the convenience of condensed milk! And then there's the lime juice. To really call it Key Lime Pie you should make it with Key lime juice, not Persian lime juice. It can be fresh or bottled. My personal favorite is Nellie & Joe's, which is at most USA grocery stores.   Fresh Key lime juice is good too, but a real pain and not necessarily worth it unless you have access to some amazing fresh Key limes.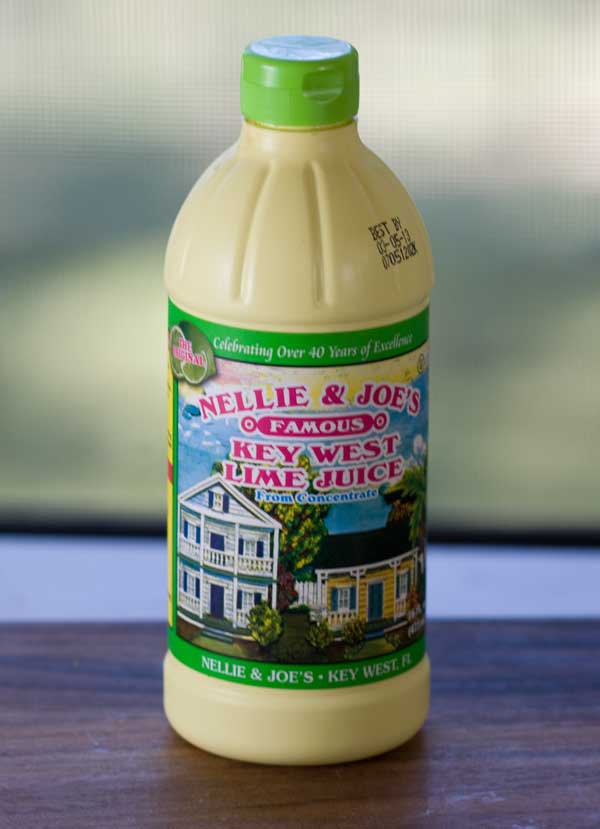 Meringue or Whipped Cream?
So now that the filling is out of the way, how about the topping? Some say Key Lime Pie *must* be topped with meringue, while others believe it's best with whipped cream.  The level of tartness is also subjective.  In my family, the more mouth puckering, eye squinting tartness the better, but pastry chefs have to feed the masses, so restaurant pie rarely hits the tartness. Update: I think this is changing. I've had some really tart Key Lime Pie at restaurants!
Curbing the Sweetness
Sometimes Key Lime Pie is too sweet. I realize that is subjective and it's just my opinion, but I've had some sickeningly sweet and a little  too chalky tasting KLP. This might be why there have been so many additions to recipes - -cream, sour cream, even melted ice cream to tame that chalky sweetness.  Which brings me to this recipe, which curbs the sweetness with egg whites.It's not quite as smooth as some other key lime pies, but the beaten egg white that's folded into the filling curbs the sweetness and helps tame the chalkiness of the condensed milk, which is a huge benefit.  
Tart and Sour
It's not especially tart (though you could add a pinch of citric acid and fix that!), and it has a very thick and crumbly crust.  In fact, the original crust called for only 5 tablespoons of butter.  I used 6 to help bind it better and to reduce the sweetness.  But overall, it's a grade-A pie.  Let me know what you think!
Oh, and here's one last "tip".  Sorry about the pun, but I used a large tip from this Ateco set.  The extra large tips are great for making a quick rim of stars or flowers around pies or icing cupcakes.
More KLP!
Recipe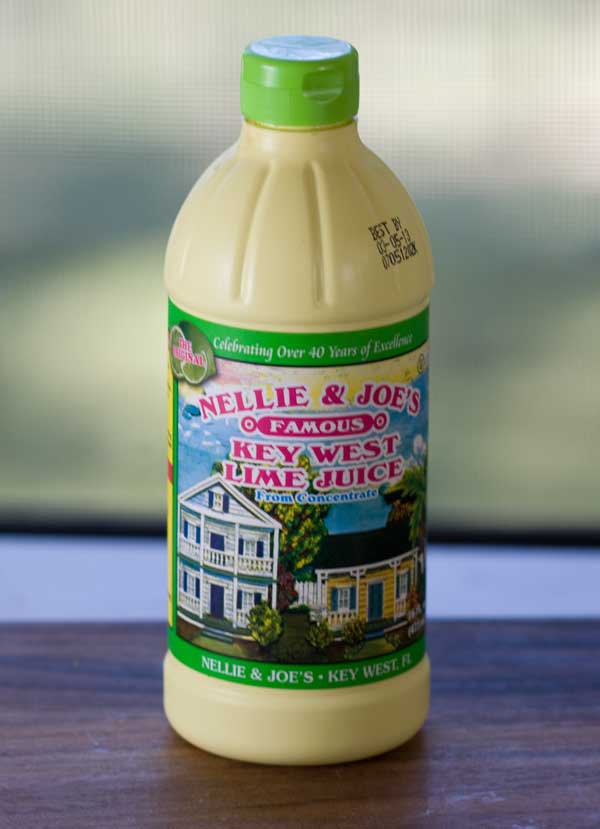 Key Lime Pie
Key lime pie with whipped egg whites folded into the batter
Ingredients 
Crust
1 ½

cups

graham cracker crumbs

use 12 graham rectangles

¼

cup

granulated sugar

1

teaspoon

ground cinnamon

6

tablespoons

unsalted butter

melted
Filling:
4

large eggs

you'll be using 4 yolks and 2 whites

1

14-ounce can sweetened condensed milk

½

cup

fresh or bottled Key lime juice

Nellie & Jack's
Instructions 
Preheat the oven to 350 degrees F and have ready a 9 inch pie dish.

Process the graham crackers to make 1 ½ cup crumbs. In a food processor (or bowl) mix graham crackers, sugar, cinnamon and butter. Press mixture into and up the sides of the 9 inch pie dish.

Bake on center rack at 350 for 8 to 10 minutes. Remove from oven and let cool for about 30 minutes.

Make the filling. Separate the eggs so that you have 4 yolks and 4 whites , but put aside 2 of the whites because you'll only be using 2.

Beat the 2 whites until stiff peaks form.

Pour the condensed milk into a mixing bowl. Whisk in the egg yolks, then gradually whisk in the Key lime juice. Fold in the 2 beaten egg whites. Empty the mixture into the graham cracker crust.

Set pie on a baking sheet and bake on center rack for 20 minutes. Let cool at room temperature for about an hour, then chill for 4 hours or until very cold.

Before serving, cover with sweetened whipped cream or pipe it around the edges
Notes
To make neat cuts, set the cold pie in about a half inch of hot water to loosen the cold butter in the crust.
This recipe makes a thick and very crumbly crust. For a less crumbly crust, you can follow the directs as written, but use
1 ¼ cups graham cracker crumbs
2 tablespoons sugar
½ teaspoons cinnamon
5 tablespoons butter, melted