I have so many apple pie recipes, and Broiled Apple Pie is one of my top favorites. The reason it's called Broiled Apple Pie is because you briefly broil the sliced apples before mixing them with other ingredients. Broiling the apples (along with a couple of tablespoons of sugar) not only caramelized the edges a bit, but it renders some of the juice and partially cooks the apples so that they won't shrink as much as the pie bakes.
Jump to Recipe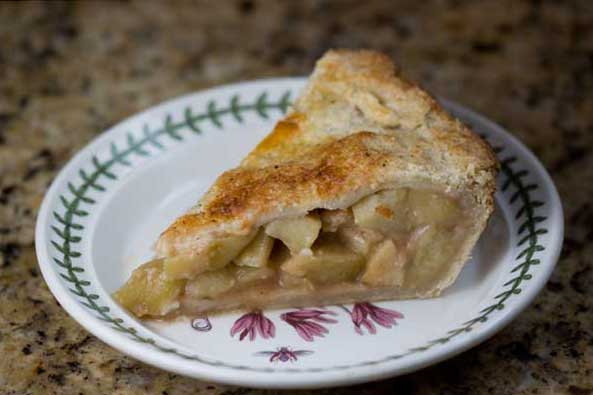 Broiling Apples
It's very important not to over-broil the apples. I've done this (luckily it was a small batch) and have had to throw the mushy apples out. For this pie, you broil the sliced apples in a roasting pan for about 10 minutes or until the edges just start to brown. You then mix all the ingredients together in the roasting pan. So you don't have to dig out the broiler pan from wherever it hides or worry about cleaning it. You're just putting a big roasting pan full of apples in the oven, broiling them six inches away from the broiling element, and mixing everything together right in that roasting pan.
Bake on a Preheated Sheet Pan
At one point I made this pie with a European style butter crust. It was the best crust I'd ever tasted, but it leaked butter. I learned quickly to bake this pie on a rimmed baking sheet no matter what crust recipe was used. I have since removed the crust recipe and am leaving it up to you to choose your own crust. Also, preheating the baking sheet before setting the pie on it usually helps the bottom crust bake. So set the pie on a hot baking sheet.
Tried and True
Try the pie and let me know what you think! It has the stamp of approval from me, and also from Sue at Basically Baked, who made it a while back and posted a review. And if you do want to try the European style butter crust, you can turn to Dawn's original version which won a big prize.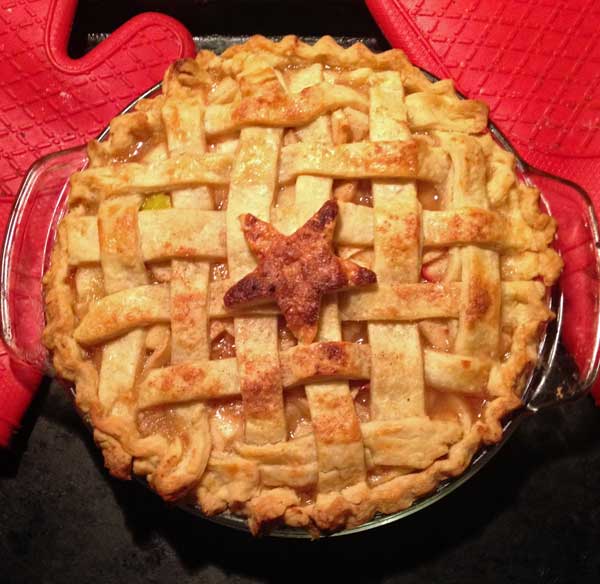 Small Broiled Apple Pie Recipe
Lately I've been broiling the apples in my Breville toaster oven and making this pie in a little ceramic 5-inch pie dish. If you'd like to make it in a smaller pie dish such as a deep 5-inch or perhaps a 6 or 7-inch dish, just follow the directions, but quarter all the filling ingredients. For the apples, that means starting with about 12 to 13 oz. I sometimes use a little more than that, but I quarter everything else. Bake time for the small pie is usually about 45 minutes at 400, with top shielded if necessary for the last 15 minutes.
Recipe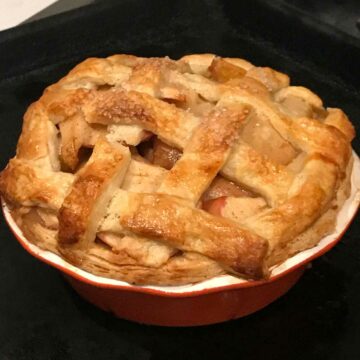 Broiled Apple Pie
An apple pie made with apples that have been broiled before being put in the pie.
Ingredients 
Pie dough for a two-crust 9 inch pie
Filling:
3

pounds

Granny Smith Apples, peeled, cored and sliced

6 to 8 apples (Or other pie apples)

2

teaspoons

cinnamon

1

cup

granulated sugar

(200 grams)

4

tablespoons

all-purpose flour

½

teaspoon

kosher salt

¼

cup

apple cider or apple juice OR use 2 tablespoons apple juice concentrate or use pear juice

1

teaspoon

vanilla

1

tablespoon

heavy cream
Egg Wash:
1

egg

1

tablespoon

of cream

Coarse sugar or vanilla sugar
Instructions 
On a floured surface, roll out half your dough to make a 12-inch circle. Place in the bottom of a deep dish 9-inch pie plate. Chill dough-lined pie plate while you prepare the apples.

Preheat the broiler. In a large roasting pan, toss apples, cinnamon and 2 tablespoons of the sugar. Position the pan so that the apples are about 6 inches under the broiling element. Watching carefully, broil until the tops of the apples begin to brown (you do not want them cooked through, but rather just caramelized around the edges a bit). Remove from heat.

To the roasting pan of apples, add the remaining sugar, flour, and salt. Stir until evenly mixed. Stir in apple juice, vanilla and cream. Pour apple mixture into the crust.

Roll the second section of pie dough out to a large circle on a lightly floured surface. Place on top of the apples and pinch the top and bottom dough edges together to enclose the apples. Slice 1" air vents around the top of the pie.

Make the egg wash: Mix the egg in a small dish and mix in cream. Lightly brush the egg wash over the top of the pie and along the edges. Sprinkle with coarse sugar.

Preheat the oven to 400 degrees F and put a rimmed sheet pan in to heat along with the oven. When pie is assembled, set it on the hot rimmed sheet pan.

Bake at 400 for 30 minutes. If after 30 minutes the crust appears to be browning rapidly (this will depend on which crust recipe you use), cover loosely with aluminum foil. Turn pie. Continue to cook for another 15 minutes. Continue to cook for 7 minutes, as needed, until the crust is golden brown and flaky.

Cool: Remove from oven and let cool for at least two hours before cutting and serving
Notes
This pie is delicious, but may be a bit runny if you serve it the day you make it. If you want it to hold together better, bake one day ahead, chill overnight and return to room temperature.