UPDATE:  This giveaway has ended, but I'm leaving the photos here so you can get ideas for making a polka dot cake.
For the past week I've enjoyed sampling Pillsbury® Bold Funfetti® mixes and frosting. At first I was a little skeptical, but when I started using the products I fell in love with the range of colors and potential for making creative treats like my new favorite -- the Polka Dot Cake! I actually bought a cake pop maker last year to make one of these cakes, but never got around to it because I dreaded dying all the cake batter.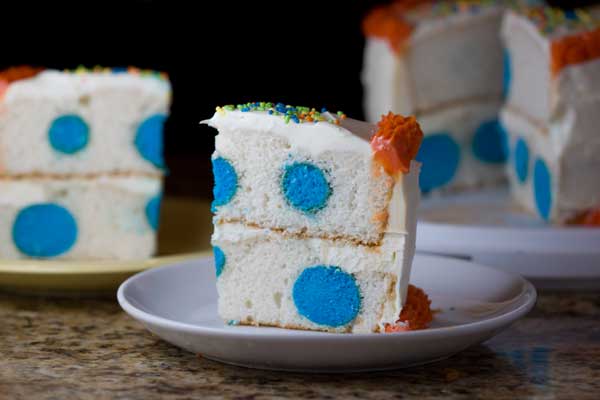 Problem solved, thanks to Pillsbury! And now I'm happy to give way some of their products. For a chance at receiving some samples, leave a comment telling me about a cake you were particularly proud of. I will pick one comment at random the morning of Friday, April 18 and notify the person that day. That person will receive the following:
Funfetti® Aqua Blue Cupcake and Cake Mix
Funfetti® Orange All Star™ Cupcake and Cake Mix
Funfetti® Neon Yellow Cupcake and Cake Mix
Funfetti® Vibrant Green Cupcake and Cake Mix
Funfetti® Orange All Star Vanilla Flavored Frosting with Colorful Star Shaped Candy Bits
Funfetti® Neon Yellow Vanilla Flavored Frosting Mix with Multi Colored Candy Bits
$100 dollar Visa or American Express gift card
Good luck with the giveaway!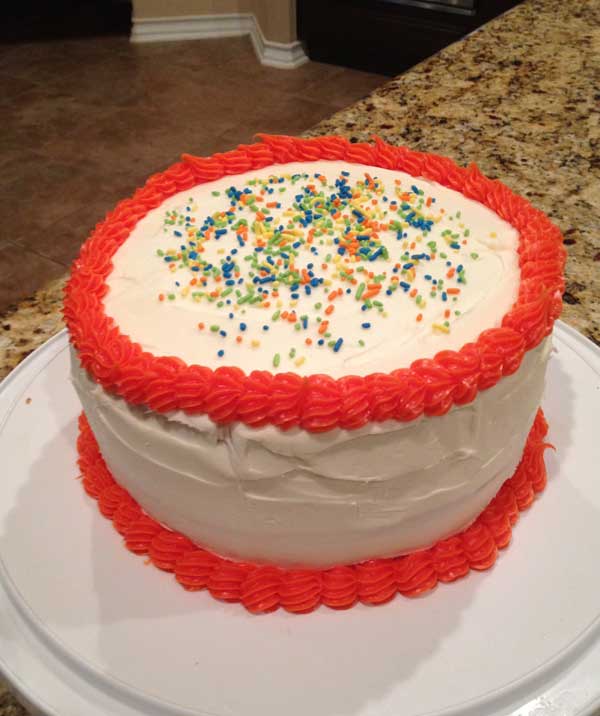 As for the cake, I used a Babycakes CP-12 Cake Pop Maker, 12 Cake Pop Capacity, Purple
and Pillsbury Aqua Blue Funfetti Cake mix to make the balls.
I put the cake balls in the freezer for about 20 minutes while I prepared some white cake batter from a box of white cake mix.
Next, I poured just enough white cake batter into each of two 8 inch round cake pans to cover the bottom. I squished about 10 cake balls into each pan and poured the remaining batter over the top. Next time I'd put even more cake balls into the pan. It may look like a lot, but as the cake expands the balls spread out.
I set the pans on a large baking sheet and baked as directed on the box.
Frosting was easy. I just used two cans of white frosting and piped some All Star Orange™ around the edges.  The sprinkles I used were from a different can of Funfetti, but the All-Star Orange comes with cute star shaped sprinkles.
For more ideas on how to use the cake mixes, check Pillsbury Baking, Pillsbury on Facebook and Instagram. If you're an Instagram fan, try using the hashtag #GoBold and @PillsburyBaking to see what your friends have been doing with the cake mixes and frostings.
This is a sponsored post, but the opinions expressed are my own.

©/® The J.M. Smucker Company. Pillsbury is a trademark of The Pillsbury Company, LLC, used under license.