One of the first things I learned to make as a child was "Impossible Pie", a dish named for the transformation that occurs as it bakes. Ingredients are spread in a pie plate, a mixture of biscuit mix, eggs and milk is poured over the top, then it goes in the oven where the mixture "magically" separates and forms a crust. My favorite flavors were the cheeseburger and taco versions, and at some point I made the broccoli & chicken pie for my mother. However, it took me 30 years to try the cheesecake version. Was it worth the wait?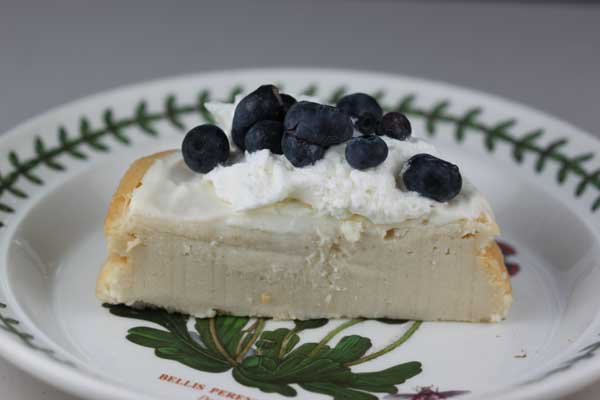 I guess so because Todd enjoyed it and it was super fun to put prepare. I learned a few things along the way, though. First, making it in 4 1/2 inch springform pans or maybe any size springform pan is not ideal. The sides buckle in and look shriveled. Stick with a pie dish. Or if you want to try a half-size version, you could try making it in a loaf pan. That's probably what I'm going to do next time.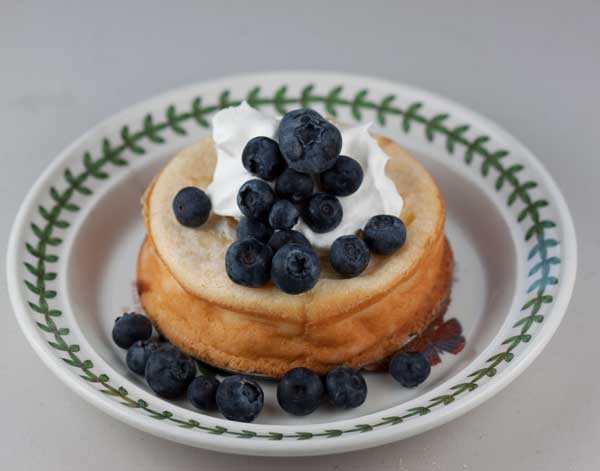 Also, make sure to use a blender rather than a handheld mixer. I tried it both ways and while the mixer version tasted okay, it was lumpier and had cracks. Finally, be ready for a really dense cheesecake. Someone in the Betty Crocker review section described this as similar to Polish cheesecake. I imagine there are lots of different types of Polish cheesecakes, but this biscuit mix cheesecake certainly did remind me of the one Polish cheesecake I ever tasted.
Impossible Cheesecake Pie
An easy and very dense, thick, cheesecake that forms its own crust as it bakes.
Ingredients
3/4 cup milk, room temperature
2 large eggs, room temperature
1 cup sugar
2 teaspoon vanilla
1/2 cup Bisquick baking mix
2 (8 oz) packages of cheese, softened
Optional Topping: 1 cup sour cream mixed with 2 tablespoons of sugar and a splash of vanilla
Instructions
Preheat oven to 350 degrees F. Grease a 9 inch pie plate generously with butter or spray with cooking spray.
In a blender, blend the room temperature milk, eggs, sugar, vanilla and Bisquick for 15 seconds. Cut the softened cream cheese into pieces and add it, then blend for about 2 minutes or until smooth.
Pour mixture into pan and bake for about 40 minutes. Let cool at room temperature for about an hour, then chill thoroughly before serving. If you want, you can make a topping. Mix the topping ingredients together and spread it over the cake once cool.
Related posts: