I don't know its exact origin, but Lemon 7-Up Pound Cake is a lot of fun. Whether or not the 7-Up actually does anything for flavor is debatable (it's probably more about the bubbles). But in the end does it really matter? It's cake! This morning I tried a version from An African American Cookbook, Revised and Updated: Traditional and Other Favorite Recipes
.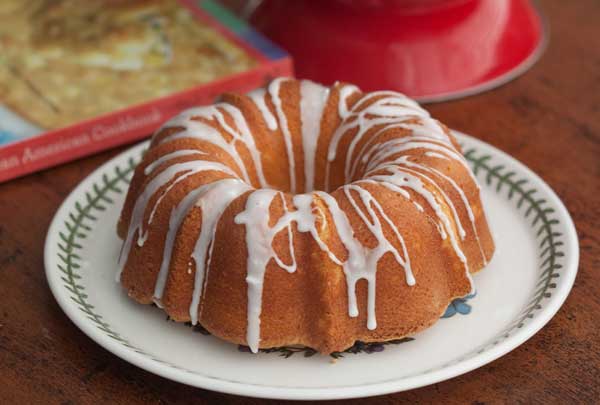 An African American Cookbook
A little about the cookbook – it's a collection of recipes from a congregation in Pennsylvania that does reenactments of the Underground Railroad. Author Phoebe Bailey collected and edited the recipes which are described as "traditional foods that reflect the ingenious, resourceful, imaginative Africans who prepared them". In addition to some useful recipes, the book is interspersed with quotes from African Americans, lyrics to spirituals and history. In my opinion, this book would make a great gift for kids or teens because the recipes are easy and the theme might spark conversation. But educational merits aside, it's a solid cookbook with an especially good collection of baked goods. Update: Looks like it's on Kindle now. Other sites have it as a paperback.
Recipe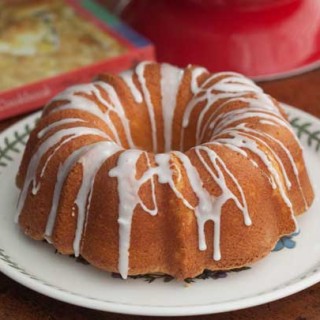 Lemon 7-Up Pound Cake
7-Up Pound Cake is a traditional pound cake made with soda. This version calls for a little extra lemon zest and a glaze.
Ingredients 
1

cup

butter or margarine (salted butter)

(230 grams)

½

cup

vegetable oil

3

cups

sugar

(580 grams)

5

large

eggs

3

cups

all-purpose flour

(380 grams)

¾

cup

7-Up

1

teaspoon

vanilla or lemon flavoring
Lemon Glaze
2

tablespoons

lemon juice or as needed

1

cup

sifted powdered sugar
Instructions 
Preheat oven to 325 degrees F. Grease and flour a tube pan or Bundt pan.

With an electric mixer, beat the butter and sugar until creamy, then gradually add the oil and continue to beat for another minute until creamy.

Add eggs one at a time, beating well after each addition.

Alternately add flour and 7-Up. Mix after each addition (I mixed with my spatula scraper).

Stir in flavoring.

Bake at 325 degrees F. for 60-90 minutes or until a skewer inserted comes out clean.

Let cool in pan for 10 minutes, then remove from pan and let cool completely. Drizzle with glaze.

To make the glaze, mix together 1 cup powdered sugar and about 2 tablespoons of lemon juice or just enough to make it thick enough to flow from a spoon.
Notes
Notes:
For the flavoring, I used ½ teaspoon of vanilla and 1 teaspoon of Boyajian lemon oil. I also added a teaspoon of lemon zest and a bit of yellow food coloring paste. The recipe can be made in a tube or Bundt pan or halved and baked in an 8x4 inch loaf pan or 6 cup Bundt. Also, if you make the full recipe with unsalted butter instead of salted butter, add a little under a teaspoon of salt to the batter.